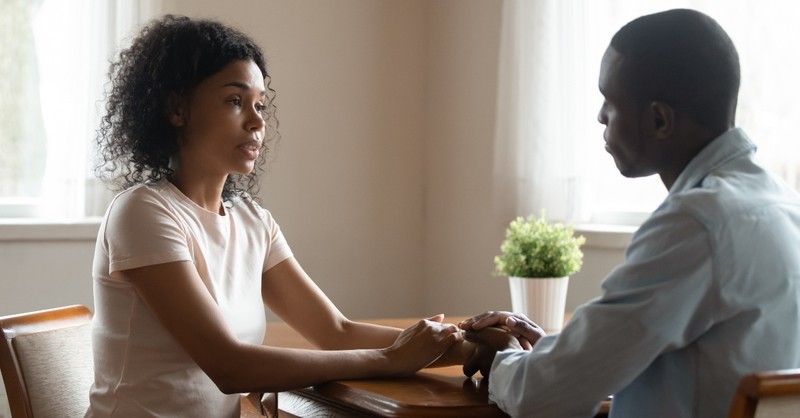 How to Respond When Your Spouse Doubts
Jennifer Slattery

JenniferSlatteryLivesOutLoud.com
Early in my marriage, my husband didn't share my faith. He'd been raised in church but hadn't fully embraced Christianity's truth claims. At first, I wasn't aware of his doubts. But the closer I grew to Christ, the more aware I became of our spiritual disconnect. Many Sundays I went to church alone, and when he did join me, we spent our entire drive home arguing. He couldn't understand the passion I felt for God, a Being he considered abstract and distant. Similarly, his spiritual apathy confused me.
Then one day, while working through a take-home Bible study, God revealed the cause of our chasm. Though my husband had heard of God, he'd never truly come to know Him. He hadn't entrusted his eternity to Christ.
Over the next few months, I watched my husband wrestle with deep questions. During that time, I felt alone, and I suspect he did too. But God used every step of our journey to draw us closer to Him and each another.
Perhaps you can relate to our experience and are wondering how to love your spouse well in the midst of their spiritual uncertainty. If so, here are four grace-and-truth-filled ways to respond to your spouse's doubts.
Photo Credit: © Getty Images/fizkes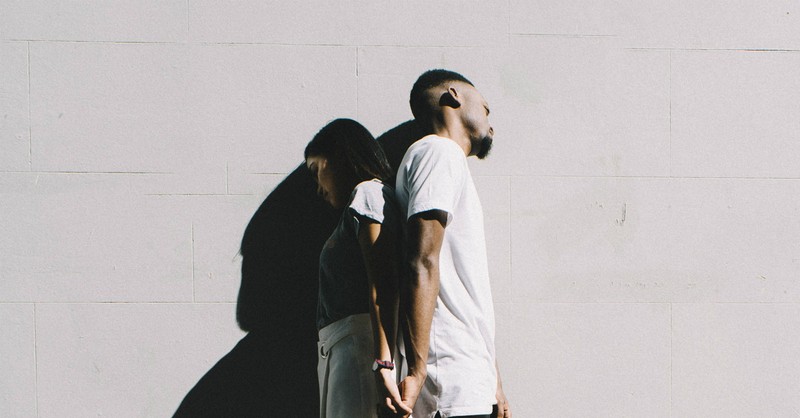 1. Remember You Aren't Your Spouse's Savior
Sometimes I try to play the role of the Holy Spirit in my husband's life and deceive myself into thinking my eloquent words will somehow change him. But Scripture tells us only God can change a person's heart. In John 6:44, Jesus said, "No one can come to Me unless the Father who sent Me draws them" (NIV). What's more, it's the Holy Spirit's job to convict us of sin and our need for Christ (John 16:8-11).
2. Pray for Your Spouse
Prayer is perhaps the most powerful, life-changing weapon available. James 5:16 tells us, "The prayer of a righteous person is powerful and effective" (NIV). When we intercede for others, not only are we asking God to miraculously intervene, we're also inviting communication with our transformational Savior. As we sit in His presence, voicing one of the greatest desires of His heart, we position ourselves to hear from Him. In that sacred place, the God who sees and formed our spouse's heart will instruct us as to how we can best reach it. Perhaps God will tell us to remain quiet and trust that He is indeed working. Or He may ask us to speak a particular truth at a certain time. This is God's promise to us, His children.
Before sending His disciples out to share God's truth with strangers, He told them not to "worry about what to say or how to say it. At that time you will be given what to say, for it will not be you speaking, but the Spirit of your Father speaking through you" (Matthew 10:19-20, NIV). Though He was teaching them how to handle persecution, the principle applies to all of life. When we trust in Christ for salvation, we receive the Holy Spirit deposited within. According to Scripture, His role is to teach, guide, equip, and empower us to live as Christ desires. This includes the words we speak.
In 1 Corinthians 2, Paul, perhaps the most eloquent and effective evangelist of all time, wrote, "The Spirit searches all things, even the deep things of God. For who knows a person's thoughts except their own spirit within them? In the same way no one knows the thoughts of God except the Spirit of God. What we have received is not the spirit of the world, but the Spirit who is from God, so that we may understand what God has freely given us. This is what we speak, not in words taught us by human wisdom but in words taught by the Spirit, explaining spiritual realities with Spirit-taught words" (1 Corinthians 2:10-13, NIV).
In Christ, we have access to God's perfect wisdom, and as we connect to and grow in Him, He enables us to speak truth-filled, transformative words of life.
Photo Credit: © Unsplash/Henri Pham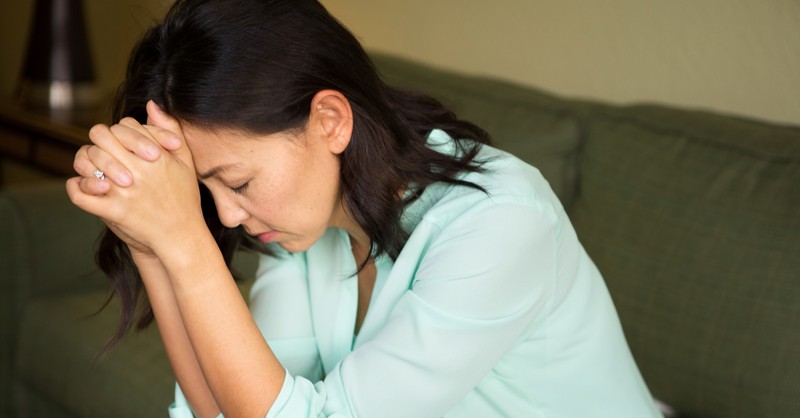 3. Remain Close to Christ
Scripture tells us we are constantly engaged in battle. Satan, our spiritual enemy, plans and strategizes ways to distract, defeat, and destroy us. He wants to decimate our marriages and our spouses, and they are particularly weakened during times of doubt. That's why it's imperative we arm ourselves with strength, and our greatest strength is found in Christ.
Shortly before His death, Jesus told His disciples, "Watch and pray so that you man not fall into temptation. The spirit indeed is willing, but the flesh is weak" (Matthew 26:41, NIV). He knew they soon would be tempted to give in to fear, perhaps even to deny their faith, and certainly to withdraw and thus become completely ineffective.
When doubts assail our spouse, we face the same dangers. We might be haunted by thoughts of where they'll spend eternity, allow their uncertainties to create the same in us, or give up entirely. Perhaps most damaging of all, our pride may motivate us to fight our husbands' doubts in our wisdom, creating deep and lasting, faith-deterring damage in the process.
When we stay connected with Christ, however, and consistently yield to His Spirit, He lives and loves through us. He helps us choose patience and perseverance over frustration and apathy, peace and gentleness over hostile outbursts, hope over despair, peace over discord, grace over pride, and faith over fear.
In short, as we consistently lean into Christ, He gives us everything we need in order to live with utmost effectiveness.
Photo Credit: © Getty Images/Sigital Skillet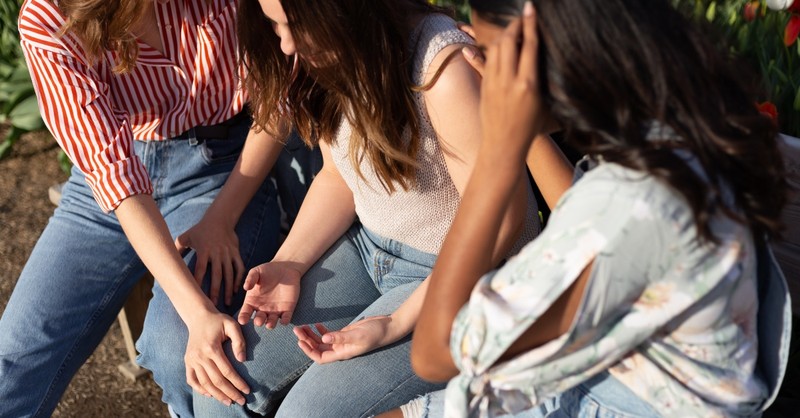 4. Prioritize Christ-Centered Friendships
When my husband and I weren't united spiritually, I often felt alone. He was my closest friend in so many other areas, but I felt as if I couldn't fully share the deepest parts of myself with him. Though I told him about my struggles with sin and numerous ways I sensed God's presence or care, I recognized he didn't truly understand. Sometimes it even felt as if my faith discussions irritated him.
I needed to spend time with strong Christian friends more than ever, and so I joined Bible study groups and cultivated relationships with women who demonstrated a strong faith and desire to grow in Christ. They prayed with me, encouraged me, and continually reminded me of God's promises. They helped me realize how supported and connected I truly was. As a result, I always left our gatherings strengthened, with more spiritual clarity, and better equipped to reveal Christ, if not through my words, then through my love.
Through each interaction, prayer, and tender moment spent with my Savior, God gently spoke truth to my heart, reiterating what I was and wasn't responsible for. Really, my role was simple—to listen and surrender to Christ, trusting Him to do what only He could do: ignite then strengthen my husband's faith. So long as I focused on that, then I could be certain I was doing and saying precisely the right thing at the perfect moment. And that was enough, because Christ, who was working in and through all things—my husband's heart included—was enough.
When our spouses doubt spiritual truths, our emotions can rise up stronger than our faith. In fear, we might be tempted to rely on ourselves and our wisdom, or to withdraw. But as Christ followers, we're called to engage in a holy, life-changing battle, not with angry words or pride-filled ammunition, but rather with Spirit-empowered truth and grace.
May we remember that the God of creation, the One who formed our husband's heart, probes its depths, and sees every stronghold keeping him from deep and abiding faith, loves him deeply. He longs to draw them ever-closer to Himself, for all of eternity. In the middle of our most anxious, sorrowful, or frustrating moments, we can rest in this truth.
---
Jennifer Slattery is a writer and speaker who hosts the Faith Over Fear podcast. She's addressed women's groups, Bible studies, and writers across the nation. She's the author of Building a Family and numerous other titles and maintains a devotional blog at JenniferSlatteryLivesOutLoud.com. As the founder of Wholly Loved Ministries, she's passionate about helping women discover, embrace, and live out who they are in Christ. Visit her online to learn more about her speaking or to book her for your next women's event and sign up for her free quarterly newsletter HERE and make sure to connect with her on Facebook and Instagram.
Photo Credit: © Unsplash/Priscilla Du Preez

---
---