How Friendship Is One of God's Most Faithful Comforts
When I'm with Tovey, my best friend, she sees a giggling seventh-grader, a confident high schooler, a young woman falling in love, and a hard-working wife and mother—all at once. She sees the magic in me. She brings a kind of comfort I had forgotten even to ask for—the comfort of history. An old friend is the only way you can go home to your childhood.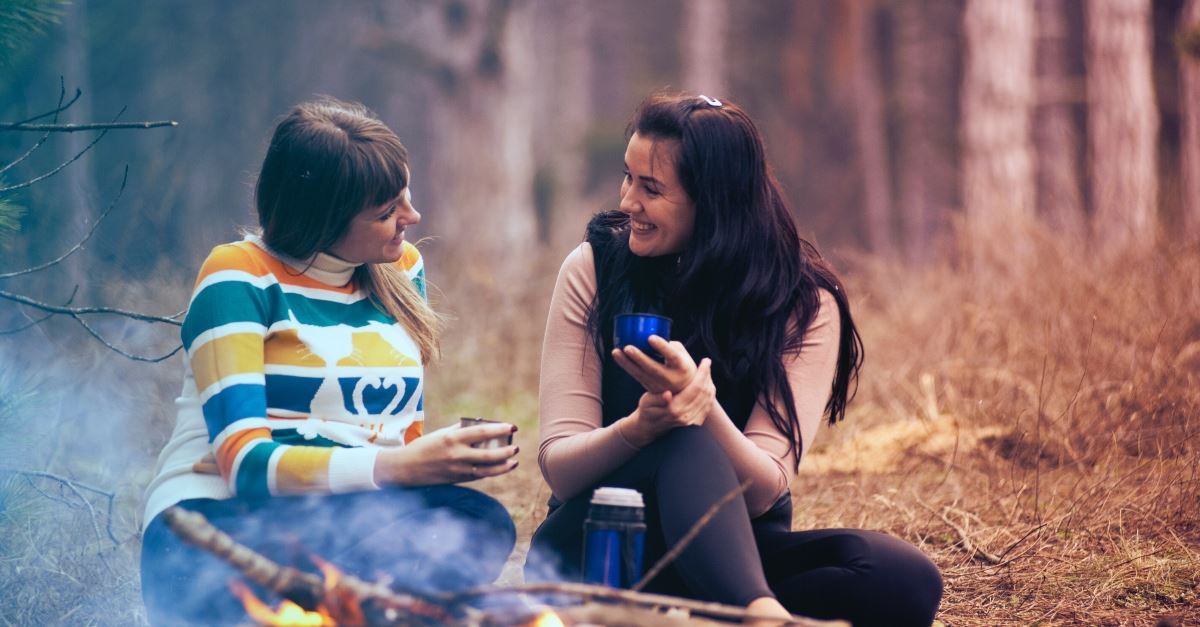 Look at the stars! look, look up at the skies!
O look at all the fire-folk sitting in the air!
-The Starlight Night, Gerard Manley Hopkins
Barring my own chances of space exploration, the thing I always most look forward to is a chance to see my best friend. It isn't a term you hear used much by adults; it's usually the domain of girls making friendship bracelets and giggling over boys. And I wonder if you have to know someone since you were girls to feel that elusive "bff" feeling.
When I meet new people now, I get the feeling that they are meeting "just some lady" who doesn't wear makeup and who can't pull off low-rise jeans. But when I'm with Tovey, she sees a giggling seventh-grader, a confident high schooler, a young woman falling in love, and a hard-working wife and mother—all at once. She sees the magic in me.
And I see it in her. I've known her long enough to love the shape of her hands: small, round, and quick from years of playing piano. I remember her young innocence: we played dolls together when other girls were going on dates. And I remember her adult heartbreak: she bravely called off a wedding with the wrong man at her own wedding rehearsal. (I know! It's a story for another time.)
After years of babies, and husbands, and fettucine alfredo, we finally circled the wagons and spent a weekend together in Leiper's Fork, Tennessee—about as far into the country as you can get. I cried when I saw her, she cried a little too. Those tears of relief and recognition are both affirming and embarrassing. She brings a kind of comfort I had forgotten even to ask for—the comfort of history. An old friend is the only way you can go home to your childhood.
See Each Other through the Seasons
My childhood was full of books. From the age of 12 to 18 I think I fell asleep reading a book every night. I started amassing a personal library, proudly ferreting away paperback copies of War and Peace, Crime and Punishment, and Robert Fitzgerald's translation of Homer's Odyssey, thinking this would all be the key to my future life as singing-dancing-genius. Even now, when I start a new book, I am positive that I'm diligently fitting another piece into the reliable puzzle of understanding.
I feel that way about Tovey too. The details of the minutia of her life are treasured pieces of my world picture. I love the names of her children: Soren, Miles, and Willem (who we are allowed to call "Wim" if we are among those who love him). I am greedy to know the details of her Brooklyn life. Gathering groceries and shepherding little boys on the subway are both nearly impossible—but the view is incredible.
At the farmhouse in the country we both slept. We slept like two women who are away from their children. Spaces that don't belong to us are easier to see as blank spaces, my mind was free to wander out of the weeds and up into the lumberyard of stored thoughts in my brain, drying and waiting to be looked at in new light.
One summer when I was a teenager, I worked as a boating instructor at a camp. I tied knots, raced canoes, and watched my lean shadow stretch out in front of me on long walks on dirt roads. At the end of this summer, the last one before my senior year, Tovey drove to the camp to see me and see the place I'd carved out for myself. It's our way; we always try to see.
We floated on the lake in a red canoe. All the others were green, so this was the favored boat. We drifted alone because it was already time for campfires and bug spray at the cabins. She told me she was moving away—going to another school for our senior year. We rowed to shore. I cried later.
Holding Us back from the Brink
But today, together and free of our combined eight children, we nap and talk and drink coffee and senior year doesn't matter anymore. Driven out of the farmhouse by a need for food, we take a drive and stop on a high bridge. There are tourists around with children, and it feels scary because the railings are so low. They are too low for an adult to lean and look out, but the right height for a five year old's elbows to rest. The height of the bridge allows us to see for miles, and even though neither of us are particularly afraid of heights, the instinct for self preservation hurried us away from the center, muttering about the old story of the man who fears not that he will fall, but that he will jump.
Safely back at the farmhouse, we traipse out to an open field with a felted blanket and a bottle of wine. The sun is setting and our country mouse, city mouse instincts kick in. She feels the isolation, and I welcome the peace. We both notice the relief of dark and quiet. Some twigs breaking in the gloaming make us jump, and we quietly acknowledge the real desperation that comes from mothering many young children. Parenting has driven both of us to dark places. Why does one of life's greatest blessings drive us to dream of jumping ship?
Our mothers and their best friends asked the same questions. Tovey and I drink more wine. The sky gets darker and we can see both Mars and Venus. I read that Venus is 400 degrees Fahrenheit, the pressure is as heavy as a mile under the ocean, and to top it off, there's occasionally acid rain. The inhospitality of Venus just terrifies me. A whole planet of crushing, burning air. Why does such a place exist? As the night gets darker, I spill red wine on the blanket trying to act out the wonder of a solar eclipse for Tovey. We can see more stars and keep asking the same questions our mothers and their best friends asked. If we are the only planet with life, what are all these galaxies for?
Comfort Found in Extravagant Love
"A grand gesture." My husband spoke quietly without looking up from his drawing at our kitchen table. I was sitting across from him drinking lukewarm coffee; biding my time before a child came through the door. "What is the purpose of all this terrifying and glorious extravagance in the sky?" We sat still and thought. Could it really all be just an incomprehensibly grand gesture of love from our creator?
Tovey and I sat in the same quiet thought. When she lived in Rome, learning Italian and falling in love, I bought a plane ticket and surprised her by coming to visit her the next day. It is our way to always see where the other one has pitched a tent. But this kind of grand gesture was a surprise for both of us. I arrived in Rome, navigated by way to her apartment with my ten words in Italian, and knocked on the door to an empty flat. I remember sitting on the ground with my luggage propped at a fountain feeling foolish and panicky. I had gone too far.
Ringing the bell and knocking every half hour until lunchtime, I was at my wit's end and blind to all the sumptuous sights and smells that I should have celebrated on my first trip to Italy. Meanwhile Tovey was shopping in her neighborhood, skirting in and out of alleys, me missing her and her missing me. When she found me and ran to hug all the glories of Italy finally burst forth in their bright colors and smells. My relief at being found and finding her had me spilling wine all evening, giddy to look up and take it all in.
The Anchoring Power of a Friend
The sky is black now, and we see thousands of stars, more than her New York sons have ever seen. We hear cicadas and soft twigs breaking in the woods. God's comfort is the same as it always was, but it looks different now that we are mothers. Gathering the blanket and walking under fruit trees in the dark we laugh at ourselves because we are ridiculous and because we are happy. My childhood still lives when I'm with her, and the urge to jump ship does pass as our own children finally learn to drink from cups and button their own sweaters. 
---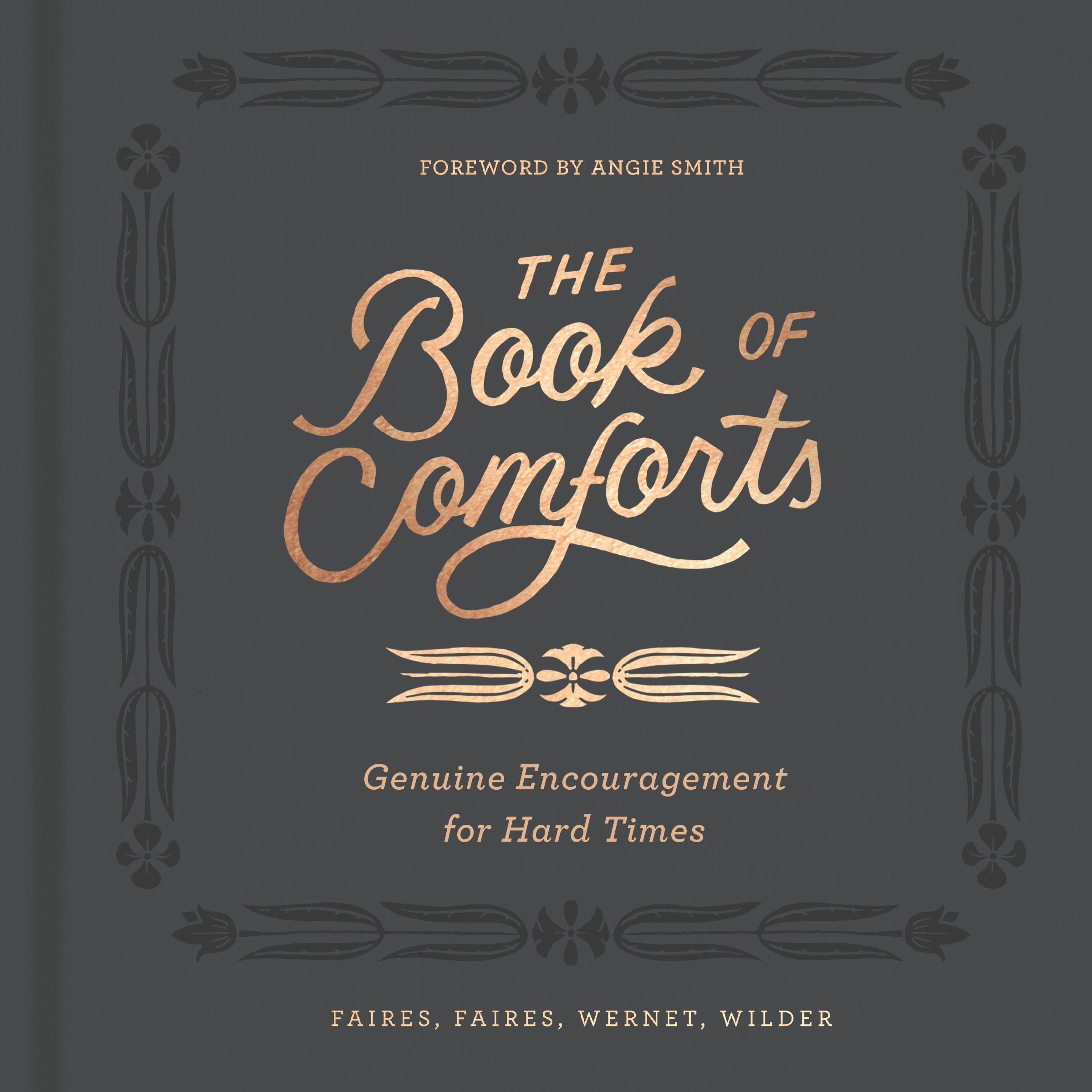 For more stories and reflections on comfort, through joy, friendship, and grief, check out The Book of Comforts, written by Caleb and Rebecca Faires, Katilin Wernet, and Cymone Wilder, released in March though Harper Collins Christian Publishing. 
Rebecca Faires loves the gospel story. And she needs it every morning when she wakes up to raise her five little people. Rebecca holds a bachelor's degree from Hillsdale College in German, and most recently worked as the managing editor and writer at She Reads Truth. She now works from home to live her dream of writing and illustrating books with her favorite mountain man. They work from a log cabin in the hills of Tennessee where she enjoys sitting on the porch when it rains, surprises gone terribly wrong, baby hummingbirds, the Oxford English Dictionary, and getting in way over her head.
Photo Credit: Pexels/Oleksandr Pidvalnyi
Comments