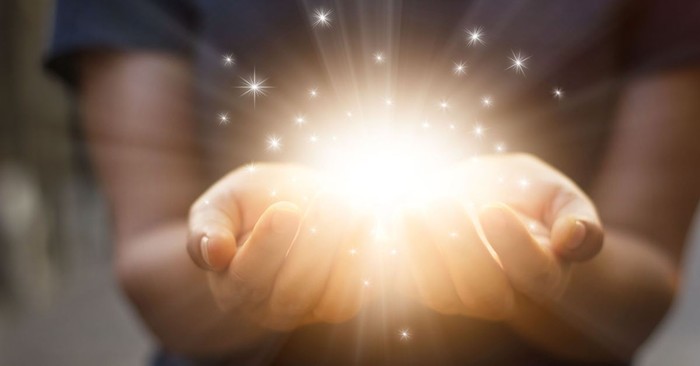 Love and relationships can deepen—even from a physical distance. I think we're going to be surprised by the ways social distancing brings us together.
My husband first told me he loved me over Skype, the call freezing his face in a pixilated grin seconds after he said it. I quickly called him back to confess I was in love with him too. We fell for each other while I was on a quick trip back to the United States during a time when I was living 10,000 miles away in China. Our relationship developed long distance over the course of a few months as we video chatted for five hours every other day, watched movies "together," and even played games online (which he always won because my internet speed was slower). He asked me to marry him three days after I flew back to the states—just five months after we started dating. We only had three official, in-person dates before getting engaged. Because of the hours we spent communicating online, we knew each other better than many couples who spend years in one another's physical presence.
Love and relationships can deepen—even from a physical distance. I think we're going to be surprised by the ways social distancing brings us together.
Photo Credit: © Getty Images/ipopba
We Find Other Ways to Draw Closer
I spent the past seven months speaking to groups about hospitality and the importance of face-to-face contact. In December, I went off all social media and found this made me yearn for real life, in-person relationships. I even wrote a book about battling loneliness through togetherness and loving others through practicing hospitality. But now a book about hospitality feels irrelevant and strange. Hospitality, community, and life as it should be feels impossible. So what now?
Since Covid-19 is spread through physical contact, the best way to love others is to stay physically distant. Since we can carry the virus unknowingly and not show any symptoms ever or for up to 14 days after we've contracted it, the governor of Michigan, Gretchen Whitmer, said we shouldn't assume every other person has the virus, we should assume we have it. Assuming we are sick, how does that alter our behavior and interactions with one another? How can we continue to cultivate community from a "social distance"?
How to Cultivate Community from a Distance
I've done some crowd sourcing online to see what others are doing to connect from afar. Here are a few creative ideas for practicing hospitality even in these days of physical distance:
1. Have "Porch Time." In a recent newsletter, the editor of Geez Magazine, Lydia Wylie-Kellermann, said they hosted a Zoom call with neighbors to check in and they all agreed to meet on their porches every day from 5-6 pm. On Sundays, they'll copy the Italians and bring instruments to sing and dance on their porches.
2. Write physical letters and cards to people who may be isolated at home, those in nursing homes, and family members who are far away. (Some said they'd take pictures of the cards and send them digitally rather than via the postal system since the virus can live on surfaces for hours and even days after its transmitted.)
3. Adopt a healthcare worker to encourage, pray for, and support (some healthcare centers will accept donations of food and flowers for workers, though many healthcare centers are limiting deliveries at this time)
4. Have playdates, coffee dates, or meet-ups on video via Skype, WhatsApp, FaceTime, or Zoom
5. Regularly group message friends on Marco Polo or Voxer (if you don't like seeing yourself on video).
6. Host online book clubs or watch or listen to podcasts or movies separately, then discuss in groups via Zoom.
7. Walk elderly neighbors and friends through their technological struggles over the phone.
8. Phone calls (remember those?) to friends and elderly neighbors, church members, and family members.
9. Set up a Facebook group for your neighbors so you can touch base on a regular basis.
10. Eat dinner "together" with another couple or family using Zoom or Google Hangout.
11. Invite neighbors to have a window art gallery to display art by children and adults.
12. Offer to order online or buy groceries or other household items for immune-compromised and elderly neighbors and friends.
13. Call local charities, join regional Facebook groups, or install the Nextdoor app to find out about the needs of the most vulnerable in our communities.
14. Donate to local charities or food banks.
15. Give no-interest loans to friends who have lost their jobs.
16. Start a Go Fund Me campaign to raise money for vulnerable families and individuals.
17. One of my neighbors emptied her little free library, cleaned it thoroughly and asked other neighbors to keep it stocked with nonperishable food items.
18. Remember that family is our first tier of hospitality. Our children are strangers we welcome into our homes for a season.
19. Pray and watch. As we pray for one another, God will show us who and how to love.
Expats, missionaries, and those in the military have been maintaining relationships from a distance for years. Just because we can't be in each other's physical presence doesn't mean we can't love. Instead, we tap into our God-given ingenuity to learn to love creatively. The word "hospitality," which means "love of strangers" in Greek, will adapt and flex with these uncertain times. We can still love—even from a "social distance."
---
---