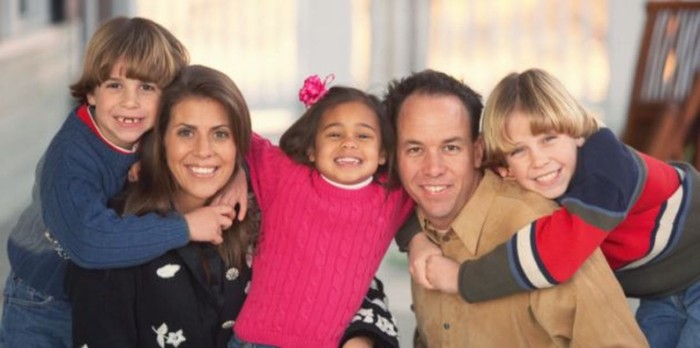 Adoption is a tribute to what can happen when people of faith and action follow God's leading.
On the surface this family looks like your average bustling and beautiful family of five. What you don't see are all the intricate details that had to fall into place in order for this family to be united.
Adoption had always been a desire for Brent and Annie Clark (the family's real names have been removed for privacy). Annie's mom was adopted at birth and Annie knew for many years that adoption was something she wanted to pursue.
Like so many looking to adopt, Brent and Annie attended an adoption information meeting. Knowing they wanted to move forward, they could not ignore the fact that adoption would be financially challenging to their limited ministry salary, yet they pushed onward in faith.
As the Clarks took each step in their adoption journey, funds arrived from the most unexpected sources: college students raised and contributed more than $3,000, a friend handed over a blank check to cover the next set of expenses, and a friend from high school came out of the woodwork and pitched in.
"The money felt like Old Testament manna," Annie says. "We had the money to pay what was in front of us without any knowledge of how we were going to pay the next step." But the provision continued to appear, and the Clarks eventually had the money they needed to complete the adoption.
Then came the long waiting period for their baby.
With two biological boys, Annie and Brent were set on waiting for a baby girl. Their boys prayed for "Baby Sister" to arrive, and the Clarks waited as 13 baby boys in a row were placed without a single girl born.
One morning, Annie was sitting at the breakfast table with her boys when God spoke to her: "These boys are the most precious gift you have. Why are you not open to another one?"
Annie and Brent decided to call their Bethany adoption specialist and remove their gender preference.
About a month after opening their hearts to a boy, the Clarks got the call that they had been chosen. The birthmother was expecting a boy.
In order to understand the rest of the story and just how divine God is, it's important to know that an organization called Heroic Media was in the midst of a national adoption TV ad campaign in conjunction with Bethany. The commercial being aired by the two organizations was called "The Adoption Option," and its purpose was to educate and empower women experiencing unplanned pregnancies to choose adoption by connecting them with counselors at trusted resources.
The birthmother of Annie and Brent's baby was sitting on her couch with the oldest of her four children, burdened with the knowledge that she could not take on another child. Not knowing what else to do, she planned to leave the baby at the hospital.
But God intervened.
That night, the "Adoption Option" commercial caught her attention. She had never considered adoption, she didn't know it was an option or that she could chose a family for her baby. The commercial changed the lives of everyone involved.
At 7 p.m. on a weeknight, she called the number on the commercial and reached the 24/7 hotline where she was connected with a pregnancy counselor who immediately drove two hours to meet her.
Later that week, she chose the Clarks to be the adoptive parents of her baby. In a beautifully redemptive turn, the Clarks' baby was to be born at the very same hospital where Annie had lost her cousin to cancer. What had been a very sad place was now transformed into new life and new hope.
On the day that the birthmother was delivering, Annie and Brent anxiously received the text message on which they had been waiting with a picture of their new baby, but with an unexpected message, "IT'S A GIRL!!!!"
On Thanksgiving Day 2012, the Clarks brought home their daughter in a blue outfit; so grateful for God's divine twist that brought them the baby girl they had longed and prayed for.
"Friends and family members often come up to our baby daughter and tell her how lucky she is to be in our family," said Brent. "But at our final adoption hearing, I told the judge the real truth: we are the ones who are lucky to have her. She is an extraordinary treasure."
Without the powerful message of adoption reaching into the home of the birthmother, without the generous giving of donors both to the Clarks' adoption fund and to the dissemination of the "Adoption Option" commercial, and without the Clarks surrendered heart, this adoption story would have never happened.
The Clarks' baby girl is a tribute to what can happen when people of faith and action follow God's leading. Surrounding this family is a circle of helping hands who—knowingly or unknowingly—reached out to a vulnerable birthmother and brought a baby and a forever family together. Small moments culminated in life-changing miracles.
Marissa Cope is the Director or Marketing, Communications and Research at Heroic Media, an organization that uses media to reach women experiencing unplanned pregnancy by connecting them with life-affirming pregnancy resource centers. Adopted at birth, Cope has a passion for building a culture of life and offering help and hope to women facing unexpected pregnancies.
Joseph C. DiBenedetto is the spokesperson for Bethany Christian Services, a global family preservation and child welfare agency.
---
---