7 Prayers for When Parenting Is a Struggle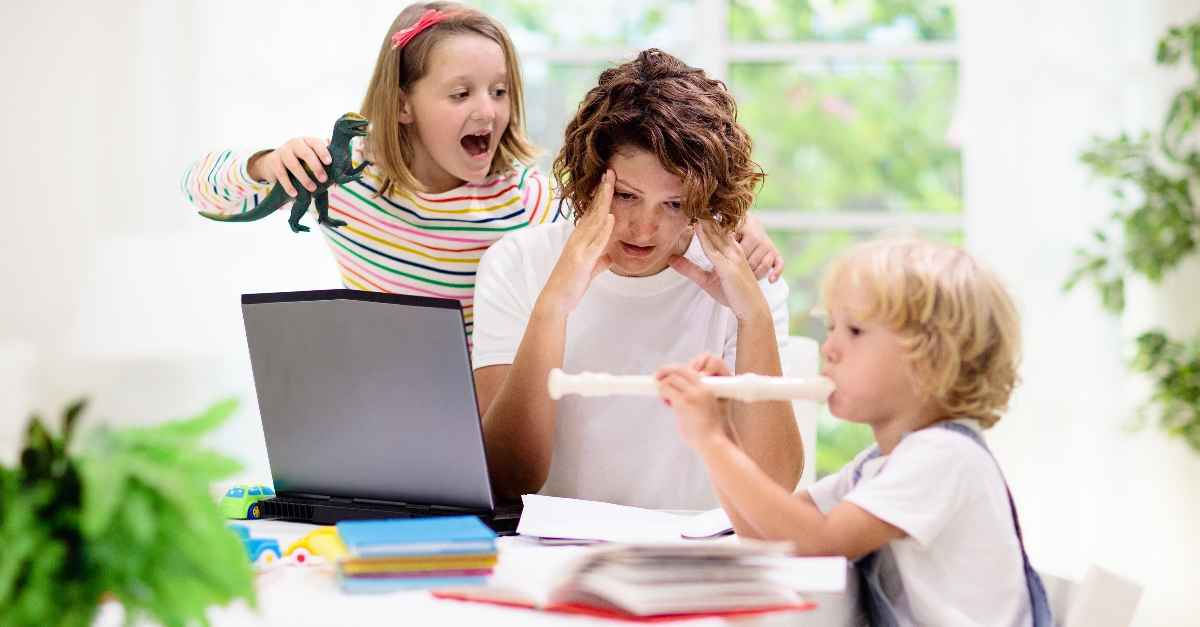 Are you struggling with parenting right now? It's no secret that parenting is hard, but some times are more difficult than others.
If you and your family are finding these days of social distancing and quarantine to be a little more challenging than you expected from a relationship perspective, I want to provide you with seven simple prayers that will help you survive, and even enjoy, these days of extra family time.
Here are 7 prayers that can make a huge difference for you when being a parent is hard:
Photo Credit: © Getty Images/FamVeld
1. A Prayer for Fresh Strength and a Renewed Heart

Slide 1 of 7

"Lord, fill me with Your Spirit anew and afresh today. Help me to parent my children like You parent me. Give me Your heart for them, Lord, and help me to love them like You do."

Zechariah 4:6b says, "'Not by might nor by power, but by My Spirit,' says the Lord of hosts."

The only way we can succeed as parents is by the power of God's Spirit. Even if you are the most educated, the most enthusiastic, and the trendiest parent around, you still need God's Holy Spirit to help you. This is why it's so important for us to ask the Lord to refill us with His Spirit every day, so we can operate in His power.

Also, we need to ask the Lord to help us parent our children with HIS heart—and we need Holy Spirit's help for that, too. Carrying God's heart for people doesn't come by fleshly power or effort, even if those people are your children. We have to ask the Lord proactively to give us His heart!

Asking the Lord to give you HIS heart for your child will transform your parenting.

God's heart for your child is the same as it is for you:

He's full of love and hope.
He believes the best about you.
He never remembers the sins He has forgiven.

If you ask the Lord to give you His own heart for your children, you will be able to love them with a holy fervor that eclipses the stress of day-to-day childlike behavior. You will be able to remain filled with hope not only for your child's life, but also for the success of your day together! Also, God's heart will enable you to move past little glitches (like temper tantrums) and still be able to treat your child with love and affection.

Photo Credit: © Getty Images/Light Field Studios

2. A Prayer for Grace upon Grace

Slide 2 of 7

"Father God, please make Your grace tangible in my life today."

Second Corinthians 12:9 says, "And He said to me, 'My grace is sufficient for you, for My strength is made perfect in weakness.' Therefore most gladly I will rather boast in my infirmities, that the power of Christ may rest upon me."

Every parent is familiar with the feeling of weakness. However, we don't always realize that God's grace is a very tangible force that has a physical, discernible, extremely real impact on our day.

When I'm feeling particularly overwhelmed with parenting my child, I ask the Lord to make His grace tangible in my life. In other words, I'm asking Him to manifest His supernatural help in our family in such a way that:

Things just work and flow, and they aren't stressful;
I am able to stay filled with peace and joy, no matter what happens; and
I can take things in stride, not feel overwhelmed, and maintain a "can-do" attitude throughout the day as I spend time with my child.

By contrast, on the days when I forget to pray this prayer, I often feel stressed and overwhelmed. Little things (like putting my child down for a nap) feel like insurmountable challenges. I lose courage and feel like hiding, instead of operating in the peace and power of God.

God's grace truly is sufficient for you and me—and "grace" isn't a pie-in-the-sky concept. It's the very real power of God that He applies to your life to make everything work and flow. It produces peace in your home and in your soul.

Therefore, on mornings when you just don't know how you will ever face the day, ask God to make His grace tangible in your life!

Photo Credit: © Getty Images

3. A Prayer for the Lord's Leading in My Children's Lives

Slide 3 of 7

"Lord, please disciple my children personally. Help them to hear Your voice behind them, saying, 'This is the way; walk in it,' and let them never turn to the right or to the left."

Isaiah 54:13 says, "All your children shall be taught by the Lord, and great shall be the peace of your children."

And Isaiah 30:21 says, "Your ears shall hear a word behind you, saying, 'This is the way, walk in it,' whenever you turn to the right hand or whenever you turn to the left."

Our loving Father has promised to instruct us and teach us in the way we should go and to guide us with His eye upon us (Psalm 32:8). This promise applies to your children also! When you consider the other verses above, we can see that God Himself has promised to disciple our children personally.

As parents, of course we can and should guide and teach our children. That's our job! However, if we will also ask the Lord to personally teach them, guide them, and help them stay on His path each day, then His Holy Spirit will work in their hearts. He will lead them, disciple them, and even convict them when needed.

Photo Credit: © Unsplash/Kelly Sikkema

4. A Prayer for Loving Discipline and Patience

Slide 4 of 7

"When my children need discipline, give me grace to discipline them rightly—with Your heart, Your gentleness, Your love, Your patience, and even Your firmness."

When our children act badly, we have to choose how we will respond. We can either stay filled with the fruit of the Spirit and correct our children with love, peace, and gentleness, or we can make the situation worse by losing self-control and acting as ugly as our children did.

If you proactively ask the Lord for help with disciplining your child before a situation requiring discipline arises, then you will find Holy Spirit reminding you of your prayer at just the right time. At that moment, if you will pause and look to the Lord before taking action, He will show you how to handle the situation without harming your Christian witness or your relationship with your children.

Photo Credit: © Getty Images/fizkes

5. A Prayer to Savor Precious Moments

Slide 5 of 7

"Help me to enjoy my children, and to remember that these moments are precious."

God wants our days with our families to be precious and sweet. However, the enemy often tries to use the cares of this world and the stresses of life to rob us of our enjoyment of that time.

On days when you feel like hiding, pray specifically as follows:

Ask the Lord to help you fall in love with your children all over again.
Ask Him to help you delight in their sweet kisses, in their hugs, and in their learning, growth, and development.
Ask Him to give you creative, fun ideas for activities you can do together… and ask Him to give you the desire to do those activities.

If your children still live at home, you already know that your years of seeing them every day are numbered. Eventually, they will grow up, move out, and build lives of their own. Therefore, it's important to ask the Lord to help you make the most of every day.

Photo Credit: © Getty Images/oscarhdez

6. A Prayer for God's Wisdom in My Parenting

Slide 6 of 7

"Lord, give my children and I Your wisdom, which is first pure, then peaceable, undefiled, willing to yield, and full of mercy and good fruits."

James 3:13-17 says this:

"Who is wise and understanding among you? Let him show by good conduct that his works are done in the meekness of wisdom.

"But if you have bitter envy and self-seeking in your hearts, do not boast and lie against the truth. This wisdom does not descend from above, but is earthly, sensual, demonic. For where envy and self-seeking exist, confusion and every evil thing are there.

"But the wisdom that is from above is first pure, then peaceable, gentle, willing to yield, full of mercy and good fruits, without partiality and without hypocrisy."

Can you imagine what it would be like if your children ALWAYS operated in purity, peace, gentleness, mercy, and good fruit—AND were always willing to yield to godliness? Can you imagine how your family life—and that of every other family around the world—would be transformed if we all did away with bitter envy, self-seeking, boasting, lying, confusion, and every evil thing?

Heaven is what it would be like.

But you know what? That standard isn't too high for us to reach with God's help. The heavenly attributes of purity, peace, gentleness, humility, mercy, good fruit, are all products of wisdom. And God's word contains His promise to give us all the wisdom we need if we will but ask Him for it.

As it says in James 1:5-8:

"If any of you lacks wisdom, let him ask of God, who gives to all liberally and without reproach, and it will be given to him. But let him ask in faith, with no doubting, for he who doubts is like a wave of the sea driven and tossed by the wind. For let not that man suppose that he will receive anything from the Lord; he is a double-minded man, unstable in all his ways."

God's wisdom is freely and liberally available to us all. If we need it, all we have to do is ask the Lord, and He will give it to us.

So what are you waiting for? Ask Him today for wisdom—both for yourself and for your children. He will give you the wisdom you seek, and you will see the godly fruit of His wisdom manifested in your family.

Photo Credit: © Getty Images/imtmphoto

7. A Prayer for Hearts that Love to Obey

Slide 7 of 7

"Heavenly Father, I pray that You would give me and my children obedient and humble hearts. I pray that we would all yield our lives to You and obey You; and in so doing, that my children would obey and honor me—and that I would honor them—as Your word says we should do."

It's so important that we pray daily for our children to be humble and to submit to the Lord in all things. In order to bear any kind of good fruit in their lives, our children will have to humble themselves under the mighty hand of God. (Even salvation requires us to humble our hearts before Jesus as we receive Him as Savior and Lord!)

When both we and our children are humble and obedient before the Lord, our family lives will naturally fall into place. God's word—and the instructions found therein—will have first place in our hearts and homes. That means:

We will love and honor each other.
We will prefer other people as better than ourselves.
Our children will obey us as their parents.
The sweet sounds of worship and prayer will exude from our hearts and fill our homes.

But it all starts with humility, and with God's Spirit changing our hearts to make us like Jesus and helping us to yield to the Father day in and day out.

My friend, if you are struggling as a parent right now, you are not alone. Parenting is hard; there's no question about that.

However, on days when you don't want to deal with another day of family time, I encourage you to cast your burdens upon the Lord in prayer. Pray specifically:

for Him to make His grace tangible in your lives;
for Him to lead and guide everyone in your family; and
for His Spirit to move dramatically in your hearts and interactions.

As you pray these things, you will see His Kingdom come and His will be done on earth—and in your family—as it is in Heaven.

---

Jamie Rohrbaugh is an author, speaker, and Presence seeker whose heart is for the local church. Called to edify, encourage, and equip the Body of Christ, her passion is to see sons and daughters of all ages transformed by the love of Abba Father. Jamie blogs at FromHisPresence.com® about prayer, revival, and the manifest presence of God. She is the author of four books and of numerous articles around the web. Jamie is a grateful member of the Redbud Writers Guild. She and her husband live in Chattanooga, Tennessee, and together they have one cat. Follow her on Pinterest, Facebook, or Twitter.

Photo Credit: © Getty Images/Fizkes
Contact Us
Get iBelieve.com