How to Parent with the Holy Spirit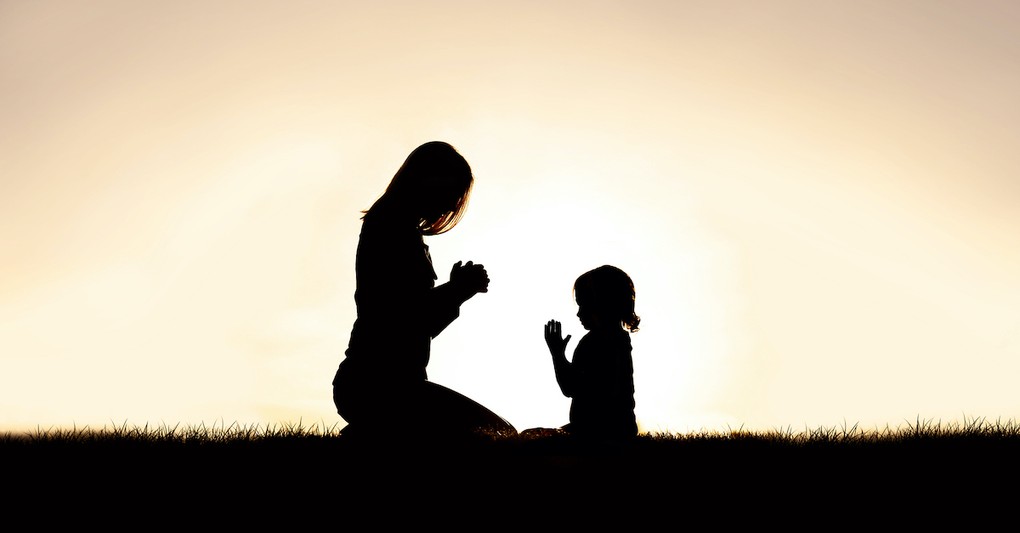 Out of all the responsibilities given to mankind, one of the most important is parenting. Yet, raising children in a world of social media, competing beliefs on what it means to be Christian, and a daily upheaval within the news can be quite the challenge. Since parenthood comes without a guidebook, it can be easy to parent out of our insecurities, fears of failing our children, or out of comparison. However, it has never been more important to parent with God's truth in the forefront of every decision. We have an opportunity to raise children in a way that honors God and creates a foundation for them to one day accept Christ for themselves.
In many ways, parenting is like fulfilling the Great Commission within our own homes. What an honor! Parenting from this perspective allows each day to be a mission to serve the Lord, versus a chore or a burden.
With this in mind, here are ways to parent with the Holy Spirit:
Photo Credit: © Christin Lola
1. Make prayer a priority.

Slide 1 of 3

Parenting without praying is a recipe for disaster. Oftentimes, when frustrations arise we run to friends, google, or our favorite parenting book. Yet, it would be more beneficial to seek the Lord for all things. Realizing that our children were created by the Lord, (who knows all things) should inspire us to know that He has the answer to all their needs. He is well aware of their temperament, personality, and even what their purpose is in life. Although we may be frustrated that parenthood doesn't come with a manual, we can be encouraged that we have access to the Creator! Yes, before you even knew the sound of your child's cry, or their favorite color, God knew them.

"You made all the delicate, inner parts of my body and knit me together in my mother's womb" (Psalm 139:13)

When prayer becomes the foundation of your home, you can hear His voice on what to do next. Likewise, when things seem to not be going to plan, we can seek Him for peace and comfort. With prayer, we give the Holy Spirit an open door to speak into our parenting journey.

2. Listen to His voice.

Following God's voice in your parenting will be one of the most critical aspects of Christian parenting. It's not always easy to do so when friends and family may have a different outlook on how you should raise your child. However, remember this, God knows exactly what will work for your home and what will be a non-negotiable. Rather than trying to fit the world's standard into your home, seek to let God's will be done in all things. There may be times that you will need to say "no" or "not yet," not because it's bad but because you don't feel the Lord is leading you to do so. Parenting with the Holy Spirit means you are willing to make hard decisions for the greater good of your child. You can trust that whatever He is leading you to do will be the best choice, even if you don't understand it in the moment. Simply do what He calls you to do, and allow Him to handle everything else.

"I will instruct you and teach you in the way you should go; I will counsel you with my eye upon you." (Psalm 32:8)

Photo Credit: © Getty Images/Thitaree Sarmkasat

3. Teach them the Word.

Slide 2 of 3

It's never too early to teach children the Word of God. If introduced in a way that is relevant and fun, you will find that even from a young age children can come to love the Lord. From finding Bibles that are age-appropriate to applying the Word to everyday scenarios, never miss an opportunity to teach them God's Word. In my home, my desire is that my children will know God's Word so much it will become their default setting for every situation (good or bad).

"Train up a child in the way he should go: and when he is old, he will not depart from it." (Proverbs 22:6)

4. Model the faith.

Simply saying Bible verses and learning songs about Jesus, will not be enough to see children grow in the Lord. Our faith must be modeled on a daily basis. Simply put, our children will observe how we react to the Lord and respond accordingly. Observational learning is not by circumstance but is considered a key way that individuals learn and know what is right and wrong.

According to Explore Psychology, children are most likely to model if any of the following are true:

They are unsure of their own knowledge and skill
They recognize the other person as an authority figure
They feel their behavior will be reward
They have things in common/similar background of person, they are observing

With this said, as parents, it's important to recognize that if we desire our children to love the Lord, we must take a moment to reflect on our own behavior first. If we only speak God's Words to our children, but never do them, we are setting them up to see Christianity as a hypocritical and unreliable faith.

"But don't just listen to God's word. You must do what it says. Otherwise, you are only fooling yourselves." (James 1:22)

Photo Credit: © Getty Images/nicolesy

5. Put your children around others who affirm biblical truth.

Slide 3 of 3

Much like how our behavior within our home will set the tone for how our children interact with the Bible, so will the overall environment. I have learned that there are times the Holy Spirit will caution me about certain friends, schools, or even outings for my children to participate in. For some families, this may mean making a choice to start going to church or to no longer allow certain friendships. Whatever the case may be, Holy Spirit-led parents have to become accustomed to giving uncomfortable (but well-needed) "no's." Although every environment will mot be Christian or reflect your beliefs, those who are in your inner circle should model what you stand for in Christ.

"Do not be misled: 'Bad company corrupts good character.'" (1 Corinthians 15:33)

6. Love them well.

The best way to parent with the Holy Spirit is to operate in His love. When we make a choice to love our children in a way that reflects God's heart, we are forced to act differently in parenting. The way we interact with our children will now become filtered through the lens of 1 Corinthians 13. For some reason, it can be easy to forget that the way God loves us is the same way He wants us to love our children. Thus, at any moment we should be able to pause and go through this list of ways God loves.

Before I respond, I ask myself if my love and actions are characterized by these things:

"Love is patient, love is kind. It does not envy, it does not boast, it is not proud. It does not dishonor others, it is not self-seeking, it is not easily angered, it keeps no record of wrongs. Love does not delight in evil but rejoices with the truth. It always protects, always trusts, always hopes, always perseveres." (1 Corinthians 14:4-8)

When you choose to operate in love, you will find that you will become a "safe place" for your child to be vulnerable with their emotions and to ask questions about their faith.

"Love bears all things, believes all things, hopes all things, endures all things." (1 Corinthians 13:7)

Overall, parenting is an excellent opportunity to do God's will on Earth. Parenting is not a burden, but a way we can grow in the Lord and help those in our care to draw closer to Him. With intentional seeking of the Lord, and actions that reflect our faith, we can be confident in our parenting and be examples of God's love, relying on the work of His Spirit.

Photo Credit: © Getty Images/Deagreez