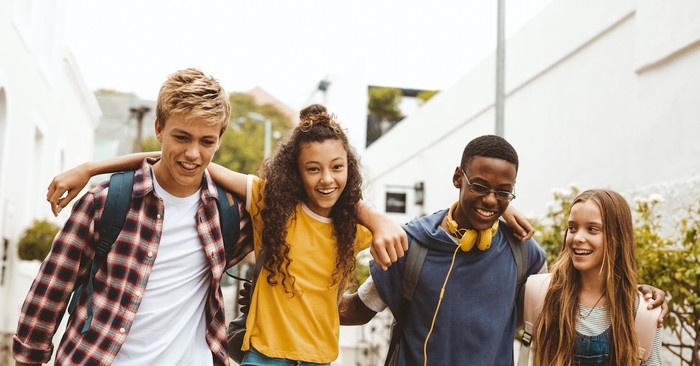 Maybe preparing him for middle school is more about preparing myself.
I sat there with the other parents, listening as they described each of the classes our children would be in. I got to meet the history teacher, the science teacher, the math teacher, the language arts teacher, and hear about the electives that they offered, as I walked from class to class. Memories of my own middle school years came flooding back, and I began thinking through how to best prepare my son for middle school.
Middle school years are so formative and rough. It's a time when your personality develops more fully, your interests show up, and your friendships are solidified, but it's also when kids can get mean, when kids get self-conscious, and when you find out you need to work harder at school.
Remembering Middle School
Looking at my own child and thinking about the ups and downs of my middle school years, it was difficult to compare the two. I didn't grow up in a Christian home, and here he is with Christ-following parents, praying for him, and guiding him in the way he should go. I didn't have a father in middle school, and here he is with both parents united and loving him, providing a firm foundation.
Even though I know that he has more than I ever had, I still wonder how I will fall short in preparing him for these years. Not knowing how to speak to him. He's a boy, and I am his mom. I wonder how I will help him navigate friendships and social media and cell phones when I didn't grow up with those. I wonder how my own feelings will show up, my temper, my frustration, and my shortcomings. I wonder if the negative parts of my relationship with my parents will repeat, or if I'll truly be able to start a new thing.
Worrying About Middle School
As I sat there, listening to them talk about electives, I was getting excited for my son, knowing his personality and his interests and how he will thrive, but also knowing his struggles and how much help he may need. How will he keep his papers organized and stay on top of his schoolwork? How will he make it to his class on time and know where he's supposed to go? How many things is he going to lose? How many things is he going to forget? How will he emotionally regulate during the day, and what will all his peers think about his meltdowns? Because that's the thing in middle school, people are a lot meaner. Are they going to make fun of him? Will he make new friends or will he sit alone while his friends from elementary school flourish and move on?
Cell Phones and Social Media
I noticed kids walking from class to class with cell phones and that added another layer of worry and concern. We've decided not to give our kids cell phones until they reach high school, but how am I going to help him learn what to do when someone else has a cell phone when someone else has access to the Internet and social media? What choices will he make when I'm not around?
Praying for Middle School
It's time for me to switch classes and hear about more of the programs they offer. I gather my things and leave the class, feeling too big in this place, too old, trying to imagine all of these parents gone and how it would be as a middle schooler in these halls. Praying as I walk along, asking the Lord to protect my son. That he will go before him. That he will give his classmates eyes to see him with understanding and patience. That he'll help him find friends who understand and value him and see the wonderful, curious, funny kid that I see every day. I pray that his teachers will be supportive and encouraging. That he will learn so much from them not just about their subjects but that their character would be a good example. I pray for the friends he already has, that they would continue to be a godly influence, that they would grow to know and love God even more, and that they would include other boys and bring them into their circle of friendship.
Growing Up and Changing
As we finish up the open house, I meet up with my son and we walk to the car together. He tells me very little about his time. He mostly shrugs me off, and I wonder, "Is this it? Are we done talking?" Is this where I stop hearing all of his thoughts, his never-ending monologue about who said what, and how funny somebody was, what they did at recess, and what they said in class? Is this when all those words dry up? But then after a few minutes of silence, he begins to tell me which teachers he thinks would be cool, how excited he is that his best friend is in all of his classes, the clubs he wants to join, and I take a deep breath. Turns out, he hasn't turned into a completely different person overnight. He hasn't stopped talking to me or stopped needing me. This will be an important transition for both of us.
Preparing Myself for Middle School
Maybe preparing him for middle school is more about preparing myself. I prepared myself to be silent and wait for him to speak when he wanted to. Preparing myself for the inevitable mistakes that will happen with schoolwork or with friends. Preparing myself for the emotions that he will express, and how I will react. Preparing myself for navigating things like cell phones and social media, and holding on to the boundaries that we have set as a family. Preparing myself to watch him grow and change, to grieve the loss of a little boy but celebrate the man he is slowly becoming. Preparing myself to trust the Lord in all of the many things I will not know about his life because God knows, and he loves my middle schooler more than I ever could.
Photo Credit: ©acroblund
---
---