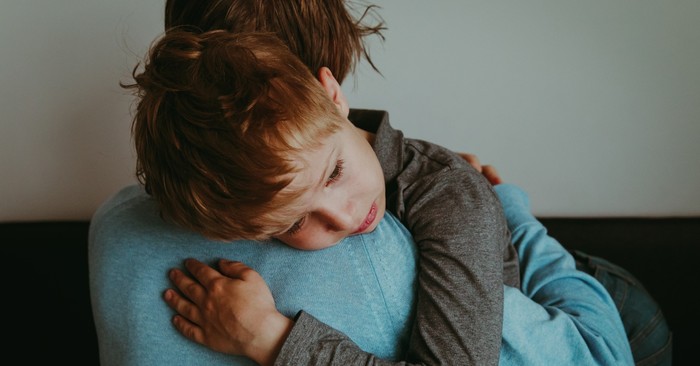 Just as the Lord was faithful to see them through starting a new school year, learning to ride a bike, or making new friendships, He is faithful to see them through this very fear they are facing.
One night, my family and I arrived at a get-together. My husband and son walked right in the door without any hesitation, but I noticed my daughter walking very slowly a few feet behind me. I turned and encouraged her to walk next to me, but she immediately dropped her shoulders and hesitated to come closer."I'm scared, mommy," she said as she stopped and began to back up. At first, I reassured her that she knew everyone that would be inside and they were so excited to see us, but she continued to hesitate. I quickly realized it wasn't that she didn't want to go inside; she was scared.
A weight of compassion fell on my shoulders. My beautiful girl was terrified to walk into a room full of familiar faces. Those familiar faces would rush to her because they were excited to see her. They would make conversation, rub her back, or try to tickle her to make her giggle. Often, my daughter will shy away from their attempts to welcome her and further cradle herself into my arms, but after a few moments of deep breaths and connection, she becomes comfortable in her own time. Typically, we allow my husband and son to walk in first, taking the weight of the biggest, first welcomes. This allows my daughter and myself to blend in with their carefree spirits.
I am always learning new ways to aid my child through social anxiety, but here are some tips that have helped me along the way:
1. Be Present and Patient
Our child is struggling. There is no amount of pressure or rushing on our part that will take the fear and anxiety away from our child. Yes, children can do things amid their fear, but we can use this as an opportunity to lean down to their level and let them know that we see them in their struggle and are here to help. We can remind them that just as we are present and available for them, the Lord is present and available for them as well. He sees us in our struggles, and there is nowhere we can go that will be out of His presence.
"O Lord, you have examined my heart
and know everything about me.
You know when I sit down or stand up.
You know my thoughts even when I'm far away.
You see me when I travel
and when I rest at home.
You know everything I do.
You know what I am going to say
even before I say it, Lord.
You go before me and follow me.
You place your hand of blessing on my head.
Such knowledge is too wonderful for me,
too great for me to understand!
I can never escape from your Spirit!
I can never get away from your presence!"
Psalm 139:1-7 NLT
2. Remind Our Child That Jesus is in the Room
It's crucial to remind your child that they can speak Jesus' name over the worry and fear growing inside their hearts and minds. We may feel like we are alone in this feeling of fear, but Jesus is right here, ready to walk us through this scary moment. He is willing and able to take hold of our right hand and help us trudge through the fear we are facing. Just as we read in the scripture for being present and patient, Jesus is aware of our every thought, feeling, spoken and unspoken word, and physical movement. We are not alone. Even when we fail to deny our understanding of our circumstances, He is faithful to help us and reassure us that He is here to help.
"For I hold you by your right hand—
I, the Lord your God.
And I say to you,
'Don't be afraid. I am here to help you.'"
Isaiah 41:13 NLT
3. Ask How They Are Feeling
I love how Sissy Goff names the fear and anxiety rising in us as "the worry monster" in her book Raising Worry-Free Girls:
"What is the worry monster telling you?
What are you most afraid of at this moment?
How does your body feel – your chest, tummy, shoulders, head?"
Our children will experience fear emotionally, but they will also experience it physically. The physical symptoms that can go along with social anxiety can be confusing to our little ones and our teens. When we come alongside our children, we help them gain awareness of their anxiety. When they become aware of "the worry monster," we can work to slow down our breathing, remind ourselves that God is as near as our very breath, and we can slowly release the tension we are harboring. The Lord is faithful to meet us at this moment. These physical symptoms are indicators to make us aware, but they are not truths that hold us captive. We may feel helpless to fear and anxiety, but we can trust in the Lord to be our source of help.
"Trust in the Lord with all your heart;
do not depend on your own understanding."
Proverbs 3:5 NLT
4. Create a Plan Together
We talk through what to expect at social functions: who will be there, ideas of things we could talk about, things we would rather avoid talking about, tips for changing the subject, and taking deep breaths in our moments of fear. If ever a moment becomes too overwhelming, we can retreat away for a potty break to wash our hands and take some deep breaths or step outside for a breath of fresh air. When we give our children ideas for conversation, they can begin to feel confident and capable of having conversations on their own and changing conversations when needed. The fear of the unknown and unexpected can paralyze us with fear, but we can be proactive by taking time to plan and prepare so that when the moment comes, our child is equipped and feels equipped to face the fear.
"Do your planning and prepare your fields
before building your house."
Proverbs 24:27 NLT
5. Remind Our Children When They Overcame
In those moments when fear has completely taken over, we must remind our children that God has seen them through their past struggles. We must remind them of specific examples where God's mighty works were displayed. They have done hard things in the past, and we believe in their ability to do hard things again. Your child is stuck in a loop of what ifs, but this simple shift can stop the loop and allow them to remember their ability to be brave in the face of fear through Christ. Just as the Lord was faithful to see them through starting a new school year, learning to ride a bike, or making new friendships, He is faithful to see them through this very fear they are facing.
"But then I recall all you have done, O Lord;
I remember your wonderful deeds of long ago.
They are constantly in my thoughts.
I cannot stop thinking about your mighty works."
Psalm 77:11-12 NLT
6. Help Them Memorize Scripture
When the tough moment arises, we may be unable to flip through our Bible or search online for the scripture their heart needs. Just as we plan and prepare mentally, we can also prepare their hearts spiritually. We must hide the Word of God in their hearts so that when they are crippling under the pressure or bravely facing fear, they can be reminded of the truth of God's Word. There are so many scriptures to choose from, but this is a frequent conversation that I have with my child:
Me: "You can do…"
Child: "Hard things!"
Me: "Why can you do hard things?"
Child: "Because Jesus is my strength!"
"For I can do everything through Christ, who gives me strength."
Philippians 4:13 NLT
From the moment I became aware of my child's social anxiety, we no longer worked through this hesitation in the home's entryway or in front of many familiar faces. The work began before we ever pulled up to their house. Now, we prepare ourselves together. Each of us has a different journey and a different experience, but we can always find hope and help in the Lord and His Word.
Mom, Dad, caregiver, or friend, I know that social anxiety takes its toll on you as well. I would love for you to be on the lookout for another article dedicated to you.
Photo Credit: ©Getty Images/Nadezhda1906
Laura Spurlin is a Christian, wife to her high school sweetheart, mama to her kiddos, nurse, and writer that has a passion for sharing what the Lord puts on her heart about motherhood, mental health, and all things in the Word of God.
---
---