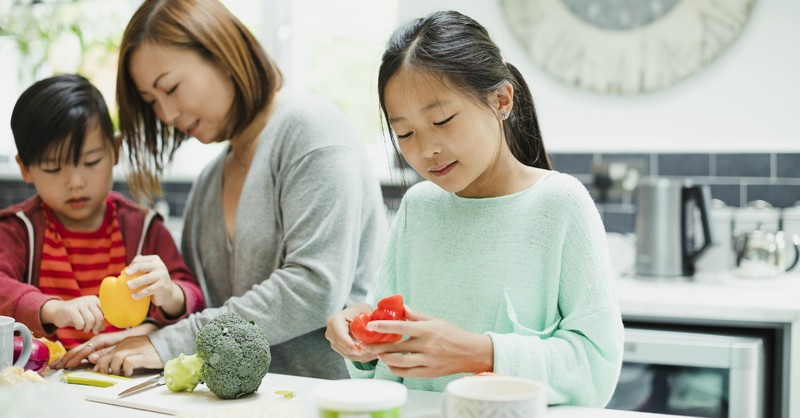 When Turkey Isn't Your Thing
Vivian Bricker

Contributing Writer
Food is a blessing from God, but it is not a sin to abstain from turkey this year. Look over these different recipe ideas to see if any of them fit your Thanksgiving Day.
It is common for people to equate Thanksgiving dinner with a home-cooked turkey with stuffing and gravy. But maybe you're like me and turkey really isn't your thing. I'm a vegetarian, so I do not eat turkey. Or maybe you do eat meat, but turkey just isn't your cup of tea. In any case, here are some fun recipe ideas to shake up your Thanksgiving dinner this year:
Plant-based Alternatives
My mom raised my sisters and me as vegetarians, so it is not an oddity to not find a turkey for Thanksgiving dinner on our table. We have tried many different vegetarian turkey recipes over the years, but we have found the Quorn Meatless Roast is our number one favorite. The best seasonings for the meatless roast include garlic, onion powder, paprika, Italian seasoning, and thyme with a nice coating of olive oil. Then you bake the meatless roast anywhere from 60-90 minutes at 375 degrees. This recipe serves four; however, it will be so tasty, you might find it hard to share. There are plenty of other vegetarian brands who offer a meatless roast, such as Tofurkey, Field Roast, and Gardein. Trying one of these plant-based alternative "turkeys" might just become your new favorite holiday dish! Just do not forget the mushroom gravy!
Gimme All the Fruits and Veggies!
Thanksgiving is known for its vast choices of different side dishes. If turkey isn't your thing, load up on different vegetable recipes. Some ideas for different side dishes, in addition to the traditional green bean casserole and mashed potatoes, could be a sweet potato casserole, broccoli casserole, or a pink salad. Each of these dishes has been a staple at my family's Thanksgiving ever since we were introduced to them by my mom and grandma:
1. Sweet potato casserole is a sweet dish you can find in the southern states. It's made by smashing up fresh cooked sweet potatoes until they are tender and look like mashed potatoes, but orange. Then, you mix in raisins and a half cup of maple syrup. After stirring thoroughly, you place marshmallows on the top and bake for 15-20 minutes at 350 degrees. It is a sweet vegetable dish that could work for a dessert too!
2. Broccoli casserole is just like green bean casserole, but instead of green beans, you use fresh broccoli, and instead of French onion soup, you use cream of cheddar soup. Top with French fried onions and you have a delicious veggie dish that even kids will love.
3. Pink salad is another family favorite of mine, and you may be wondering exactly what pink salad is. It is an abstract dish, but if you like cottage cheese and fruit, you are sure to fall head over heels for this creative dish. Pink salad is made up of low-fat cottage cheese with cranberry sauce, cherries, cool whip, and walnuts all mixed together. It gets its name from the fact that the cottage cheese turns pink because of the cranberry sauce and the cherries. It is not only pleasant to the eyes, but also to the tastebuds.
4. A bonus Thanksgiving dish I grew up with was apple salad. There again, it is not a recipe involving actual lettuce, spinach, or kale. Rather, apple salad is a dish made up of diced red apples, light mayonnaise, raisins, and walnuts all mixed together. You can serve it by itself or you can serve it with croissants. If you enjoy sandwiches, you can spread it on two pieces of bread to create a tasty sandwich.
Classics
If you are a meat eater but don't like the taste of turkey, you can substitute chicken, ham, or lobster for your Thanksgiving dinner this year. My dad never had turkey growing up in the 1960s as his grandmother ("Grannie") used to always cook roast chicken with pinto beans, corn bread, and fried potatoes. Maybe this Thanksgiving meal inspired by my dad's Grannie sounds like a good switch up this year. Mix and match different meats with different veggies and fruits in order to get a unique spread that your whole family will enjoy. Maybe you love ham, so try a roast ham for Thanksgiving. Or maybe you like fried chicken. (You could always pick up a fried chicken bucket from a local restaurant if you are too tired to cook. We have all been there before!) You could even go out for dinner if cooking in general just isn't your thing. No matter what you choose, I'm sure it will be a fantastic choice!
Different Cultural Dishes
Across the world, people celebrate Thanksgiving with different foods besides turkey. You could try one of these culturally different dishes to spice up your holiday kitchen:
1. Among ethnic Latino families, they cook burritos, tacos, and tamales for Thanksgiving dinner (Alia Hoyt, "10 International Dishes for Your Thanksgiving Spread," How Stuff Works, 2020).
2. In Asia, a cultural dish is Lo Mein noodles for Thanksgiving (Alia Hoyt, "10 International Dishes for Your Thanksgiving Spread," How Stuff Works, 2020).
3. The Thanksgiving dinner staple in Italy is homemade lasagna (Alia Hoyt, "10 International Dishes for Your Thanksgiving Spread," How Stuff Works, 2020).
If turkey isn't your thing, try preparing burritos, Lo Mein noodles, or lasagna this Thanksgiving to give your guests a unique surprise. You do not have to travel across the world to indulge in these cultural cuisines for the holidays. If you are feeling particularly adventurous, you could try other global fare such as golden Persian rice, red-miso glazed carrots, or sticky rice dressing ("Global Thanksgiving Side Dishes," Food and Wine, 2017). It may be intimidating at first when you look at these different ethnic dishes, but you can be assured that your Thanksgiving will be unique and unlike any other. Memories will definitely be made and cherished for years to come!
The Real Meaning of Thanksgiving
Thanksgiving is a time to celebrate together among family and friends, a day to give thanks and show gratitude to the loved ones in your life. Give thanks to God and praise Him, remembering that Thanksgiving is not all about the turkey, football, or preparing for Black Friday deals. This holiday season, rest in the peace of Christ and give thanks to Him for all of the blessings He has given to you.
Food is a blessing from God, but it is not a sin to abstain from turkey this year. Look over these different recipe ideas to see if any of them fit your Thanksgiving Day. There are many different dishes you can make in place of turkey that will still amaze you and your family's tastebuds.
I think I might choose to create some of these new ethnic dishes from around the world this holiday season for my family and friends. What about you?
Photo Credit: ©GettyImages/DGLimages4
---
Vivian Bricker loves Jesus, studying the Word of God, and helping others in their walk with Christ. She has earned a Bachelor of Arts Degree in Christian Ministry and is currently working toward her Master's Degree. Her favorite things to do are spending time with her family and friends, reading, and spending time outside. When she is not writing, she is probably embarking on an adventure.
Comments
---
---