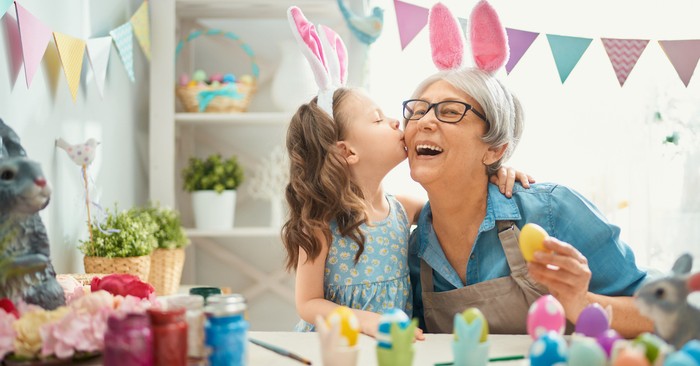 Now the bunnies, eggs, and baskets are fine, but they need to be part of a secondary celebration of Easter. I am a grandmother and have seven beautiful grandchildren. I know what getting carried away with Easter baskets and gifts for my grandchildren is like. My husband recently said, "Honey, it looks like Easter threw up in your study!" And he is right.
Happy Easter! Easter is one of my favorite times of the year for many reasons. First, it is the celebration of life – the Resurrection of Jesus Christ, the Giver of all life. But sometimes that truth gets buried under the mounds of chocolate bunnies, beautifully decorated eggs, overflowing baskets - you get the idea.
Now the bunnies, eggs, and baskets are fine, but they need to be part of a secondary celebration of Easter. I am a grandmother and have seven beautiful grandchildren. I know what getting carried away with Easter baskets and gifts for my grandchildren is like. My husband recently said, "Honey, it looks like Easter threw up in your study!" And he is right.
But this year, I want to emphasize the real reason for our Easter celebration. So let me share some ideas I have come up with – some new and some old. I hope they help you plan a great Easter with your grandchildren.
1. Easter Sunrise Celebration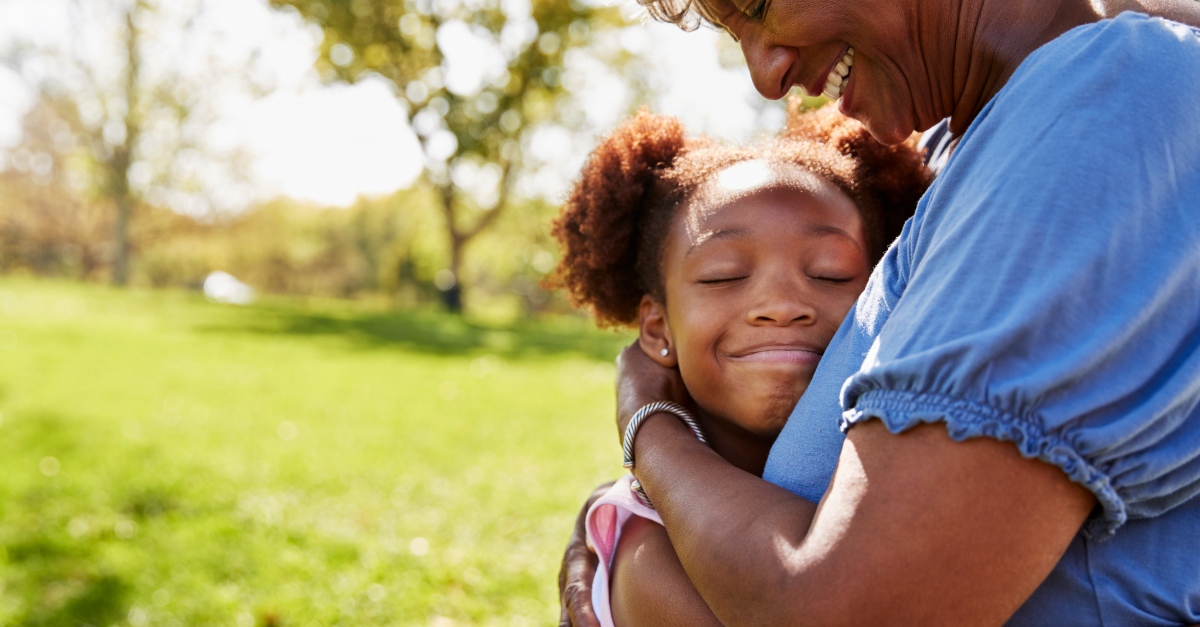 Photo credit: ©Getty Images/Yakobchuk Olena
I love this idea! Have a sunrise celebration of your own. Let your grandchildren help you plan and carry out the details for the rest of your family. It's not too late! You can pull this off in just a few days.
Celebrate at your home. Please keep it simple. Our deck is the perfect spot for a sunrise celebration. You can also watch the sunrise in your backyard or living room. The place doesn't matter. What does matter is that it is a quiet place where the sunrise can be easily seen.
Let your grandchildren offer ideas for a simple breakfast. One item on our breakfast menu this year is doughnuts. Love. It. Choose a few verses of Scripture for the grandchildren to share. Sing a couple of songs, and if one of your grandchildren plays the guitar or even the recorder, let them lead the singing. And let one of your grandchildren lead everyone in a prayer. I know this service will be a blessing to everyone.
2. Easter Fireside
For many years, my husband has held weekly fireside groups for men. He bought a small portable firepit and began inviting men to attend. It has been a huge success.
A fireside meeting can be a fantastic experience with your grandchildren. Start by asking the question Dan begins every meeting with, "What is God teaching you?" You may get some uniquely excellent answers from the youngest grandchild and some profound truths from any of them. Then, of course, you can always expand the group to include parents.
The Easter custom of lighting a bonfire is an old tradition that originated in Germany. It means to symbolize a light within darkness (like the Resurrection) and the end of the winter season.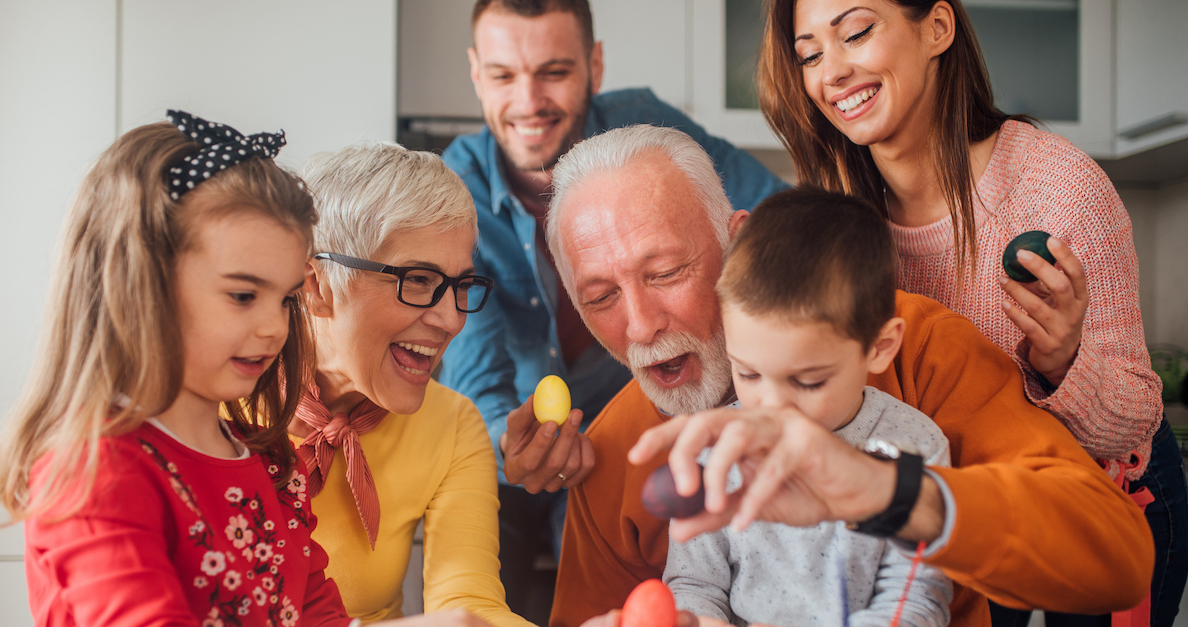 Photo credit: ©GettyImages/RgStudio

3. Prayer Eggs
Prayer eggs are a new tradition for me – although I'm sure they are not unique to many of you. During Easter week, use a basket of prayer eggs to encourage your family to spend time together in prayer.
On slips of paper, write a prayer request and place it in a plastic egg. Make sure you have enough eggs for each family member to open one a day during the days leading up to Easter. You can also include praise for answered prayer and ways you have seen God at work in your life.
As a grandmother, one of my responsibilities as a grandparent is to help disciple our grandchildren. Teaching them to make prayer an ongoing and natural part of their day is depositing an eternal truth in their hearts.
4. Easter Egg Decorating Party
Decorating Easter eggs is undoubtedly not a new idea, but always worth mentioning. Egg decoration is a custom that originated as far back as the 13th century, but a custom that is still carried out by millions of people each year. Eggs are associated with the Easter story because they represent beginnings and new life.
There is really no right or wrong way to decorate an Easter egg. However, just about the time I think I have seen every possible to decorate an egg, I find a new way. You can use crayons, food coloring, markers, stencils, or even paint. I have even seen eggs decorated with yarn or ribbon. Decorate your eggs with images of things that bring you hope and symbolize life.
5. Easter Egg Hunt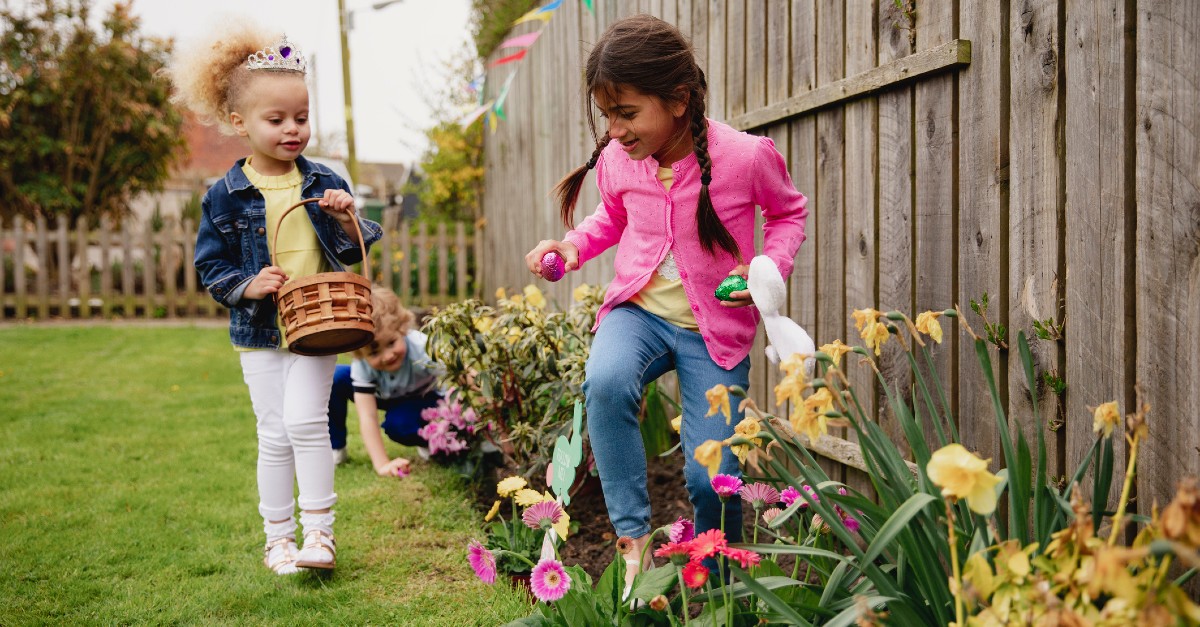 Photo credit: ©GettyImages/DGLimages
I recently came across this fact about Easter egg hunts. "Some historians believe this tradition dates back to the 16th century when the priest Martin Luther organized an Easter egg hunt for his congregation." I had no idea!
If you are hiding them for kids or grandkids, make a map showing where all the eggs are hidden. Our older grandchildren love to help "the littles" find eggs. They are so sweet in ensuring each child has about the same number of eggs when the hunt is over.
One of our favorite ways to hunt eggs is a nighttime hunt. We give each child a flashlight and then put small lights in or near the eggs. Watching the kids and grandkids racing around in the dark is hilarious. Parents definitely need to be included in this event. The flashlights help everyone keep from tripping over a rock, etc.
6. Easter Baskets
The tradition of Easter baskets began during medieval times when people would exchange baskets filled with decorations, candy, and toys. I have stuffed eggs with almost everything you can imagine, including candy, jellybeans, quarters, marshmallow chicks, and small toys – you name it. But, by far, dollar bills are the most popular tradition that is a must every year. I put them in one egg color to ensure they are divided equally. But the grand finale is the golden egg with a five-dollar bill. Everyone is on their own for this one!
Enlist the help of your grandchildren in making and delivering baskets to neighbors, friends, or anyone spending Easter alone. You will be amazed and delighted by how much your grandchildren will love making these kinds of baskets, but the delivery service makes this custom a winner. Leave each basket on the doorstep, ring the doorbell, and run like crazy! So. Much. Fun. And a blessing to each basket recipient.
7. Easter T-Shirts
Consider creating T-shirts for each grandchild. You can find online help for this idea, but your grandchildren of all ages will love it. Tuck them in each child's basket and let them wear the shirt for Easter dinner. I don't believe grandchildren ever get tired of wearing T-shirts.
A few final thoughts:
When we give our grandchildren gifts, we show each grandchild they are seen. We know them. And we celebrate who they are. But we also have the opportunity to pass on eternal truths about the love of Jesus Christ.
No matter what you fill their baskets with or serve for Easter dinner, make sure you find a few minutes to spend with each grandchild, telling them how special they are to you and what they mean to you. They have no idea the joy they bring us as grandparents. Let them see that joy in you.
And may this Easter be the best you have ever had with your grandchildren!
Photo credit: ©GettyImages/Choreograph
Mary Southerland is also the Co-founder of Girlfriends in God, a conference and devotion ministry for women. Mary's books include, Hope in the Midst of Depression, Sandpaper People, Escaping the Stress Trap, Experiencing God's Power in Your Ministry, 10-Day Trust Adventure, You Make Me So Angry, How to Study the Bible, Fit for Life, Joy for the Journey, and Life Is So Daily. Mary relishes her ministry as a wife, a mother to their two children, Jered and Danna, and Mimi to her six grandchildren – Jaydan, Lelia, Justus, Hudson, Mo, and Nori.
The views and opinions expressed in this podcast are those of the speakers and do not necessarily reflect the views or positions of Salem Web Network and Salem Media Group.
Related video:
If you want to learn more about the resurrection and its power, this article is for you: 4 Powerful Lessons from Christ's Resurrection
Stock Footage & Music Soundstripe.com, Getty Images
---
---