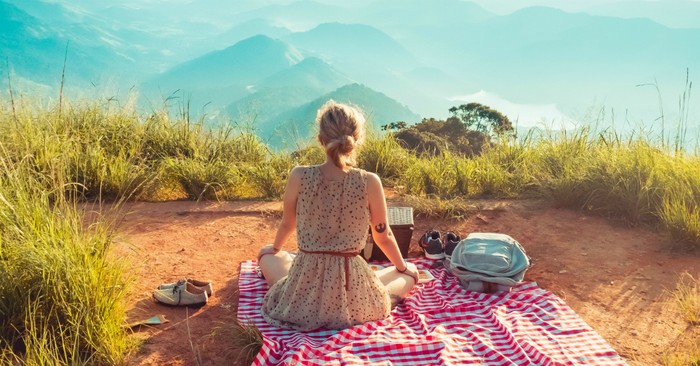 As Lent begins this month, let's join Jesus on the mountaintop.
A few years ago, my family and I took a trip to Barcelona. One of the places where we were excited to visit was the Sagrat Cor, a stunning church that sits atop a hill known as Mount Tibidabo.
At the time, I had just finished up my second semester of Latin in college and so I easily deduced that Sagrat Cor means "Sacred Heart" in Catalan. The wannabe linguist in me was proud—but then quickly stumped by the meaning of Tibidabo.
Tibidabo.
Tibidabo.
I was certain I'd heard the word before…
I climbed up the steep steps to the upper level of the church, panting when I reached the top. It wasn't as elaborate as the first floor where the altar had boasted a glorious mosaic, but it did have a striking stained-glass window.
The window depicted Jesus raising an accusatory finger toward the devil, who was hunched over at His feet. Beneath the image was an ominous inscription:
Hace omnia TIBI DABO si cadens adoraveris me.
I knew it sounded familiar!
Tibidabo wasn't a word—it was a compound of two. In Latin, the phrase tibi dabo means "I will give to you" and is among the first words the devil spoke to Jesus as they looked down from a mountain at the kingdoms of the world.
"I will give [to] you all their authority and splendor," said the sinister one to the Savior. "It has been given to me, and I can give it to anyone I want to. If you worship me, it will all be yours" (Luke 4:6-7).
According to popular Catalan tradition, Mount Tibidabo is the very mountain where the devil brought Jesus to tempt Him. Legend has it that it was one of the three places, in addition to the Judaean wilderness and the Temple of Jerusalem, where Jesus quoted Scripture in order to rebuff the devil.
Memories of this fanciful legend ultimately came to my mind when I realized that Lent was upon us. After all, Lent commemorates the 40 days and nights Jesus spent fasting in the desert, where He was tested by the devil before beginning His public ministry.
As Lent begins this month, let's join Jesus on the mountaintop. Let's take part in this solemn period of self-reflection, penitence, and spiritual renewal and discover the beauty of our humanity—made perfect in Jesus—and the eternal power of Scripture.
Jesus: Fully and Unashamedly Human
As I contemplate the temptation of Jesus, I can't help but smile at the thought of Jesus' humanity.
Jesus is hungry.
God is hungry.
Just imagine that for a moment. God—the Almighty Creator of the universe—knows what hunger feels like. In fact, He knows what the full spectrum of human experience feels like because He was—and still is—human.
Jesus' human nature is something that we, as Christians, often overlook. Sure, we know—as the Nicene Creed declares—that Jesus "came down from heaven, and by the Holy Spirit was incarnate of the virgin Mary, and became man."
But do we know what that truly means?
It means that Jesus struggled too. As a human, Jesus faced temptations every day, fighting the very same impulses that you and I—and all people since the dawn of man—have ever experienced.
How comforting it is to know that ours is a God who understands us! The God of the Bible empathizes with our daily struggles because He once lived the life of an ordinary man—without any special privileges or unfair advantages.
So, whenever you feel alone in your struggles or misunderstood by others, remember that Jesus, your God, and Savior, knows exactly what you're feeling. After all, He did not spare Himself from any of the inconvenient, scary, painful, or messy experiences of life. Instead, He dived right into the tempestuous sea of human existence, readily assuming human flesh, undergoing (and overcoming!) temptation, and suffering on our behalf.
The Power of Scripture
In all three of His rebuttals against the devil, Jesus cites Scripture. Though He is the King of Kings and the Lord of Lords, He does not once rely on His own strength or power. Instead, He relies on the Word of God.
For example, in the desert, when the devil tempts Jesus to turn a stone into bread, cunningly proposing it as a remedy for His hunger, Jesus quotes Deuteronomy 8:3: "It is written: 'Man shall not live on bread alone, but on every word that comes from the mouth of God'" (Matthew 4:4).
Then, when the devil brings Jesus to the pinnacle of the Temple of Jerusalem and tells Him to throw Himself down from it, citing Psalm 91 as evidence that God will send angels to save Him, Jesus again counters him with Scripture: "It is also written: 'Do not put the Lord your God to the test'" (Matthew 4:7).
Lastly, when the devil transports Jesus to an exceedingly high mountain and offers Him all the kingdoms of the world in exchange for His allegiance, Jesus firmly—and for a third and final time—rebukes him with the Word of God. "Away from me, Satan!" He exclaims. "For it is written: 'Worship the Lord your God, and serve him only'" (Matthew 4:10).
Though the devil tries to lure Him with power, prestige, and pleasure (the three P's, if you will), Jesus does not capitulate. He refuses to take Satan's quick route to glory, choosing instead the path of suffering as a means to His exaltation.
We can ultimately learn a thing or two from Jesus' dependence on Scripture. Whenever we are facing life's challenges and feel swayed by the many temptations of the flesh, we can find comfort and courage in the Bible.
Of course, for many of us, reading the Bible regularly can be challenging. Sometimes it even feels like a chore—something that needs to be done instead of something we want to do. So, how can we change this? How can we become more willing and dedicated Bible readers?
Some years ago, when I found myself feeling overwhelmed by Bible reading, I decided to start keeping a journal of my favorite Bible verses. Whenever I read a verse or passage that inspired or uplifted me, I would jot it down in the journal and refer to it whenever I needed a boost of encouragement, comfort, or strength.
You won't believe how many verses and passages you love—and just how fun it is to find them! I now have hundreds of verses and passages recorded in my journal and make new discoveries about them—and myself!—every time I read them. Recording Scripture in my own hand has been—without a doubt—a rewarding, therapeutic, and empowering experience—and one that has drawn me closer to God.
For It is Written…
I now know why Jesus didn't rebuke the devil with His own words. He was ultimately modeling for us how we should respond to Satan when he tries to beguile or test us. As the Lord demonstrated, there's no need to rely on our own strength or intellect when we have God's Word—the very Word that will endure forever and ever—at our very own fingertips.
The temptation of Jesus is essentially an enduring reminder that God is a trusted friend and companion to whom we can look for guidance and wise counsel. He's experienced it all—hunger, thirst, fatigue, exhaustion—and can offer us sound advice, help, and comfort whenever we are in trouble. As the writer of Hebrews explains, "For this reason he had to be made like them, fully human in every way, in order that he might become a merciful and faithful high priest in service to God, and that he might make atonement for the sins of the people. Because he himself suffered when he was tempted, he is able to help those who are being tempted." Hebrews 2:17-18
Photo Credit: ©Unsplash/Willian Justen de Vasconcellos
Roma Maitlall fancies herself a bit of a logophile (from the Greek, meaning "lover of words"). She's loved writing ever since she could hold a pencil, and this passion inspired her to study English at St. John's University, her alma mater. Now an editor for an NYC-based publisher, Roma spends most of her days dreaming of becoming a published author and obsessing over her favorite people in the world: her sisters. She enjoys exploring museums on the weekends, getting in touch with her heritage, and learning everything there is to know about history, literature, religion, pop culture, and art. She lives in Queens, New York.
---
---