7 Ways to Make Advent Simple but Special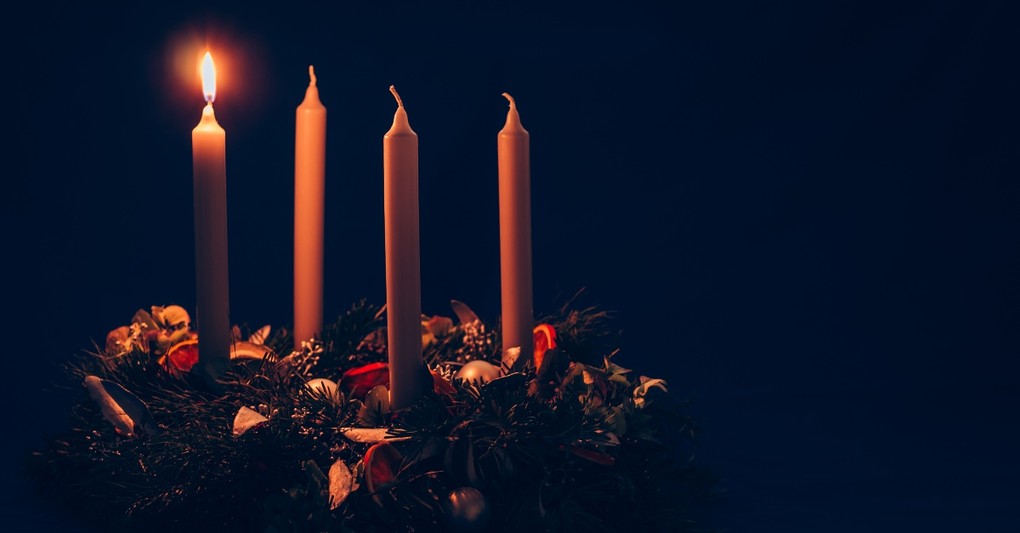 Am I the only one who is exhausted at the thought of one more activity to plan to keep the kids distracted? With the threat of possibly more quarantine, I have found myself adding games and activities to their Christmas wishlists to keep them busy in the winter.
Every parent this year is worn out and most certainly out of ideas.
Advent can be a big pressure season to check every activity off the list, get an Advent calendar, be creative. There is even more pressure to make it spectacular for our kids after the hard year we have all had. Do more, make more, be more.
The truth is it will all leave us more exhausted than we started and will likely make us miss the point.
We need to make the Advent of 2020 about simplifying and taking it slow.
Photo Credit: © Getty Images/Katarina Gondova
What Is Advent Really Meant to Be About?

Slide 1 of 5

The whole year has looked different, and I think that the Christmas season should follow suit, but not in a way you think. With most extra parties and activities canceled, we have more time on our hands, and that can be a great blessing in disguise.

Celebrating the season as a family isn't about adding more; it is about remembering the why of the holiday—the birth of Christ. Busyness will keep us from fixing our eyes on Christ, slow, maybe just the change of direction we need. Removing the pressure to make it perfect may give us the glorious freedom to rest in His love and peace.

Maybe planning all the activities is your gifting, but if you're like me and it's more stress than it's worth, take this as your permission to pump the breaks.

I may not be able to change what is happening globally, but I can change what is happening in my home.

Photo Credit: PxHere

What Makes a Truly Meaningful Advent Season?

Slide 2 of 5

I am going to share what we are doing this Advent season. I have been known to buy nice Advent calendars, bake cookies from scratch, build gingerbread houses, and all the things. This year I am doing things differently.

I am focusing on being together. (Yes, I know, you're thinking "wait, that is all we have done all year." I know, I know.) Now that it is December, our togetherness looks like fighting over school, everyone watching different tv's, barely sitting around the table for dinner. Togetherness doesn't seem to be something we enjoy any longer.

This year, however, I'm putting away what keeps us from really being together—taking out extra steps that make more work and embracing the whole Christmas pajama thing.

Photo Credit: © Getty Images/Ekaterina Morozova

How to Make Your Advent Simple and Special

Slide 3 of 5

1. Every night and weekend, put school and work in the closet or somewhere out of sight.

If you are working from home and doing school from home, we have confused our environments. Children don't want to be at school all the time, and we don't want to work all the time. If we put it away each night and day, we can change the environment from one that causes stress to one that brings us peace.

2. Make a Christmas movie marathon list.

Watch all the classics and even add new ones to the list. Thanks to streaming services, the lists could go on for quite some time. Make certain weeknights your movie nights, no exceptions, and no devices are allowed. Make popcorn, wear your jammies, and snuggle up. This is my favorite activity done a few nights a week.

3. Take the pressure off baking.

I am going to give you permission to buy pre-made cookie dough. Save yourself and your mixer. Enduring this year has earned you the right to have someone else make your cookie dough. Another great idea is to check out your local small business bakeries and see if they sell cookie kits or even pre-made cookies!

Photo Credit: Ann Danilina

4. Check out drive-thru Christmas lights.

Slide 4 of 5

Best news, moms, this is also an activity that can be done in pajamas. Fill Ziploc bags with popcorn, travel mugs with hot cocoa, and crank up the Christmas music. In our area, our Speedway puts on a drive-thru and a few nights a week have a drive-in movie. It makes for a perfect and simple Christmas night out.

5. Simplify your gift-giving.

We have decided to cut way back on the gift-giving this year with many of our family members unemployed. We are focusing on the needs of the people we love right now. This year ask your family what is something they are in need of and have not been able to find or cannot afford to buy. Giving toilet paper in 2020 is not out of the question and should be considered acceptable gift-giving.

6. Be ok with not participating in every tradition.

Maybe that means keeping the elf in a quarantine jar for the month of December, to forgo making gingerbread houses, or not making a big Christmas dinner. For most of us, the biggest tradition we will miss is gathering with family outside our homes. Find new ways to make it fun, even if choosing to simplify the season means missing things you always do.

Photo Credit: © Pixabay

7. Most important, focus on the main thing.

Slide 5 of 5

Read the Christmas story together, pray as a family, and focus on why we celebrate. Ask your kids to write down things they are thankful for from 2020, help them see the bright moments, and focus on the good God has done in your lives in spite of all the bad.

This season doesn't have to be a challenge. Navigating social distancing, canceled gatherings, and quarantine don't have to rob us of the simple joys of Christmas. Christmas isn't about any of those things anyway; it is about Christ who came to pierce the dark world with His glorious light. Keep it simple, friend, focus on what matters, be ok with going slow, and let go of the pressure to step up with more activities. Our kids will remember the time we spent with them more than they will remember the tasks and lists we tried to complete to make it special. Your presence and the gift of Christ are all they need.

Photo Credit: SWN