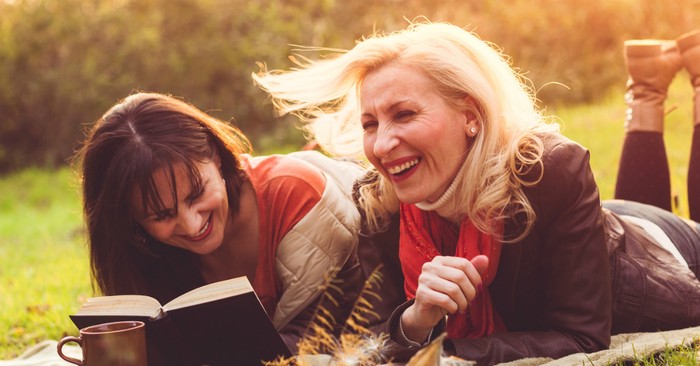 With one eye looking for guidance, and your other eye on who God might want you to mentor, don't be surprised at the opportunities He gives you.
As a young bride, I stood chiseling the frozen slab of bacon from the wall of the freezer. The used refrigerator we bought when we were first married did not self-defrost––something I didn't even know existed at that point.
Before Steve and I were married, our weekends consisted of lazy days by the river or whatever other romantic day we planned. After our honeymoon, we settled into married life; it began to dawn on me just how much work was involved in being a wife.
The year before we wed, I lived alone so working and keeping my apartment picked up was never a problem. But as a newlywed working full-time and with a husband in construction, I found myself drowning in a sea of dirty laundry and housework. Feeling disappointed and overwhelmed, the day of the frozen bacon fiasco triggered in me feelings of resentment that had been festering for some time.
With hair dryer in one hand and ice pick in the other, I took out my frustration as I repeatedly stabbed the frigid box. When I overheard my husband and his brother laughing together in the garage where they happened to be changing the brakes on my car, my discontentment only heightened.
But then amidst my longing for the days of dating and fun, the Spirit convicted my heart over my sinful attitude. As God revealed to me my selfishness, His Word whispered to my heart, "See to it that no one fails to obtain the grace of God; that no root of bitterness springs up and causes trouble, and by it many become defiled" (Hebrews 12:15).
I thought, So this is how it starts. This is how so many wives start to build up resentment toward their husbands.
I'll be honest with you; the thought scared me. In my own upbringing I had witnessed the foundations of loving marriages unravel, and here I was getting ready to walk down the very same path. I knew I needed help. But where would I turn?
At that time, Steve and I worked with the youth in our church. There were a number of teens in our group that we greatly admired. As I observed the families of those students, I took extra care to watch how their parents interacted with one another. The couples who seemed to still be in love after years of marriage were the people I wanted to get to know.
Reaching out to some of the older women, I found they were more than happy to become my friends. I was looking for mentors, but in reality I wanted to build friendships with women who had walked well this path ahead of me in marriage and raising children.
Titus chapter two instructs the older women to teach the younger how to love their husbands and their children. That older women step out of their comfortable lives to come alongside younger women was not a suggestion, it is God's mandate.
The older women who befriended me became my lifeline to learning how to be the wife I had meant to be––the wife I longed to be. They invited me to Bible studies. At first I offered excuses to Gayle, one of the older women, "I am just too busy to attend a weekly Bible study."
Rather than let me get away with making excuses, Gayle encouraged me to commit to the study of Philippians that they were doing. She said, "I'll help you any way I can. But I promise if you commit to allowing God to transform you through the study of Scripture, you will find strength and His wisdom to becoming the woman He is calling you to be."
I wanted to resist her gentle nudging but I agreed to join the study of the short epistle of Philippians. In class, I noticed a mix of older and younger women in the room. As we sat discussing the homework from Philippians the older women graciously spoke words of wisdom over the younger women who were in attendance.
When the older ladies shared their own personal stories of victory and failure, they were humbly beckoning a younger generation to learn from their mistakes and their successes. Learning from the humility and kindness of these women was and has forever been a treasured turning point in my life.
Romans 12 promises that the Word of God will transform us by the renewing of our minds. As I studied Philippians, my worldview and my thoughts were being washed with the water of the Word (see Ephesians 5:26). And slowly I began to see my husband and my ministry as a wife and mother through Jesus' eyes.
No longer was I a victim of the emotional roller coaster that raced through my thoughts. God's Word gave me His strength to speak Truth to any feelings of resentment that tried to find their way into the back roads of my mind.
As these women passed to me the baton in this relay race of life, their wisdom was a great source of counsel. Proverbs 11:14 says, "Where there is no guidance, a people falls, but in an abundance of counselors there is safety." I found safety and guidance as they helped walk me back to Truth whenever my thinking would go astray.
Make Friends with Happy Couples
Making friends with happy couples also transformed our marriage as we watched them lovingly interact with one another. In my book If My Husband Would Change I'd Be Happy, I listed 8 Insights I Learned from Happy Couples:
Have realistic expectations.
Your husband is not like you.
Think the best about your husband.
Be kind to one another.
Refuse to fantasize about being married to someone else.
Your husband is NOT your enemy.
Love Christ more than you love your husband.
Determine that divorce will NEVER be an option.
I am confident that the relationships I built with older women were God's way of transforming me into the woman I am today. To those women I am forever grateful. (I wrote an acknowledgement to them in my latest book.)
It's My Turn Now
Over the years God has blessed me with opportunities to make friends with younger women––to help them build no regrets lives. Through youth, college, and young adult ministries, God has more than provided young women to whom I might pass the baton.
In this season of my life, God has surprised me with chances to mentor countless women through my books, radio ministry, speaking and through my quarterly newsletter at NoRegretsWoman.com.
It's Your Turn Too
With one eye looking to godly older women for guidance, and your other eye on who God might want you to mentor, don't be surprised at the opportunities He will give you.
"What no eye has seen, nor ear heard, nor the heart of man imagined, what God has prepared for those who love Him" (1 Corinthians 2:9)
Photo credit: ©GettyImages/Sneksy
Publication date: February 10, 2017
Related podcast:
The views and opinions expressed in this podcast are those of the speakers and do not necessarily reflect the views or positions of Salem Web Network and Salem Media Group.
Related video:
Stock Footage & Music Courtesy of Soundstripe.com Thumbnail by Getty Images
---
---