Why My 40s Have Been My Best Years Yet
Sometimes it feels as though society glorifies youth and beauty unscathed by any visible measure of time. It's not something I thought much about until I approached my forties, and I began to take notice of a few glaring realities that stared back at me in the mirror. All too often I judge myself by something other than God's standard.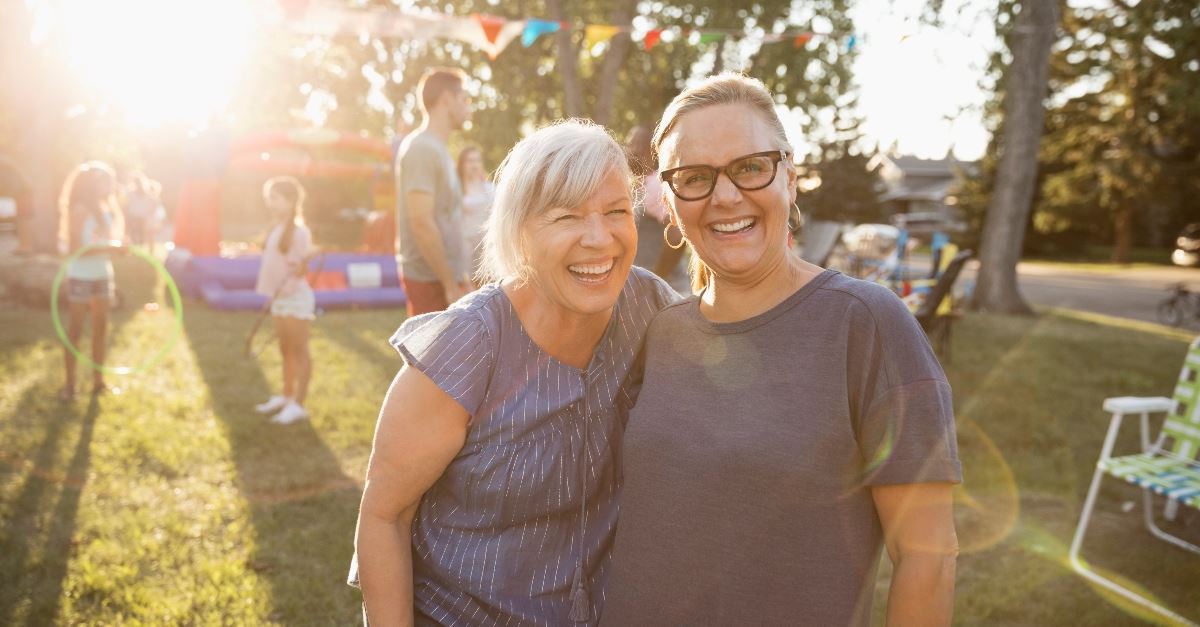 Sometimes it feels as though society glorifies youth and beauty unscathed by any visible measure of time. It's not something I thought much about until I approached my forties, and I began to take notice of a few glaring realities that stared back at me in the mirror. All too often I judge myself by something other than God's standard. 
We can all breathe a sigh of relief that nowhere in the Bible does it mention anything about the fit of my jeans or whether or not I have stretch marks. I decided to embrace moving forward in years. After all, what is the alternative? I can be the best me at any age, and God has a plan and purpose for my life.  I am almost 45, halfway through this decade, and here are four ways my forties have been my best years yet. 
1. I am the older woman.
Before you cringe at the word "older" as I did, take a closer look at Titus 2. There seems to be an assumption here that the older woman has a lot to offer.
Older women likewise are to be reverent in behavior, not slanderers or slaves to much wine. They are to teach what is good, and so train the young women to love their husbands and children, to be self-controlled, pure, working at home, kind, and submissive to their own husbands, that the word of God may not be reviled. (Titus 2:3-5 ESV) 
Do you remember being the younger woman? Wasn't that just yesterday? I recently heard a nurse describe our 40's as "not quite young and not quite old." (Wow, I'm feeling that one!) But we are older, aren't we? And Paul's command includes a role for all women, whether they are single or married, and whether they have children or not. God's word is the standard for our behavior, not our experience. This leaves room for older women to teach and flourish in all areas of guidance. Nancy Leigh DeMoss (now Wolgemuth) comes to mind as a faithful example of a gracious woman who has been teaching women on a broad spectrum of issues for decades before she was married.  
But our experience can also play a role in our relationships with younger women. Perhaps you have worked a career, served in missions, raised a family, started a business, homeschooled your children, cared for elderly parents, or all of the above. You have learned invaluable lessons and can encourage younger women who are living just a few stages before yours in life.
Perhaps you have remained single and can encourage younger women, as Paul did, in their singleness as a gift and a blessing with the freedom to serve Christ in whatever way she is able.
I wish that all were as I myself am. But each has his own gift from God, one of one kind and one of another. To the unmarried and the widows I say that it is good for them to remain single, as I am. (I Corinthians 7:7-8, ESV)
Maybe you were single for longer than you desired before marriage and can encourage a sister on the days she feels a bit lonely. Encouragement from the heart of a sister who can relate may be what she needs.
If you have been married and are raising children, odds are that in your 40's you are not drowning in diapers and sippy cups as you were a few years ago, just trying to figure out what to do to survive each day with the kids and house intact. Younger women, like we did, need a woman who has been down that path to stand at the end of it, hold out her hand and say, "You can do it. You're almost there. Cease striving and enjoy those precious kiddos, for time is fleeting." After all, the Word says to train the young women to love their husbands and children. The implication is that it won't always come easily or naturally. We can encourage them in ways we remember we needed encouragement - like how to stop trying to be Supermom, according to Pinterest, and learn how to set priorities as the standard for her own family.
Don't be intimidated by the idea of "mentorship." Mentorship can be as simple as choosing a few young women in your life who you can ask to be praying for. Invite them to coffee, and just be intentional about cultivating a relationship. Once you begin to get to know one another, you will find ways to encourage them in the Lord. Think about what we have to offer: our struggles and our victories, friendship and encouragement, what we learned both good and bad, a voice to say there is light at the end of the tunnel, or as my mother-in-law says when life feels overwhelming, "This too shall pass."  We don't have to know it all, we can just offer what we have. This is as complicated as mentorship has to be.  
2. I know that I don't know everything, and I am OK with that.
In my 20's and 30's I felt like I knew a great deal, but I was more often than not operating on theory. I r.ead books on everything - how to raise my kids, how to have a good marriage, how to study my Bible, how to clean my house, how to make better friends, and on and on. It is important to do the work to learn and grow, for lifelong growth is a worthy desire and one He encourages us in. After all, "Be Holy as I am Holy" is not going to come without doing some hard work. Thankfully, in my 40's I realize there is no way to know everything, and that is ok. It doesn't create the same insecurity it did in my 20's. There is no such thing as doing it perfectly. His grace is sufficient for me, and His power is made perfect in my weakness. (2 Corinthians 12:9-10).
3. I have more experience and wisdom to draw from.
The good news is, I have learned much in the last few decades, and I can look back on a track record of successes in many areas. I've raised three children, I've been married for almost 24 years, I've experienced some successes in life and work. I've also failed miserably in even more ways. I've learned to be grateful for the successes and appreciate them, and then use them as stepping stones toward future growth. Though admittedly it doesn't always come naturally, I can also now view mistakes as learning opportunities and then move on. In my younger years, I found it more difficult to get over mistakes, often feeling like failure was fatal. But life is too short to be afraid to fail. Mistakes are growth opportunities that can often plant seeds of equal or greater benefit if we learn how to move on from them.
4. I have more confidence in myself knowing God will equip me for His purpose.
Years ago, a conversation I had with my then tween-age daughter was eye-opening to my own thought process. During school, a few of her friends were sharply criticizing themselves, little things that they didn't like and wished were different. "Mom," she explained, "I told them that when they complained about themselves, that was like saying that God messed up or that He didn't know what He was doing when He made them. When they criticize themselves, they criticize God."  Wow—out of the mouths of babes and mea culpa. The idea of loving myself at first seemed selfish, but that's not the Biblical definition of love. 1 Corinthians 13 is a familiar passage.  
Love is patient and kind; love does not envy or boast; it is not arrogant or rude. It does not insist on its own way; it is not irritable or resentful; it does not rejoice at wrongdoing, but rejoices with the truth. Love bears all things, believes all things, hopes all things, endures all things. Love never ends. (1 Corinthians 13: 4-8 ESV)
Yet how often do we apply these words to ourselves? If the greatest commandment is to love God first, then love others as we love ourselves, then it must begin with understanding God's definition of love in how I view myself. I can be patient in my weakness knowing that He is my strength, and therefore be patient with others. In my 40's I pray that with each passing year I will seek my identity through His eyes, knowing I am created in His image, with unique giftings and abilities that He has supplied to bring Him glory through my life.
God's expectations of me is the only one that matters. I recently heard Priscilla Shirer on a podcast proclaim, "It's too much to try to keep up with everybody else's expectations. I'm so over it. I got to 40 and I was like, I'm over it." No matter our age, we can rest assured that if we are still on this earth, He has a purpose for us here. I pray that we make each year better than the rest, each decade more glorifying to God than the last. Every decade will come with its challenges and blessings, but Psalm 91:16 reminds us of what matters. "With long life I will satisfy him and show him my salvation." (ESV)
---
Hollie Gilman has spent the last 20 years momming, homeschooling her 3 almost-grown-and-flown children, and working with her husband of 23 years. She is a lifelong passionate learner in all things Faith, Health, and Leadership andloves to find the humor and heart in the common experiences so many busy parents share. Sheis currently enjoying her new life in the country (being a pretend farmer) just outside her hometown of Richmond, VA.Her work has been featured in Coffee+Crumbs, Richmond Family Magazine, and Parkway.org, and occasionally she spills her guts on her blog tryingtowalkandnotfaint.wordpress.com.
Photo Credit: Getty Images
Comments