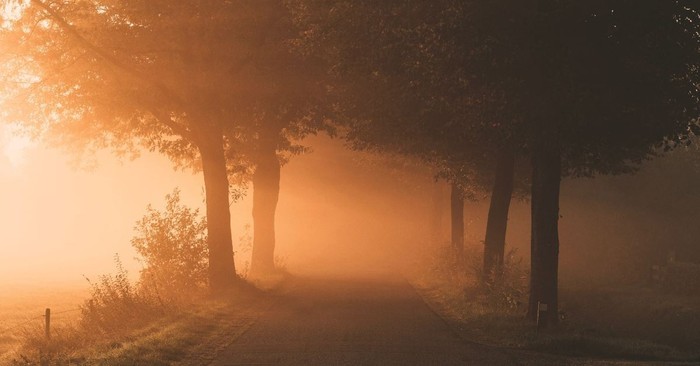 "Casting all your care upon Him; for He careth for you." (1 Peter 5:7)
Ten years ago, my oldest son, Joshua, joined the U.S. Navy. Last month, my youngest son, my 17-year-old baby, Alex, joined the U.S. Marines. While I was a mess when Alex left last month for boot camp, I was a bigger mess ten years ago when Joshua left for basic training.
I remember crying in my car when Joshua left for the Middle East. "Lord, my son is going to Bahrain alone. He's just a baby."
"Where can I go from Your Spirit? Or where can I flee from Your presence?" (Psalm 139:7)
With that verse, God reminded me that just as He'd been with me all those years when I was barely making it as a single mom, He would be with Joshua as well. The Holy Spirit reminded me of this verse when Alex left for Marine recruit training in September.
My daughter will be leaving for college in two years, and I know I'll experience separation anxiety when she goes as well. Although I love all my children, my daughter and I have an exceptionally close relationship because we're females and enjoy doing girl stuff together. We shop for makeup and clothes. We discuss hairstyles and boys and ... well, you get the picture.
We mothers hold our children near to our hearts because we love and care for them. As we worry for them and the rest of life's responsibilities, we carry heavy burdens that our shoulders, and spirits, weren't designed to carry. While casting our cares on the Lord may be difficult, doing so is vital to our spiritual, emotional, and physical health. God cares about us and wants us to cast our cares on Him, exchanging our worry and anxiety for His blessings.
Photo Credit: Unsplash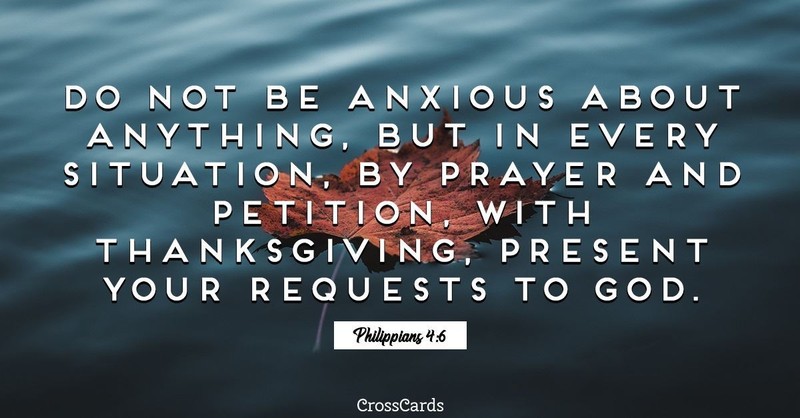 1. Peace
"Be careful for nothing; but in every thing by prayer and supplication with thanksgiving let your requests be made known unto God. And the peace of God, which passeth all understanding, shall keep your hearts and minds through Christ Jesus." (Philippians 4:6-7 KJV)
Holding on to cares causes sleepless nights, upset stomachs, headaches, and much, much more. When we cast our cares on the Lord, He gives us rest, calms our stomachs, heals our headaches, and gives us peace. Remember when the disciples faced a storm and found Jesus asleep in the boat? (Matthew 8:25) God wants to provide us with the kind of peace Jesus had, the type of peace where we can rest in the storms. So, cast your cares on Him and experience the peace that surpasses all understanding.
Design Credit: Rachel Dawson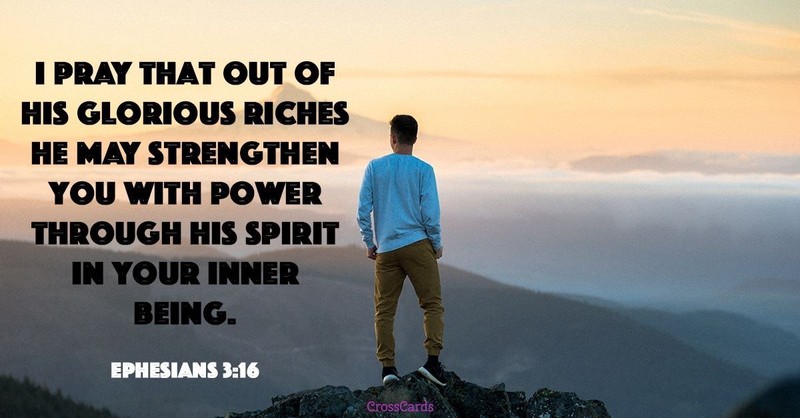 2. Strength
"That He would grant you, according to the riches of His glory, to be strengthened with might by his Spirit in the inner man." (Ephesians 3:16 KJV)
We are stronger than we think with Christ. Unfortunately, some of us are walking around in a weakened state because we lean and rely upon our strength. Our strength will fail us, but God's power only gets stronger. When we cast our cares upon the Lord, and He gives us strength, there's nothing we can't endure. We can face any overwhelming obstacle, strengthened in the midst of it.
Design Credit: Rachel Dawson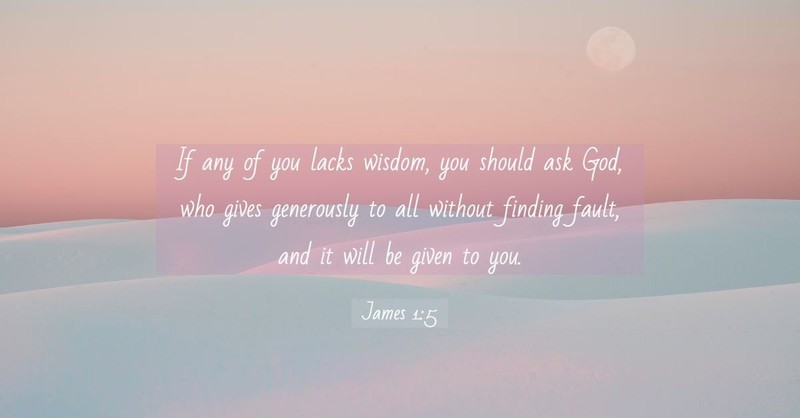 3. Wisdom
"If any of you lack wisdom, let him ask of God, that giveth to all [men] liberally, and upbraideth not; and it shall be given him." (James 1:5 KVJ)
One of the things that care, stress, and anxiety does is box us in, making us believe we don't have choices. When we carry the cares of the world on our shoulders, we forget God gives us options, and we'll settle for mediocrity instead of seeking God for wisdom. However, the Holy Spirit will provide us with wisdom, ideas, and choices we didn't see when we cast our cares on the Lord. Never feel as though you don't have an opportunity and must settle. Instead, seek the Lord for wisdom. He will show you hidden things that you didn't consider before (Isaiah 45:3).
Design Credit: Rachel Dawson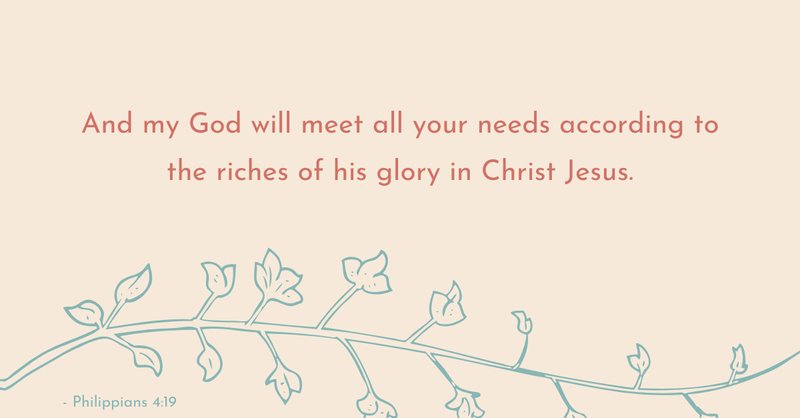 4. Provision
"But my God shall supply all your need according to His riches in glory by Christ Jesus." (Philippians 4:19 KJV)
Experiencing lack is a sure way to feel burdened by cares. However, the Bible promises God will "supply all your need according to His riches in glory by Christ Jesus" (Philippians 4:19). God has more than enough resources to provide for my needs, your needs, and our neighbors' needs. Casting our cares on God shows we have faith that He'll supply all our needs. And God rewards our faith by sending the necessary help (Hebrews 11:6). The help He sends can take many forms, but until we cast our cares on the Lord, we may not recognize the help when He sends it. Furthermore, God will fight our battles and give us victory when we cast our cares on Him (1 Samuel 17:47).
Design Credit: Sarah Martin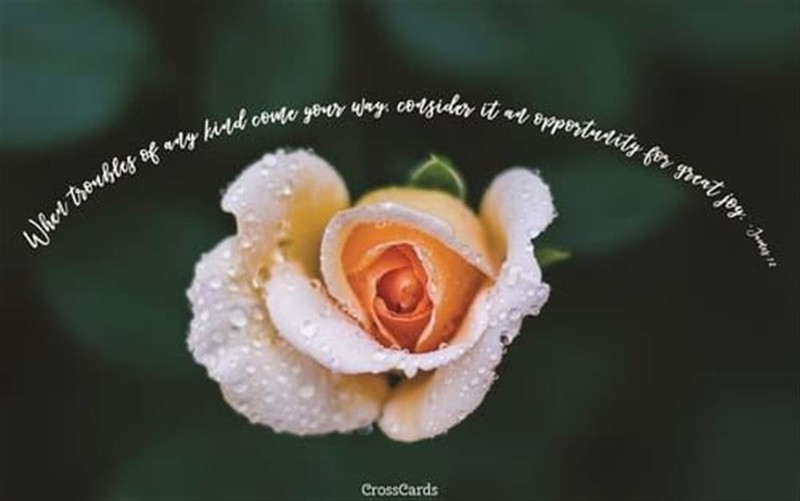 5. Joy
"My brethren, count it all joy when ye fall into divers temptations." (James 1:2 KJV)
No one likes to worry. No one likes to be weighed down by the cares of this world. We want to be happy and joyous. When we cast our cares on the Lord, He exchanges our cares with His joy. His joy is present despite what goes on in our lives. Thus, God's joy is better than happiness. His joy gives us a better outlook on life and the things we're experiencing.
Design Credit: Rachel Dawson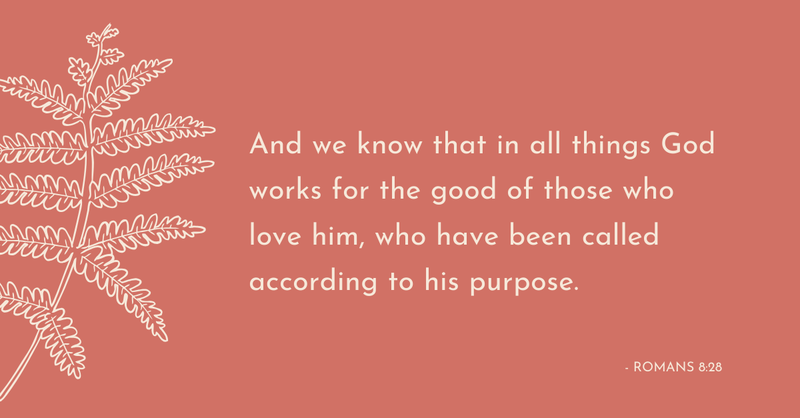 6. Changed Perspective
"And we know that all things work together for good to them that love God, to them who are the called according to His purpose." (Romans 8:28 KJV)
We must view things through God's lens. When we do so, we see things from a higher vantage point, from a better perspective. When we change our perspective, we realize things aren't as bad as they seem. And even when things are bad, we can rest assured that all things are working together for our good (Romans 8:28).
Design Credit: Sarah Martin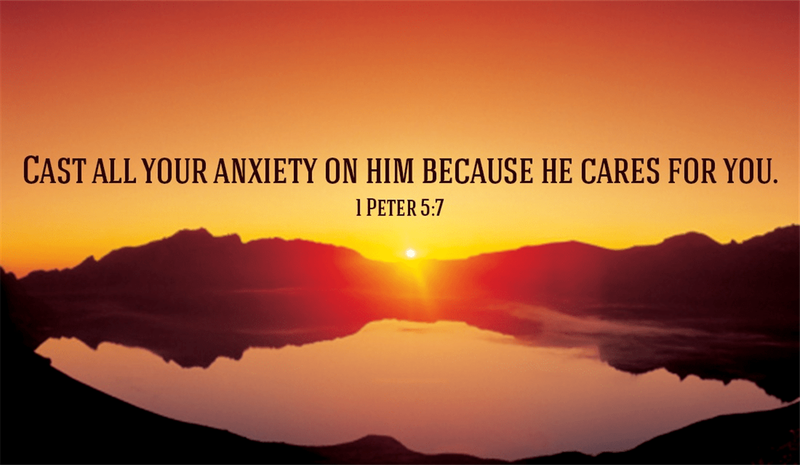 7. Healing
"Casting all your care upon Him; for He careth for you." (1 Peter 5:7 KJV)
Many of us are hurting because of the cares and burdens we've been carrying. Some of us are spiritually, emotionally, and physically bruised. Yet Jesus says in Luke 4:18 that He was "anointed to preach the gospel to the poor, heal the brokenhearted, preach deliverance to the captives, recovering of sight to the blind, and set at liberty them that are bruised." We don't have to live poor, brokenhearted, enslaved, blind, bruised lives. Indeed, we can live the abundant lives Christ came to give us (John 10:10). We can enjoy lives full of love, joy, and peace, free from the effects of the overwhelming stress and anxiety that comes from carrying heavy burdens.
Since my son Alex left in September, I find myself checking the mailbox for his letters every day. I don't usually check the mailbox often, but I've been doing so consistently since he left. I miss my son, and I worry about him a lot. I don't worry too much about the physical demands being placed upon him because he was an athlete in high school. I worry whether he's being treated fairly and respectfully. I want him to do well. I want him to pass every test, but I had to put Alex in God's hands just as I had to put Joshua in God's hands ten years ago. I have to remember that God holds Alex in the palm of His hands. I have to remember that God can take much better care of my son than I ever could. I have to remember God loves Alex more than I ever will.
Yes, I've had to cast my cares on the Lord because I know He cares for me. And he cares for my children, spouse, dad, extended family, home, job, business, and bills. God cares about it all. I trust Him, and I know He's working things out on my and my son's behalf.
---
Aretha Grant serves her local church as a bible teacher and elder. She loves writing and is the author of Overcomer: 25 Keys to Walking Victoriously. Aretha resides in Hagerstown, MD with her husband and two youngest children. You can read Aretha's blog at www.arethagrant.com.
Design Credit: Rachel Dawson
Originally published Friday, 29 October 2021.
---
---