I rose extra early on the morning I left for my mission's trip to Uganda to give myself plenty of time to do my hair and makeup. I blew my naturally wavy hair dry and carefully straightened it, knowing it would be the only time in the next ten days that I would have tamed hair. I wanted to make a good impression on the team of 11 men and women I was joining.
It took over 30 hours to get from Washington D.C. to my team's final destination of Gulu, Uganda. By the time we arrived, my hair was limp and greasy and there was not much makeup left on my face. I didn't have time to care, though, because I was in a new country on my very first mission's trip! Right?

Wrong.

I did care.

Being raised in a society where looks are important, the value I put on my appearance was skewed. Over the course of the trip, the Lord challenged me to set aside my vanity and focus on why I was in Uganda in the first place — to display the love of Christ. Some of the challenges were obvious, like not having the ability to blow-dry my hair. Another challenge I faced was choosing between wearing a surgical mask on the bus and risking having bad allergies. (Clouds of dust would float into the windows, which had to be open due to lack of air conditioning.) I was the only one in the group to don a mask, and I felt completely ridiculous.

I haven't told you the worst part. Our team often interacted with two American girls who were interning with Zion Project, the nonprofit we traveled to work with. Every day both girls showed up to work with glowing skin, perfect hair and chic outfits, while I was sweaty and bedraggled in Goodwill skirts and sensible (but very ugly) shoes.

I had a daily choice to make: focus on others or focus on myself.

Before leaving for Uganda, my prayer was that God would help me to lay aside everything that made me feel comfortable so I would be completely focused on Him. I asked for a joyful spirit and positive attitude. If I was going to do my part, I had to be willing to sacrifice my vanity.

The Lord answered my prayer and provided a way out whenever I was tempted — just as His Word says He will.
"No temptation has overtaken you except what is common to mankind. And God is faithful; he will not let you be tempted beyond what you can bear. But when you are tempted, he will also provide a way out so that you can endure it." 1 Corinthians 10:13(NIV)
Each day in Uganda brought new experiences and new blessings. I quickly fell in love with the people and the scenery. Joyfulness and gratefulness fell over me like a veil — proof that God had heard my prayers and was rewarding my desire to serve Him. Turning my back on the temptation to focus on myself became easier and easier as I poured myself into loving on the team and the women and children we were working with.
When my mind strayed to thoughts such as "I look frumpy" or "there is no way I'm getting my picture taken today," the Lord gave me the ability to take a deep breath and re-focus my attention.
The more I worked to refuse to entertain thoughts of myself, the more confident and Spirit-filled I became.
If you struggle with vanity, you are not alone. But take heart! You CAN say no to discontentment, insecure thoughts and comparing yourself to others. Here are some things that helped me in Uganda and continue to help me now:
1. Memorize Colossians 3:2. "Set your mind on things above, not on earthy things." (NIV)
2. Vanity is essentially pride, which means the opposite of vanity is humility. You don't have to toss your makeup bag and your pretty outfits to be humble — but you do need to have a change of heart. Ask God to help you change your perspective on beauty.
3. Ask someone you spend a lot of time with to hold you accountable for the times you voice insecurities or fuss over your looks. My husband prefers for me to wear light makeup, and once even asked me to wash off my eye shadow!
4. Be reasonable and realistic. If you're going to a wedding, by all means enjoy honoring the occasion by looking nice! If you're going to the gym, remind yourself that you're there to exercise and not to be noticed. Even though I wanted to look cute in Uganda, the reality was that I was there to serve others, not to draw attention to myself.
It's been just over a year since my trip to Uganda, and I can honestly say that I'm less vain. I still enjoy getting dressed up for my husband or going out with friends, but more often than not I'm make-up less and wearing a sweatshirt. I avoid drugstores as often as possible to keep myself from being tempted by lipsticks and nail polishes, and I quit subscribing to fashion magazines. I no longer find my self-worth in how I look; I now find it in my identity in Christ.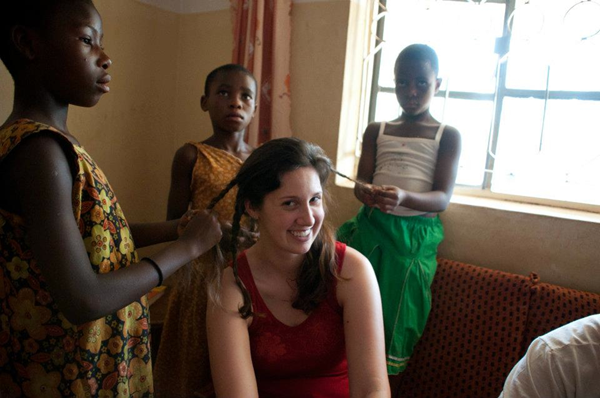 Getting my hair braided by a few of the girls living in Zion Project's rescue home. Photo by Lance Rutherford.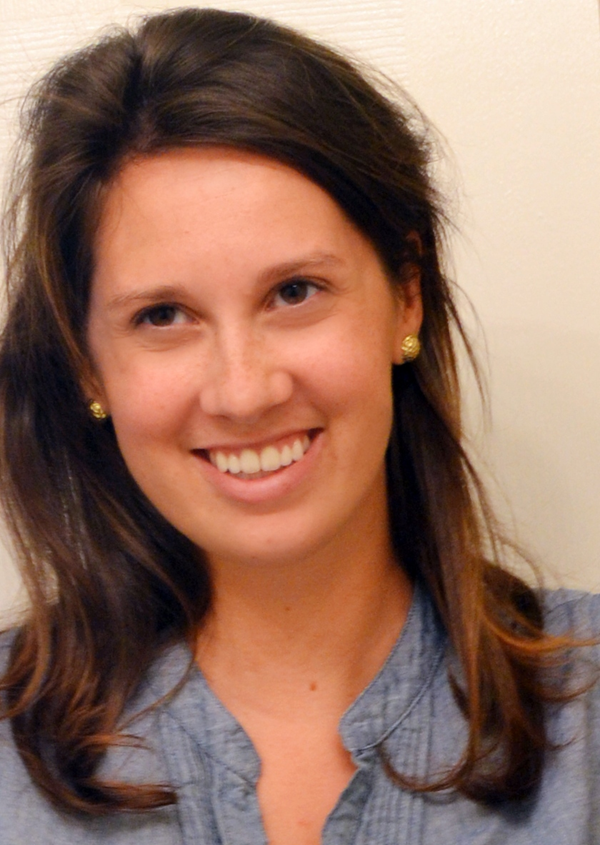 Laura Rennie lives in Maryland with her hilarious husband and constantly shedding dog. She loves reading, writing and playing word games. Her greatest desire is to share Jesus through her words and actions as she learns how to be a better wife, daughter, sister and friend.