God deeply knows you and me. He is familiar with all of our ways…including our feelings of grief and sorrow.
I haven't seen her in weeks. I know her by name but her story only secondhand. An outgoing woman in her sixties, she remembers names and relational details of everyone she meets during her morning workout.
This woman lost her young adult son a few years ago. When fellow believers speak of God between sets or steps on the tread meal, I see her anger and bitterness toward a God who would allow pain and the death of her son.
For this woman, grief has led to choices which severed her faith in a loving God.
A friend of mine lives in the wake of the unexpected death of her husband. She and her children just faced a second Christmas without him. While others fell into familiar holiday rolls and routines, she pressed on to cherish the heart of the Savior at Christmas and chose to focus on the grace of God in her grief.
For my friend, grief has secured trust in the only One who is acquainted with all forms of pain and suffering.
My foster son of 13 months went home to be with his biological father over a month ago. There were promises of a continued relationship, playdates and overnight visits. But as weeks slip by and phone calls remain unreturned, grief overflows in tears and heartache over the death of a relationship that is beyond our control.
For me, grief has shifted focus to the heart and mind of our Father God who is intimately familiar with sorrow and keenly aware of the state of His children.
Jerry Sittser in his book, A Grace Disguised: How the Soul Grows Through Loss, terms life-changing loss as "catastrophic loss."  Perhaps the loss of a parent or child, a diagnosis that has robbed aspirations and hopes for the future you once possessed, joblessness, infertility, or broken promises are one of the catastrophic losses which have caused you sorrow and restless nights in 2013.
I would like to come alongside you, my brothers and sisters, and lovingly share of the Savior and His grace in the midst of all grief. "Though suffering itself is universal, each experience of suffering is unique because each person who goes through it is unique. Though it is a solitary experience we must face alone, loss is also a common experience that can lead us to community. We must enter the darkness of loss alone, but once there we will find others with whom we can share life together." (Jerry Sittser, A Grace Disguised, p. 218)
Let my arm around your shoulder and the tissue I offer with the other hand be merely appendages of the Father whose love for you and knowledge of your circumstances exceed anything you can ask for or imagine in the way of a Savior.
O LORD, Thou hast searched me and known me. Thou dost know when I sit down and when I rise up; Thou dost understand my thoughts from afar. (Psalm 139:1-2, NAS, emphasis mine)
The Hebrew word for "know" in this scripture passage is, yada. Yada means to know, to be known, to acknowledge, be acquainted with, to be aware, comprehend, to be deeply respected.
God deeply knows you and me. He is familiar with all of our ways…including our feelings of grief and sorrow.
A few passages in the Bible explicitly record the Savior's tears over the fallen state of His glorious creation (John 11:35, Luke 19:41)
I may be intimately acquainted with only my own grief and sorrow, but Jesus is acquainted with the sorrows of all mankind.
There are moments when I stop to ponder rampant human trafficking, people dying of unclean water and unsanitary living conditions, children dying of malnutrition, or simply the plight of a young child whose mother is yelling and belittling him in a McDonald's restaurant. In those moments, I look at the fallen world and weep as Jesus wept.
However, more often I chose to look away, or look only long enough to give my money and not my energy in prayer, my sympathy but not my savings, my pity but not a passion for Christ-centered, gospel-driven change.
Christ in the ultimate act of grace did all—He wept with us and for us. His love and mercy were manifested in His presence, passion, and self-assumed place on the cross. He not only is acquainted with us and our sorrows, but he bore them for us.
He was despised and forsaken of men, A man of sorrows, and acquainted with grief; And like one from whom men hide their face, He was despised, and we did not esteem Him. Surely our griefs He Himself bore, And our sorrows He carried; (Isaiah 53:3-4,NAS, emphasis mine)
The Hebrew word for "acquainted" is the same word, yada which we saw used by David in Psalm 139 to explain the depths to which our Creator God knows us.
God yadas our sorrow just as he yadas, or knows, our every thought and move.
This knowledge alone is enough for me to worship for eternity the Only GOD who loves me fully and sympathizes with my weak and vulnerable, easily tempted and led-away state.
For my acquaintance at the gym, my friend from church, and my own saddened foster-mom heart, God knows every facet of sorrow, grief and pain. He bears it for us. Jesus understood the sorrow and pain he would bear for me and chose to come anyway. Christ with us.
Dear reader, in hindsight of all the sacrifice it took to raise my foster child for one year I can assuredly tell you that I would bear that cross for him again. Similarly, we serve a Savior who wept over the fallen, sin-filled state of His creation and went to the cross because He would make a way to restore perfect union between God and man. He considered His glory and our good of infinite worth.
The Gospel Coalition recently recorded a conversation between John Piper, David Platt, and Timothy Chandler on, "God's Goodness in Your Pain." I encourage you to view the 9 minute video and give thought to these words from David Platt:
"We have a loving Father who gives us only what will work together for our good. God uses sorrowful tragedy to set the stage for surprising triumph—whether in this life or the life to come."
God's grace teaches us amidst the grief experienced in this life. Elizabeth Elliot pens it this way in her book, A Path Through Suffering, "The deepest lessons come out of the deepest waters and the hottest fires.There is no incongruity between the human tears and the pure joy of the presence of Christ—He wept human tears too." (Emphasis mine.)
Underneath the suffocating grip of grief lie the arms of grace and the triumph of the cross manifested in this temporary home or the eternal one to come.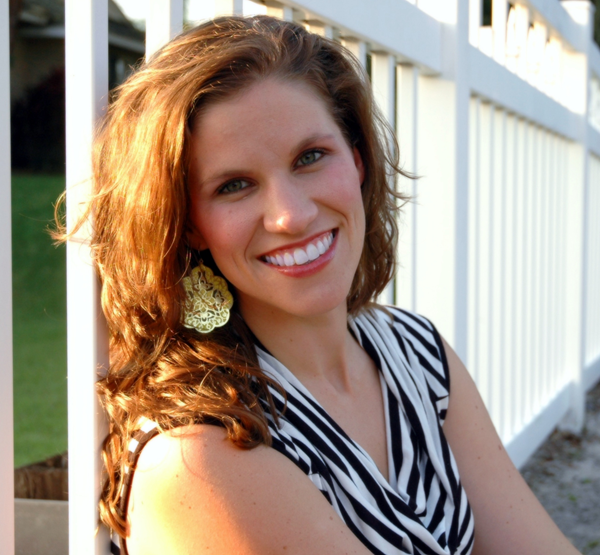 Brooke Cooney is a pastor's wife, mother of two, and foster-mom of one. To capture the eternal in the everyday, she blogs about family, faith, and lessons along the journey at ThisTemporaryHome.com.
---
---