Hope.
A small but exquisite word. One that changes lives.
As I walked into the store I couldn't miss it. Four shiny letters that, on that particular day, stopped me mid-step.
I couldn't avoid it nor deny it. I'd let Holiday overwhelm diminish my hope.
Hope is what pushes us one step to the other. It moves us into tomorrow despite the uncertainties of today.
Obviously the sales and marketing industry understood the power behind those four letters. After all, they had it splashed across much of the holiday décor.
I understood it, too. Yet in that moment, as I stared at those four bright letters, I knew my soul wasn't feeling the hope of the quickly approaching holiday season.
That day, the feeling of overwhelm far surpassed all other feelings. It was overwhelm that perched front and center.
The overwhelm that comes from long to-do lists and too little time in which to do them.
Where had I gone wrong? When had I let overwhelm replace my hope?
When did I forget the miracle that took place that dark and lonely night?
I imagine it was quiet as they focused on their mission. Traveling last minute, I doubt Mary fretted about what she'd left undone. When inn after inn turned them away, I suspect her concerns were not about a to-do list.
Something tells me she had set all expectations aside long ago. How it was "supposed to happen" no longer mattered. Her purpose was paramount. It was to safely bring Hope into their dark and hurting world.
More than 2000 years ago, humble and in a manger, our Savior was born. Hope was born. And even though the times are different and the world changed, one thing remains.
Christ was born that night to give hope where there is darkness. Hope where there is uncertainty. Hope to the hurting and to the lost.
Just as it was Mary's purpose so long ago, it is still our purpose today.
In that moment, as I stood staring at hope, I knew I wanted it different. I didn't want to snap at my family because overwhelm filled my soul. And I didn't want to attend the next party with heavy feet and exhaustion written across my face.
I wanted my life to point to the hope of Christ. To be fully present with my family, friends, and community.
I wanted to be a hope-bringer. One who shares the miracle of the night Hope was born.
But to do so, I had to make some changes. Changes that are not easy.
5 Ways to Fight Holiday Overwhelm:
1. Create a to-do list – then slash it.
Approach this list in much the same manner as a wedding guest list. List everything in which you may want or need to participate. Then cut, cut, cut! Choose only the most important! Fill your to-do list with intentional yes's and no's. Too much or too many of even wonderful things almost always deliver overwhelm.
2. Build a schedule.
· Input all the non-negotiables such as work and school requirements.
· Then schedule the most important non-negotiables. Prayer, worship, and reading the Word of God.
· Schedule downtime. It may be sleeping in on a weekend morning or some quiet evenings at home.
· Now begin inputting items from the to-do list. Still too much on the list? Continue cutting until the schedule is honestly manageable.
3. Learn to say "no" well.
· Looks of disappointment are inevitable. That's okay. Stick to well-defined boundaries.
· Let guilt go. Don't get stuck doing things just because you've always done it that way. Maybe this year doesn't have space for your favorite cookie exchange party. Or maybe there isn't time to make from-scratch Christmas cookies at all! It's okay! Slice and bake isn't all that bad! Kids still love them!
4. Incorporate hope-filled moments into what you are already doing.
· Independently or as a family, embrace hope-filled Bible verses. Use the moments while waiting for an appointment, or as a family together in a car. Listen to the Words of hope. Let them sink into your soul. If possible, discuss how the verse applies to you and your family. Here are a few to start with:
Fear not, for I am with you; be not dismayed, for I am your God. I will strengthen you, yes, I will help you, I will uphold you with My righteous right hand. –Isaiah 41:10
For to us a child is born, to us a son is given; and the government shall be upon his shoulder, and his name shall be called Wonderful Counselor, Mighty God, Everlasting Father, Prince of Peace. – Isaiah 9:6
For God so loved the world that he gave his only Son, that whoever believes in him should not perish but have eternal life. – John 3:16
She will bear a son, and you shall call his name Jesus, for he will save his people from their sins." All this took place to fulfill what the Lord had spoken by the prophet:  "Behold, the virgin shall conceive and bear a son, and they shall call his name Immanuel" (which means, God with us). – Matthew 1:21-23
An angel of the Lord appeared to them, and the glory of the Lord shone around them, and they were terrified. But the angel said to them, "Do not be afraid. I bring you good news that will cause great joy for all the people. Today in the town of David a Savior has been born to you; he is the Messiah, the Lord. – Luke 2:9-11       
· Brighten your car and home with Christmas music! Even the worst days feel better with its hope-filled sounds filling the air!  
5. Express intentional gratitude.
· Cultivate a heart of gratitude. It is a powerful weapon that defends our hope, peace, and joy.
· Keep a Christmas journal or notebook open on the kitchen counter. Daily write at least one unique thing for which you are thankful. Invite others to join in when they visit. This also works wonderfully for a family and the following year serves as a reminder of God's faithfulness and blessings.
· Whether it is through a journal, thankful jar, or simply the act of verbally expressing thankfulness, the important part is learning to intentionally take note of and express gratitude.
Friends, holiday overwhelm sneaks up on us. But it doesn't have to! Even when the world pushes for more, we can lay claim less. We can fight Holiday overwhelm and hold onto the hope that was born that night.
I pray your hope always shines brighter than the holiday overwhelm. And may your heart be filled with joy as you bring hope into a world desperately in need.
Image Credit: Unsplash.com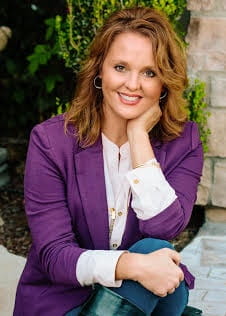 Lori Schumaker is an encourager at heart. There was a day not long ago when she prayed that the Lord would break her heart for what breaks His. Her eyes were opened and her soul was stirred – and sweet offerings of encouragement to others became her purpose. This is the focus of her blog, Searching for Moments, found at www.lorischumaker.com. Join her as she walks beside you through the difficult, lovely, and holy moments of this beautiful thing called life. You can also find her here on social media:

Facebook - www.facebook.com/searchingformoments
Pinterest - www.pinterest.com/lschumaker
Instagram - www.instagram.com/searchingformoments
Twitter - www.twitter.com/lori_schumaker