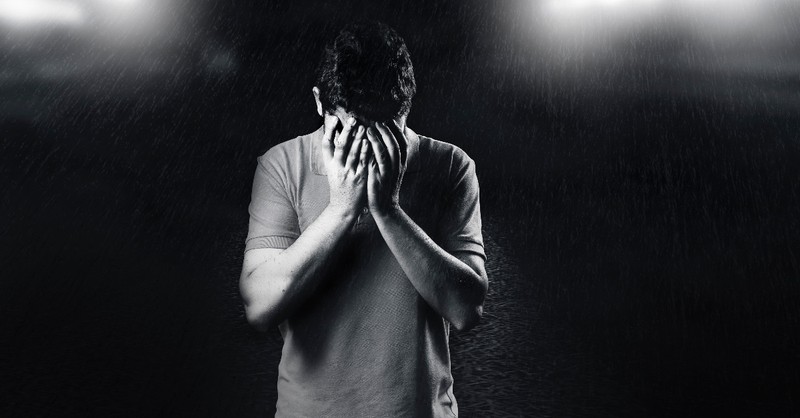 3 Signs You Are Your Own Worst Enemy
Vivian Bricker

Contributing Writer
Rather than being your own worst enemy, ask God to help you see yourself as He does.
I remember being 10 years old when the show My Own Worst Enemy starring Christian Slater was released. The show featured a man with a split identity between his "good" side and "bad" side. In other words, it was a modern adaptation of Dr. Jekyll and Mr. Hyde. Often, we can relate to this type of scenario as sadly, we can be our own worst enemy.
Let's take a look at three warning signs:
1. Negative Self-Talk
Negative self-talk is the number one way you can distinguish if you are your own worst enemy (Stephanie Hertzenberg, "9 Signs You Are Your Own Worst Enemy,"Belief Net, 2021). Not many of us would talk to a family member or a friend the same way we talk to ourselves. Saying or thinking things such as "I'm fat," "I'm ugly," or "I'm a failure" are all negative self-talk. In fact, many of us become so accustomed to negative self-talk that we do not realize we are doing it (Stephanie Hertzenberg, "9 Signs You Are Your Own Worst Enemy," Belief Net, 2021).
Negative self-talk is not positive and we should never speak to ourselves in this way. When you talk to yourself, speak as if you were speaking to a friend. Would you ever call your friend fat, ugly, or a failure? Then do not say these things to yourself. You are not fat, you are not ugly, and you are not a failure. The Bible tells us we are all made in God's image (Genesis 1:27). The Lord does not make mistakes. Psalm 139:14 proclaims, "I praise you because I am fearfully and wonderfully made; your works are wonderful, I know that full well." All people are fearfully and wonderfully made, including you. You are a beautiful child of God whom God loves dearly.
Whenever you feel negative self-talk impinging in your mind, ask Jesus to relinquish those thoughts. Capture every thought and make it obedient to Christ (2 Corinthians 10:5). I understand from my own experience that negative self-talk is hard to break and I struggle with it daily, but we have to continue to battle these negative voices in our minds. If negative self-talk tempts you to say, fight back this negative thought by saying, "I am fearfully and wonderfully made by the Creator of the world." It will be a daily battle, but the Lord will be there to help you and He can shower you with grace upon grace. Be kind and gentle with yourself. Never think or say bad things about yourself. You are wonderful, amazing, and unique. There is no other person like you in the world.
2. Reliving Past Mistakes
A second sign that you are your own worst enemy is if you are constantly reliving past mistakes in your mind (Stephanie Hertzenberg, "9 Signs You Are Your Own Worst Enemy," Belief Net, 2021). This is something I am all too familiar with in my own life. Thoughts such as "I could have done better" or "That was a huge mistake" are constantly running through my mind.
Maybe you did fail a math test, overcooked the turkey for Thanksgiving, or ran out of the chapel on your wedding day, but you do not need to measure your worth on your past mistakes. Constantly reliving what went wrong can make you feel worse about yourself, engage in disordered eating, or experience thoughts of self-harm. The Bible tells us to forget our past and to move on (Philippians 3:13-14). If we are always reflecting on and reliving our past mistakes, we will not be able to do the things God has planned for our future.
In Isaiah 43:18-29, God tells us, "Forget the former things; do not dwell on the past. See, I am doing a new thing! Now it springs up; do you not perceive it? I am making a way in the wilderness and streams in the wasteland." The Lord wants us to forgive ourselves for our past mistakes, just as He has forgiven us, and move on. There is not a content future for us if we let our minds dwell on our past mistakes. Let go and let God.
3. The Comparison Game
A third sign that you are your own worst enemy is the comparison game (Stephanie Hertzenberg, "9 Signs You Are Your Own Worst Enemy," Belief Net, 2021). It is known that comparison is the thief of joy and it is also certainly a sign we are our own worst enemy. Stop comparison. Stop comparing yourself to others. Social media tries to deceive us, whispering how everyone is prettier than us, more successful than us, and happier than us. It is easy to compare our lives with others as easily as a scroll, click, and tap. Rather than comparing our lives to others, we need to be happy for others and lift each other up in prayer. It is important to remember that Instagram, Facebook, and other social media apps are highlight reels of our friends' and family's lives. Nobody's life is perfect all the time. Most of us only share the highlights of our lives—not the bad parts, such as crying on the floor due to depression or sitting in our car screaming because the city shut off our lights.
The truth of the matter is that social media only shows us the pretty, poised, high points, not the dark, broken parts of our lives. We should never compare our lives to the highlight reel of somebody else's life. The Lord has created you uniquely you. He has a great purpose for your life that only you can fulfill (Jeremiah 29:11). Instead of comparing yourself to others, start noticing the positive aspects of yourself. Think of how brave you are, how kind you are, or how compassionate you are. Constantly comparing yourself to others will only leave you miserable. Choose today to quit the comparison game and reclaim the joy in your life.
Start Being Your Own Friend
Rather than being your own worst enemy, make the intentional decision that you are going to be your own friend. There is nothing selfish or prideful about being kind to yourself. Christ does not want you to engage in destructive habits, such as negative self-talk, reliving past mistakes, or playing the comparison game. You should not be your own worst enemy. Appreciate your body, mind, and soul. Do not talk down to yourself or make yourself feel inferior to others. Rather than being your own worst enemy, ask God to help you see yourself as He does. He sees you as a wonderful masterpiece, beautiful, and amazing. He created you with a special purpose in mind for your future.
Whenever you feel negative thoughts arising in your head and heart, quiet them with a prayer to Jesus. Ask Him to help you be kind, gentle, and understanding with yourself. We will all have times when we mess up and fail, but that does not make us a failure—it makes us human, the kind of humans who always has access to forgiveness through Christ. Even though other people might seem to have their lives in order, I can assure you all people have their own struggles. Seek out the Lord, ask Him help, and He will surround you with His love. Each time you look in the mirror today, tell yourself how thankful you are for the person looking back at you. The person you see in the mirror is a strong individual empowered by the Holy Spirit. Instead of viewing yourself as ugly, fat, or a failure, choose to see yourself as beautiful, amazing, and a champion in Christ Jesus. Choose that today will be the start of a lifetime of choosing to be your own friend, not your own worst enemy.
Photo Credit: Pexels/Daniel Reche
---
Vivian Bricker loves Jesus, studying the Word of God, and helping others in their walk with Christ. She has earned a Bachelor of Arts Degree in Christian Ministry and is currently working toward her Master's Degree. Her favorite things to do are spending time with her family and friends, reading, and spending time outside. When she is not writing, she is probably embarking on an adventure.
Comments
---
---