12 Tasty Depression Era Recipes That Won't Break the Bank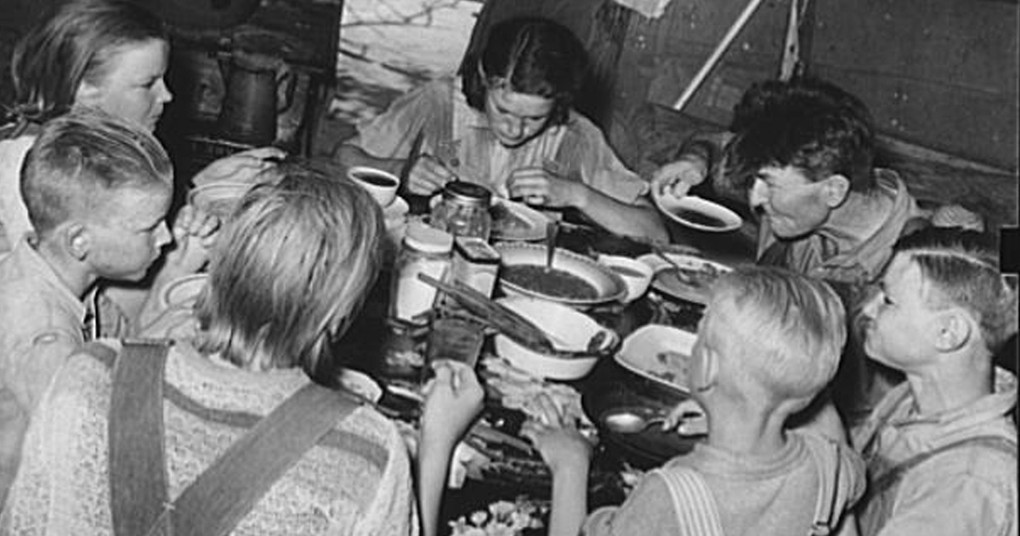 Money is tight and food prices are rising. Tasty Depression Era recipes connect us with past generations and offer a great way to eat cleaner and cheaper!
If you've had the privilege of knowing someone who lived through the Great Depression, more than likely you heard about the food they ate or didn't eat. Learning how to cook creatively with minimal ingredients became the challenge of the time period.
Today, more and more food is processed, full of preservatives and other ingredients that most of us cannot pronounce let alone understand why it is in the food. What if we started reconsidering our choices and making more meals at home? Taking a cue from our Depression era relatives and re-learning how to cook with what we have on hand might be a challenge at first. The bonus of saving money is great, but what if the true reward could be the change in perspective on what is needed vs what is desired?
Let's take a look at some Depression Era Recipes that require less ingredients, most of which you might already have in your cupboards!
Photo Credit: © Pinterest
12. Sugar Cream Pie

Slide 1 of 3

3 c. brown sugar
1/4 c. granulated sugar
1/3 c. flour

With a consistency similar to custard, this pie is superb chilled or warm. Using minimal ingredients, you could adjust the amounts based on whether you prefer a wet or dry pie. Hop over to Cooks.com to learn more about this simple treat!

Credit: Taste of Home




11. Prune Pudding

1/2 lb of pitted prunes
2 cups hot water
1/2 cup of sugar
1/4 tsp of cinnamon
3 tbsp of corn starch
2 tbsp of cold water

Served at Franklin Delano Roosevelt's White House, this dessert is not overly sweet. Full of fiber, this dessert serves as a filling end to a meager meal. Check out NYT Cooking for the full recipe.

Credit: NYT Cooking




10. Three Ingredient Depression Bread

5 lb bag All- purpose flour
5 TBS Yeast
6 Tsp Salt (optional)
6 cups warm water (more or less depending on your dough)

Head over to BusyMommyMedia for the full instructions on how to bake this inexpensive, filling bread!

Credit: Little Things

6. Hot Water Cornbread

Slide 2 of 3

1 tablespoon shortening
3/4 cup boiling water
1 cup cornmeal
1 teaspoon salt
Shortening or oil for frying (use bacon drippings if you have them)

These cornbread cakes are a great item to pair with soups or snack as a breakfast filler.

Credit: The Spruce




5. Egg Soup Over Homemade Bread

32oz. Chicken broth
4-5 eggs
salt / pepper

A modern take-out classic, this recipe calls for simple ingredients and an ease of preparation. Eggs are a great inexpensive source of protein.

Credit: Tasting Table




4. Depression Era Sponge Cake

1 1/4 cups sifted cake flour
1 1/4 tsps. baking powder
1/2 tsp. salt
1 cup sugar
2 eggs beaten until thick and light
1 Tbsp. lemon juice
5 Tbsps. boiling water

This sponge cake requires a bit more ingredients than the other recipes, but still proves to be a simple to create treat that will be quickly enjoyed. Add jams, jellies, or fresh fruits between layers to spruce it up a bit. Often served as one layer with warm milk or cream poured over it.

Credit: Flikr/Nick Webb

WATCH: Clara's Italian Ice – Depression Era Recipes

Slide 3 of 3

This recipe is a simple fix for a treat on a hot day. With such simple ingredients and endless flavor possibilities, this might be our favorite Depression Era recipe!

2 cups Water
1/2 cup Sugar
Lemon or Lime juice as desired

Clara's Youtube channel, Great Depression Cooking, is a wonderful resource for those who want to try their hand at this simpler way of cooking. You can also purchase a cookbook with her Depression Era Recipes: Clara's Kitchen. Sadly, Clara passed away in 2013, but her family maintains her videos and website as an archive of a way of life that is slowly disappearing. Her recollections have become invaluable to preserving a way of life and food culture that holds great lessons for future generations!

YOU MAY ALSO LIKE: Dolly Parton's Stone Soup Will Fill Your Belly And Your Heart