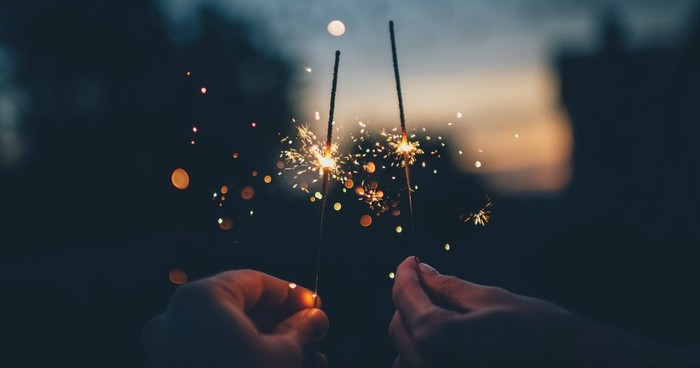 Want to make New Year's resolutions but not sure where to start? Here are just a few ways you can enter 2017 on a more positive, hopeful, grace-filled note.
1. Practice thankfulness. In his Word, God tells us to "give thanks in all circumstances." That's a hard habit to cultivate, but when we practice thankfulness, we grow in joy, strengthen our faith, and learn dependence on him. In other words, the more we are thankful, the more we are like God himself. One simple (and fun!) way to become more thankful is to write down three things every day that are worthy of thanks, and thank God for them. When we learn to see the all the good things God has given us, the less likely we'll be tempted to despair when things go wrong.
Related: Having a Thankful Mouth
2. Write down your goals and read them everyday. What do you want to be different this year? The truth is, 25% of people abandon their New Year's resolutions after one week. Writing down your goals and reading them regularly won't make them a reality, but it will help you remember what you want and motivates you to do the hard work it takes to succeed. 
3. Spend more time in your Bible. With yearly Bible reading plans a plenty, the new year is a perfect time to commit to growing closer to the Lord through studying his Word. Check out these awesome Bible reading plans, and commit to spending time each day studying God's Word and praying to Him. Your life will change for the better, guaranteed.
4. Do one thing to make your body stronger each month. It can be overwhelming to make several changes at once, particular when it comes to your health. By focusing on one health goal a month, you'll begin developing habits that can last a lifetime. A few ideas: limit sugar in January, drink plenty of water in February, get more sleep in March, and so on.
5. Learn how to say "no." For every commitment we say "yes" to today, we're limiting what we can say yes to in the future. The beginning of the year is the perfect time to reevaluate our commitments and regain margin in our lives. If you know your tendency is to say "yes" even when your schedule is packed out, try this go-to answer: "This sounds amazing and my first response is to say yes, but I have a pretty full schedule right now. Let me take today and pray about it and get back to you." This gives you time to really think through whether or not you have the space for another activity on your calendar, and maybe get some input from a trusted friend. (By the way-- only do this if you really will get back to the person the next day-- no one likes to be kept waiting.) 
Related: 3 Sure Signs You're Living Outside Your Limits
6. Spend wisely. Money is talked about a lot in the Bible-- it's pretty clear God wants us to be wise about our finances. If money is an area where you struggle-- whether it's in spending too much or dealing with debt-- now is the perfect time to find help. Take a small step toward accountability in your finances by asking a friend to pray for you in this area of your life. A bigger step would be to get into a program that will guide you toward becoming debt free-- ask a trusted mentor or recommended counselor for resources. 
7. Be a smart consumer. As Christians, we're called to care for the persecuted and the oppressed. One simple, powerful way to live out this command is to know where your food, clothing and gadgets come from. You see, many manufactures of our favorite things often care more about making money than they do about the welfare of their employees. It's easy to feel overwhelmed by all the corruption in these industries, but everyone can do something to help. Pick one item like coffee, chocolate, tech gear or clothing and commit to only purchasing these items fair trade. If everyone made one small change, the difference would be huge.
Related: 4 Reasons Why Fair Trade Matters to Christianity 
8. Spend more time with people and less time online. Think about it -- when you look back on life, what are you going to remember (or want to remember)? The countless hours spent online or in front of the TV, or the memories you made with friends and family? The saying is true: "Watch your habits, they become your character, watch your character, for it becomes you destiny." We are what we do. Don't waste your life doing things of little value. 
Related: 7 Helpful Tips for Making and Keeping Friends
9. Stop Multitasking. Motivational speaker Jim Roth says, "Give whatever you are doing and whoever you are with the gift of your attention." That's a hard rule to follow in our multitasking world, but the difference it makes when we focus on one thing at a time is palpable. If you struggle with this, try planning out your day each morning. Knowing what you need to focus on now and what can wait will give you the peace of mind to be able to focus on one thing at a time.
10. Try one new activity each month-- and make it something fun. Want to be someone people find interesting? Do interesting things! Try your hand at something new, something you've always thought looked cool but never had the guts to try. Who knows? You might just discover a passion you never knew you had! 
11. Practice the art of resting. Time never stops ticking, but that doesn't mean we have to always be on the go. God knew rest was important and so he created the Sabbath-- a day of rest. Not sure if you're working too hard? Just ask the people who are around you most. If friends and family tell you that a vacation or a day off might benefit you, that's probably a good indication you need to rest.
12. Take time to reflect. Spend some time thinking through this past year-- what were the highlights? The low points? How did you see the Lord answer prayer? What changes were you hoping to see that didn't happen? Taking the time to think through the good and bad of the past year can help you focus on making change in the year to come. 
13. Forgive and let go. The old adage is true: "Holding onto bitterness is like swallowing poison and hoping the other person suffers." Maybe you need to forgive a friend or family member for wronging you, or maybe you need to forgive yourself. Whatever the case, the end of the year is the perfect time to let go of negativity and give yourself freedom to move on from hurt. You can't change what happened to you, and you can't change how someone else treats you. But you can change your response and outlook to these things, and that can make all the difference. (By the way, you might need professional help to move forward in forgiveness, and that is okay and good!)
Related: 9 Keys to Biblical Forgiveness 
14. Kick the clutter. It's easy to get overwhelmed and distracted from the things that matter when we're surrounded by unnecessary stuff. Think about it: if one of your goals is to read more, but every room in your house if full of magazines, TV's and laptops-- how likely are you to pick up a book when those other things are right there, begging for your attention? By getting rid of excess and distractions, we actually gain so much-- less pressure to keep up with others, more space to keep the things that matter most to us.
Related: 5 Simple Ways to Declutter Your House Today
15. Give generously. Want to make this a year like no other? Commit to being a generous person in 2017. And not just with your money- get creative about how you can live a generous life. Find someone who needs a word of encouragement and gift him or her with generous praise. Think about how you can bless others through the blessings you've been given. 
16. Give grace to yourself. It takes the average person only a few weeks to break a resolution. Even if you make it twice as long, the truth is we're all going to fall short at some point this year. This is where were have to speak truth to ourselves and remember that we are not the sum of our successes, nor our mistakes. Rather, we are children of God, and as such, are beloved, accepted and cherished just as we are. Does that mean there isn't room for improvement? Of course not! But when we mess up, we show ourselves grace, because that's what God has done for us. 
17. Remind yourself of the gospel - everyday. This coming year, you will no doubt have days of celebration and days of disappointments. You will face days with enthusiasm and energy, and other days you will just want to throw in the towel. The good news is, even if the are days (or even months) that are hard, you can still have your best year yet. But for that to be true, you have to keep Christ as your focus: loving him, knowing him, seeking him, living for him. 
If we're not careful, our resolutions can become idols in our lives-- puffing us up when we become proud of our accomplishments, deflating us when we fail to live up to the standards we set. But Jesus came so we could cease our strivings, so that we could experience true rest, peace, joy, hope. None of those things can we attain by our own efforts, no matter how many resolutions we make. But in Christ, those good things are ours for the taking when we put our faith in him.
Image Credit: Unsplash.com
Kelly Givens is the editor of iBelieve. She lives in Richmond, Virginia with her husband and son and enjoys reading, writing, and spending time in the great outdoors.
---
---