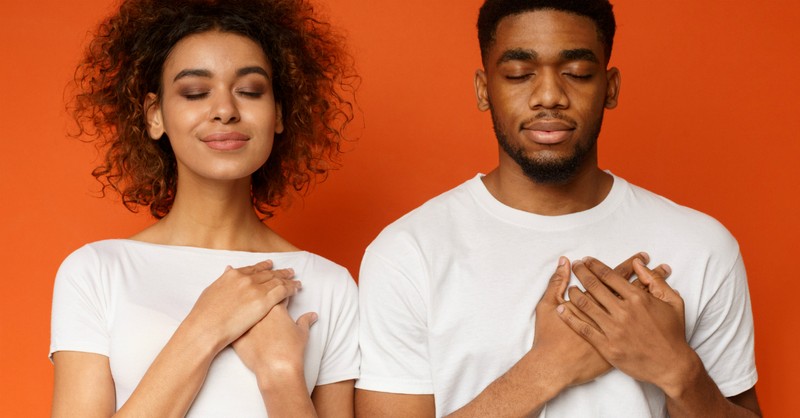 What Is the Serenity Prayer and Why Do We Pray It?
Heather Riggleman

Crosswalk.com Contributing Writer
If you haven't heard of the serenity prayer many people live their lives according to its wisdom. "God, grant me the Serenity Accept the things I cannot change, Courage to change the things I can, and Wisdom to know the difference."
Lord, grant me the serenity to accept the annoying things my kids do that I cannot change. The patience to endure the endless loads of laundry, and the endless nagging I will have to do to get my kids to put their laundry away, and just enough sanity to get through it.
Sound familiar? No? Well, this is the serenity prayer of moms everywhere. At least it is for me. If you haven't heard of the serenity prayer many people live their lives according to its wisdom. Especially addicts and alcoholics after the co-founder of AA, William Griffith Wilson, and his staff adopted the first two lines to be used as a part of the twelve-step program.
What Is the Serenity Prayer?
It was written by theologian, Reinhold Niebhur. It is a petition of prayer asking God for peace, wisdom, and courage. Some believe Niebhur's prayer began circulating in the 1930s after his student and collaborator Winnifred Crane Wygal submitted the prayer in the newspaper. Later, it was submitted in a book of worship around 1940. It was also published in a Federal of Council of Churches book for army chaplains and servicemen. Niebhur did however publish the prayer in one of his magazine columns in 1951.
Over the years, different versions of the prayer have been published. The Serenity Prayer can be found in either the common shortened form or the longer full version. The first paragraph is what is most commonly referenced and prayed:
"God, grant me the Serenity Accept the things I cannot change, Courage to change the things I can, and Wisdom to know the difference."
However, the full version of the prayer reads:
God, grant me the serenity
to accept the things I cannot change,
the courage to change the things I can,
and the wisdom to know the difference.
Living one day at a time,
enjoying one moment at a time;
accepting hardship as a pathway to peace;
taking, as Jesus did,
this sinful world as it is,
not as I would have it;
trusting that You will make all things right
if I surrender to Your will;
so that I may be reasonably happy in this life
and supremely happy with You forever in the next. Amen.
The serenity prayer became popular for AA because the prayer refocuses our minds on the good in our lives. Positive thinking instead of "stinking thinking" is critical to the success of sobriety. But it's not just for those practicing sobriety; it's a beautiful reminder for anyone who is struggling with situations beyond their control. Instead of looking at what's in front of us, we can look up to our mighty God. The Serenity Prayer is packed full of meaning and spiritual wisdom in just a few short lines.
What Is the Meaning of the Serenity Prayer?
The Serenity Prayer is based on four virtues:
Serenity
Acceptance
Courage
Wisdom
Based on these four virtues, the prayer teaches us how to let go of situations beyond our control and take action toward things that are within our control. It also reminds us to learn the difference between what we can actually control and what we cannot. In other words, by following the prayer, individuals are able to obtain peace and serenity.
Is the Serenity Prayer Found in the Bible?
Biblically speaking, the prayer isn't found in the Bible, but the virtues and concepts of the prayer are. The Serenity Prayer speaks of a life lived in calmness through faith in God who reminds us we are to "be anxious for nothing" (Philippians 4:6). God tells us not to worry because we cannot change one single thing through worry. And when we do allow worry, anxiety, and negative thinking to run our lives, it reveals our unwillingness to trust in a God who can. God is the creator of the universe and if He can call the stars by name, breathe air into our lungs, and give the ocean tides its boundaries, who are we to worry?
Why Do We Pray the Serenity Prayer?
The Serenity Pray not only focuses on living in peace and being worry-free, but this prayer also touches on acceptance of circumstances and empowerment. It redirects from things out of our control and positions us toward what we can control. We can control our emotions, our actions, reactions and we can run to God in any and every circumstance. Praying allows us to focus on our worries, concern, desires, and thoughts on Christ.
Four Ways the Serenity Prayer Can Lift Your Spirits Today
The serenity prayer gives us a chance to put our current situation, circumstances, and life situations into perspective: we have a mighty God who cares about every detail of our lives—even when it's not going our way, we can rely on Him. If we allow ourselves to live by this prayer, we can learn the unique balance between change and acceptance while relying on God to give us the peace and courage we need. Here are four ways the Serenity Prayer can lift your spirits today.
The Serenity Prayer Centers Us On God's Peace
Not only does God give us direction, but He also gives us supernatural, everlasting peace. Serenity is the first virtue mentioned in the Serenity Prayer and is presented as the key goal. Learning to live in a state of serenity is the opposite of a state of anxiety. Anxiety will rip us from the present moment and distracts us with the worries of the future and regrets of the past creating a state of chaos. However, God wants us to live in a state of serenity.
"Now may the Lord of peace himself give you peace at all times in every way. The Lord be with you all." —2 Thessalonians 3:16
"And the peace of God, which transcends all understanding, will guard your hearts and your minds in Christ Jesus" —Philippians 4:7
"And let the peace of Christ rule in your hearts, to which indeed you were called in one body. And be thankful." —Colossians 3:15
"May mercy, peace, and love be multiplied to you." —Jude 1:2
"Be still and know that I am God!" —Psalm 46:10
It Reminds Us God is In Control
Life is often characterized by chaos, and we've had a lot of that lately. Between the pandemic, learning how to adapt, changing schedules, it's difficult to maintain a sense of peace. But the serenity prayer touches on how God is in control. Instead of falling into pieces, we call fall into God's peace as we remember He is ultimately in control.
"For my thoughts are not your thoughts, neither are your ways my ways," declares the LORD. "As the heavens are higher than the earth, so are my ways higher than your ways and my thoughts than your thoughts." —Isaiah 55:8-9
"Many are the plans in a man's heart, but it is the Lord's purpose that prevails." —Proverbs 19:21
"for dominion belongs to the Lord and he rules over the nations." —Psalm 22:28
"He is before all things, and in him all things hold together." —Colossians 1:17
"say to those with fearful hearts, "Be strong, do not fear; your God will come, he will come with vengeance; with divine retribution he will come to save you." —Isaiah 35:4
It Focuses on Courage
In the Serenity Prayer, courage means having the strength, grit, and resolve to do what is within your control. When life throws us into the spin cycle, we can either be a victim of circumstance or we can focus on what we can do. Living in God's courage gives us the ability to look within ourselves and ask, "Where is my responsibility in this situation and how can I live like Jesus through it?" Having courage means living for God's purpose.
"Have I not commanded you? Be strong and courageous. Do not be afraid; do not be discouraged, for the LORD your God will be with you wherever you go." —Joshua 1:9
"Even though I walk through the darkest valley, I will fear no evil, for you are with me; your rod and your staff, they comfort me." —Psalm 23:4
"I sought the LORD, and he answered me; he delivered me from all my fears." —Psalm 34:4
"When anxiety was great within me, your consolation brought me joy."—Psalm 94:19
"For I am convinced that neither death nor life, neither angels nor demons, neither the present nor the future, nor any powers, neither height nor depth, nor anything else in all creation, will be able to separate us from the love of God that is in Christ Jesus our Lord." —Romans 8:38-39
It Pivots our Focus to Faith
Whether you've been a Christian for a day or for three decades, faith gives birth to hope. Both are vital because ultimately faith is the "confidence in what we hope for and assurance about what we do not see." The Serenity Prayer effectively reminds us that when we allow the reality of the Gospel to affect every part of our lives, it changes the way we think which then changes how we behave.
"For we live by faith, not by sight." —2 Corinthians 5:7
"And without faith it is impossible to please God, because anyone who comes to him must believe that he exists and that he rewards those who earnestly seek him." —Hebrews 11:6
"Then Jesus said, "'Did I not tell you that if you believe, you will see the glory of God?'" —John11:40
"Because you know that the testing of your faith produces perseverance." —James1:3
"Though you have not seen him, you love him; and even though you do not see him now, you believe in him and are filled with an inexpressible and glorious joy, mark for you are receiving the end result of your faith, the salvation of your souls." —1 Peter 1:8-9
Photo credit: ©GettyImages/Prostock-Studio
---

Heather Riggleman is an award-winning journalist and a regular contributor for Crosswalk. She calls Nebraska home with her three kids and a husband of 22 years. She believes Jazzercise, Jesus, and tacos can fix anything and not necessarily in that order! She is author of I Call Him By Name Bible Study, the Bold Truths Prayer Journal, Mama Needs a Time Out, and a contributor to several books. You can find her at www.heatherriggleman.com or on Facebook.
---
This article is part of our larger Prayer resource meant to inspire and encourage your prayer life when you face uncertain times. Remember, the Holy Spirit intercedes for us and God knows your heart even if you can't find the words to pray.
Prayer for God's Help
Prayer for Strength
Prayer for Protection
Morning Prayers
Good Night Prayers
Now available is our new Daily Prayer devotional! An easy way to find start your day with prayer, read today's prayer and sign up to receive by email.
Comments
---
---