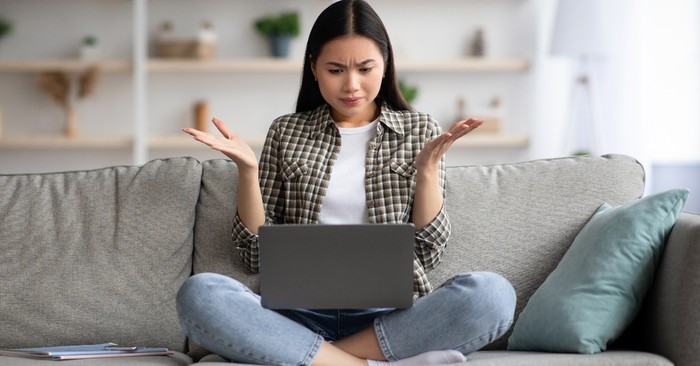 He isn't going to travel down the path of destruction with you. Instead, He will pursue you, like a shepherd searches for his lost sheep...
Hello, God? Are you there? Have you ever felt so alone in your struggles that you were compelled to ask that question?
We all have had those times when it seems warranted to ask God where He is. If you can relate, just know that you are not the only one who feels this way at times. Actually, about two-thirds of all Christians experience spiritual doubt at some point in their spiritual life.
"Just like first century Christians, their twenty-first century counterparts question aspects of their theology, doubt the existence of God and mourn his seeming absence during hard times." - Roxanne Stone, Editor in Chief of Barna Group
It's natural to feel like God is absent. After all, we cannot see Him. We can see the effects of His existence in creation and His power working in and through us.
But I can't call Him up to meet for coffee like I can with a friend. Does that make Him any less real or any less accessible?
If we think about God in this way, it's easy to think that God is an absent God, but that couldn't be further from the truth. He may at times hide, but He is never absent.
"Truly, you are a God who hides himself." (Isaiah 45:15 ESV)
To truly experience or feel God, we must look for Him. We must seek after Him. We must let Him rescue us. (1 Chronicles 16:11, Jeremiah 29:13)
While we may not always feel God, it's not a place we should wish to stay. If you don't feel God, it could point to something deeper going on.
Let's check out five reasons we might not be hearing from God:
1. We've Taken Control
The reality is that we will end up in unfamiliar places, one way or another, and with or without God.
If in my darkest moments, I decide to try to figure things out on my own, apart from God, not only will I miss out on His blessings, I may actually make things worse.
When we take matters into our own hands, we often find ourselves getting more lost, taking the wrong paths, and landing on the wrong side of town.
"There is a way that appears to be right, but in the end it leads to death." (Proverbs 14:12 NIV)
Instead, we must let God lead us because His way always leads to life.
"And the Lord will guide you continually and satisfy your desire in scorched places and make your bones strong; and you shall be like a watered garden, like a spring of water, whose waters do not fail." (Isaiah 58:11 ESV)
If you should ever find yourself feeling out of touch with God, I urge you to appeal to Him to reveal anything that could be keeping you from drawing close to Him.
"Search me, O God, and know my heart! Try me and know my thoughts! And see if there be any grievous way in me, and lead me in the way everlasting!" (Psalm 139:23-24 ESV)
2. We Have Turned Away from God
At times in our life, we flat-out turn our backs on God. Often, it's because we know what we're doing is wrong, and in these moments, we are ashamed to face Him.
"You are severed from Christ, you who would be justified by the law; you have fallen away from grace." (Galatians 5:4 ESV)
He isn't going to travel down the path of destruction with you. Instead, He will pursue you, like a shepherd searches for his lost sheep, and He will wait for you to call on His name, to turn away from your sins that separate you from Him, and decide to follow Him.
"Draw near to God, and he will draw near to you. Cleanse your hands, you sinners, and purify your hearts, you double-minded." (James 4:8 ESV)
King David lived a tumultuous life full of ups and downs, and while many times He lived an upright life, he was also very, very human, and he made a lot of regrettable choices, often costing the lives of others that he loved.
In a moment of hopelessness, he cried out to God:
"Cast me not away from your presence, and take not your Holy Spirit from me." (Psalm 51:11 ESV)
I honestly cannot think of anything worse than God casting me out of His presence. Yet, even if this is a place we find ourselves at some point in our lives, we have confidence in the promise that there is absolutely nothing that can separate us from God.
"For I am convinced that neither death nor life, neither angels nor demons, neither the present nor the future, nor any powers, neither height nor depth, nor anything else in all creation, will be able to separate us from the love of God that is in Christ Jesus our Lord." (Romans 8:38-39 NIV)
If you have turned away from God, realize He is only one prayer away, and all you need to do is call on Him, and He will return to you.
"Turn to me and be gracious to me, for I am lonely and afflicted. Relieve the troubles of my heart and free me from my anguish." (Psalm 25:16-17 NIV)
3. You Don't Have Room in Your Heart for God
There's something we all should know about God, and that is He is a jealous God (Exodus 34:14). He's jealous for you and for me, and when we fill our hearts and lives with everything except God, we don't leave any room for Him.
"For they provoked him to anger with their high places; they moved him to jealousy with their idols." (Psalm 78:58 ESV)
Nothing else can satisfy us the way God can. In our pursuit of happiness, we attempt to fill our lives with pleasures galore, yet, we miss out on the only One who can make us whole.
"You make known to me the path of life; in your presence there is fullness of joy; at your right hand are pleasures forevermore." (Psalm 16:11 ESV)
When Moses went up to the mountains, the Israelites felt abandoned (Exodus 32:1). Rather than waiting for Moses to return, they fashioned idols to worship.
We've all been guilty of this at some point. You see, it's tempting to fall into behaviors that cause us to eliminate God from our lives. The enemy's goal is to preoccupy our lives with anything that will distract us from having a relationship with God.
Even when we overload our schedules with well-meaning activities, we can fall into the trap of pushing God out of our hearts.
Take heart, though, it's an easy fix. Start by seeking after God through prayer and reading the Bible, which helps you to feel God again.
"Why are you cast down, O my soul, and why are you in turmoil within me? Hope in God; for I shall again praise him, my salvation." (‭‭Psalm‬ ‭42‬:‭5‬ ‭ESV‬‬)
4. God Works in Mysterious Ways
Sometimes, it's nothing that we've done at all, but instead, it's that God is working in ways we don't always understand (Isaiah 55:8).
The Scriptures tell us that God works in the following ways:
By allowing you to be tested.
"Consider it pure joy, my brothers and sisters, whenever you face trials of many kinds, because you know that the testing of your faith produces perseverance. Let perseverance finish its work so that you may be mature and complete, not lacking anything." (James 1:2-4 NIV)
By going ahead of you to prepare the way.
"It is the Lord who goes before you. He will be with you; he will not leave you or forsake you. Do not fear or be dismayed." (Deuteronomy 31:8 ESV)
By encouraging you to find your strength in Him.
"Have I not commanded you? Be strong and courageous. Do not be frightened, and do not be dismayed, for the Lord your God is with you wherever you go." (Joshua 1:9 ESV)
"Be strong and courageous. Do not fear or be in dread of them, for it is the Lord your God who goes with you. He will not leave you or forsake you." (Deuteronomy 31:6 ESV)
By urging you to seek after Him.
"Seek the Lord and his strength; seek his presence continually!" (1 Chronicles 16:11 ESV)
"You will seek me and find me, when you seek me with all your heart." (Jeremiah 29:13 ESV)
5. Realize That Feelings Are Not Facts
If you don't feel God, chances are that you have misinterpreted what's truly going on. Remember that your feelings don't represent facts.
When you don't feel God, remember those feelings don't come from God but rather from the enemy, as a ploy to pull you away from the only One who has the power to rescue you.
Isaiah 42:16 is God's response to the uncertain times we encounter, and He promises to see us through, even if we don't feel Him:
"I will lead the blind by ways they have not known, along unfamiliar paths I will guide them; I will turn the darkness into light before them and make the rough places smooth. These are the things I will do; I will not forsake them." (Isaiah 42:16 NIV)
In our moments of blindness, darkness, chaos, and confusion, when we cannot feel God, we must still choose to trust Him.
He said He will do exactly as He promised. He will guide you, He will turn your darkness into light, He will straighten and smooth out your path, and He will never, ever leave you.
"When the righteous cry for help, the Lord hears and delivers them out of all their troubles. The Lord is near to the brokenhearted and saves the crushed in spirit. Many are the afflictions of the righteous, but the Lord delivers him out of them all." (Psalm 34:17-19 ESV)
Even though we cannot see God, He leads us. We just have to trust and obey Him. We have to believe that He knows more than we do. He knows everything.
As we seek to stay close to God, we can rest assured that even if we feel alone, He is with us.
Photo Credit: ©iStock/Getty Images Plus/Prostock-Studio
Jennifer Jabbour resides in the scenic San Diego countryside with her husband, teenage son and daughter, and their hilarious English Bulldog. Jennifer has a B.A. in Integrated Business Communications and a life-long desire to share her faith with others so they can also experience the joy of having a relationship with God. She has finally decided it's time to go after her lifelong dream of writing and publishing her first book, and hopefully many, many more thereafter. Besides being a writer, Jennifer is also a brown belt in Brazilian Jiu Jitsu, a photographer, and an avid outdoors-woman. She loves camping, hiking, running, and playing the piano in her free time.
You can keep up with Jennifer on her website https://www.jenniferjabbour.com.
LISTEN: Being Complete in Jesus (Understanding Matthew 5:21-48)
Hearing Jesus is a devotional journey through the gospels, where we explore the teachings of Jesus chapter by chapter. If you're seeking to live a life that reflects God's, this podcast is for you.
The views and opinions expressed in this podcast are those of the speakers and do not necessarily reflect the views or positions of Salem Web Network and Salem Media Group.
WATCH: 10 Sins Christians Downplay (and Why They're So Destructive)
Stock Footage & Music Courtesy of Soundstripe.com Thumbnail by Getty Images

---
---