5 Ways to Describe Your Relationship with God to Nonbelievers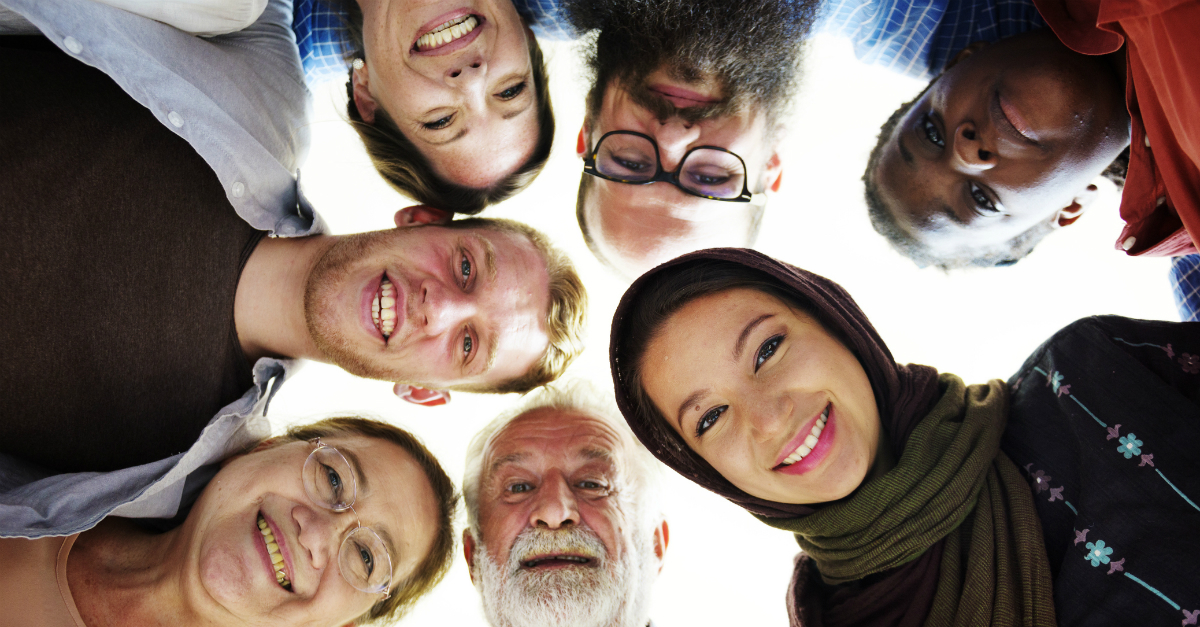 I never grasped how difficult it can be to explain one's relationship with the living God until I attempted to describe it to an immigrant with a purely naturalistic worldview. I wanted her to understand that my faith involved so much more than following a set of rules and regulations. I wanted to convey the depth of intimacy I experienced with Christ and the strength and peace He provides.
Unfortunately, I can't say I communicated clearly. In fact, the persistent confusion evident in her expression verified that I left her feeling frustrated more than illuminated and, presumably, no closer to Christ than when our conversation began. Since then, however, I've had time to contemplate my connection with God and would now handle the discussion differently.
If you, like me, have struggled with how to encapsulate your most important relationship in all of eternity, perhaps these suggestions will help.
Photo Credit: © Getty Images/ Rawpixel
1. Begin with the Character of God

Slide 1 of 5

Your friend might have an entirely different, and inaccurate, view as to who God is. You may want to invite them to share that view. Then, once they have, you can ask, "I have a different understanding. Would you be interested in hearing what that is?" Then, share not only who God is—loving, merciful, faithful, attentive, and true—but consider sharing a story that illustrates one of these points.

This would also be a great time to compare and contrast Him with humans. Our relationship with God is both similar and vastly different than what we experience with humans, even the most faithful and loving. Perhaps the greatest example of this is in regard to how God responds to our sin. Where humans tend to cut us off or reject us when we mess up or fail to meet their expectations, God took the initiative to draw us close. This was precisely what occurred on the cross. He opened wide His arms and died to shatter the sin that kept us from Him and He freed us from its power.

His love is also more constant than the love a mother has for her child. In Isaiah 49:15, God said, "Can a mother forget the baby at her breast and have no compassion on the child she has borne? Though she may forget, I will not forget you!" (NIV). In other words, His love is even more enduring than what many would define as the deepest love, humanly speaking, possible. His love is pure and without a hint of malice or subterfuge. It's strong enough to withstand our rebellion, anger, and worst mistakes. It pursues us, rescues and redeems us, and has the power to heal.

We all need to experience that kind of love, our friend as well. We were created for it and will never truly feel fulfilled until our hearts rest securely in Him.

Photo Credit: © Getty Images/Motortion

2. Share Your Need, Past and Present

Slide 2 of 5

Our pride might tempt us to start the conversation with our victories and strengths—all those miraculous ways God helps us live empowered. We may even think that by doing so, we're enticing our friend to experience God in the same way we do. But many times, our "super-Christian" stories have the opposite effect. Our listener may find us boastful, assume we're exaggerating or that we're unrelatable. An entire narrative might play out in their brains, telling them all the reasons you'd never understand their struggles or grace wouldn't work for them. When we begin with our place of weakness, our places of need, however, we build trust, bridge gaps between us and our listeners, and place the emphasis on Christ, where it needs to be.

We help our friends realize that we're united to Christ by grace, not works (Ephesians 2:8-9). What's more, according to Jesus, even our faithfulness depends on Him. Jesus made this clear in John 15:1-5 when He told us to abide in Him, stating that He was the vine and we were the branches. Or to put it another way, He is the one who gives life and initiates growth and productivity.

"Apart from Me," Christ said, "you can do nothing" (John 15:5, NIV). If not for Christ's death and resurrection, we'd be eternally at odds with God. Through the cross, however, we've been reconciled. The barriers that sin formed between us and our Creator were shattered, and through Christ's blood, we've been drawn close. That is beautiful, life-giving, heart-stirring news worth proclaiming!

Our relationship with Christ is characterized by both our need and our want. We need Him because we're sinful and broken and live in a broken world. We want Him because He's merciful, loving, faithful, and true.

Photo Credit: © Unsplash/Harli Marten

3. Share How You Experience God Daily

Slide 3 of 5

We can tell someone that God is our strength in weakness, an ever-present friend, or our source of peace, or we can show them how we discovered those truths to in fact be true. We can share times when we were hurting, frightened, or so weary, we didn't know if we could take another step but, after sitting in Christ's presence, found everything we needed.

When discussing the various ways you experience God, consider sharing specific examples. This helps make abstract concepts, like God's strength and presence, more concrete. For instance, my listener might not understand what I mean when I say I receive guidance through Scripture. But if I share a specific time when this occurred, taking care to go into detail regarding the situation, what I read, and how God spoke to me through it, they'll have a better understanding regarding how God interacts with His children.

One word of caution: we need to be careful we don't present an image of a perpetual spiritual high or give the impression that our relationship with Christ is based on emotion. Though our intimacy with Him will, more often than not, impact how we feel, it isn't dependent on that. We all have days where it feels as if God is particularly close and others where He seems more distant. We know, however, based on truth, that He's always present, regardless of what our fluctuating emotions might suggest.

Photo Credit: © Unsplash/Aricka Lewis


4. Be Honest

Slide 4 of 5

The other day, a friend said her relationship with God felt hard and confusing. I suspect we've all felt that way at some point. Yet, that's likely not how we'd explain our interactions with God, if someone were to ask. If you're like me, you may feel tempted to "defend" or protect God, fearing if you shared your difficulties and uncertainties, others might discount your words or downplay the vitality of your faith. But people respect authenticity more than perfection, which is great, because that's a standard none of us can reach.

Scripture and life demonstrate again and again that we're faithless more often than not. We're emotionally reactive, make poor decisions, rebel against God, and yet, He welcomes us back, in love, again and again. When we're honest with others regarding our questions, doubts, and difficulties, we create space for them to be honest as well—with themselves and with God.

Photo Credit: © Getty Images/Fizekes

5. Explain Your Role and His

Slide 5 of 5

We cannot come to Christ unless the Father draws us, nor can we understand deep spiritual truths apart from the Holy Spirit. Scripture tells us God stirs and quickens us, transforms us, and births love and passion within our hearts. What's more, in our own strength, none of us will ever love God as we should. Only He can spark within us a desire for Him and the things of Him.

That said, there's much we can do to cooperate with Him. First, we can ask Him to increase our love for Him, His people, and truth. By stating this to our friends, we invite them to pray for the same thing, and this is a prayer God loves to answer. Second, we can intentionally and consistently draw near to Him. You may have heard the phrase: Whatever we feed grows and what we starve dies.

This is especially true in regard to our spirituality. The more we placate the cries of our soul with temporary fillers and distractions, the more we'll crave those things until our lives are filled with a series of Netflix sequels and an unending social media feed. However, the converse occurs as well. The more we draw near to God through Bible reading, praise, and prayer, the more we experience His life-giving Spirit flowing in and then through us, the more we'll long for His presence. Time with Him has a tendency to increase our hunger for Him and the things of Him. And isn't that what we all want—to experience intimacy with the One who knows us fully, loves us deeply, and wants to be known in return?

There are a lot of ways we can accurately describe our relationship with God. While attempting to encapsulate this rich and at times abstract concept to others might feel intimidating, may we focus not on our perceived limitations but instead God's power and Spirit within, knowing the best part of our relationship is simply this: We no longer have to live, speak, and act alone. We have the ever-present, all-powerful God moving and equipping us to share His love with a broken, hurting, and hungry world.

As you seek to explain what life was like prior to your conversion, why you need and desire Christ so desperately, how you experience Him daily, and how and why this sacred encounter is so unlike any other you've experienced, may you rest in the confidence of knowing God will use your words to speak life into deadened hearts. But don't feel you must express yourself perfectly, or even present a perfect image of faith. Simply be honest and real and trust God to fill in any gaps.

---

---

Jennifer Slattery is a writer and speaker who's addressed women's groups, Bible studies, and writers across the nation. She's the author of the Cultivating a Thankful Heart Bible Reading Plan, Hometown Healing and numerous other titles and maintains a devotional blog at JenniferSlatteryLivesOutLoud.com. As the founder of Wholly Loved Ministries, she's passionate about helping women discover, embrace, and live out who they are in Christ. Visit her online to learn more about her speaking or to book her for your next women's event and sign up for her free quarterly newsletter HERE and make sure to connect with her on Facebook and Instagram.

Photo Credit: © Getty Images
Contact Us
Get iBelieve.com