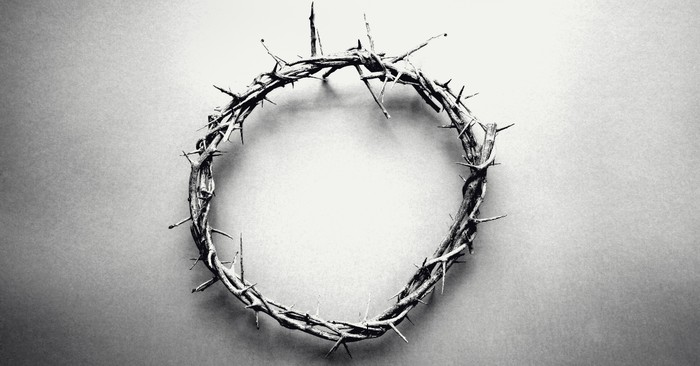 Plus
If only they knew…If only they knew that the One whom they were brutalizing was the King of Heaven and Earth—and that He would do the impossible very soon.
The Queen of England is dead.
The longest-reigning British monarch passed away just a few days ago, and the whole world seems to be upended by her loss.
Britain is amid a 10-day mourning period. Thousands of well-wishers are flooding the gates of Buckingham Palace. The Royal Family are following the Queen's coffin in a majestic funeral procession. It is truly an incredibly powerful moment in history to witness, and I am certain that it will not be forgotten in this lifetime—or the next.
But, as I scroll through the news, I realize that not even the King of Heaven and Earth had such a funeral. In fact, His was quite the opposite. His friends fled the scene of His death and His enemies mocked Him. He was interred in a tomb that didn't even belong to his family. And He was buried in such a hurry that the women who cared for Him couldn't even complete His funerary rites. They'd have to return some other day.
Indeed, it was a funeral shrouded by controversy and shame. A hush-hush function that was attended by only a few close friends and family, who themselves were fearing for their lives. And yet, despite all the controversy surrounding it, Jesus' funeral would become the most memorable one in the world, a funeral whose fame will surely outlive even Queen Elizabeth's—and every monarch's hereafter.
Jesus of Nazareth, King of the Jews
When Jesus came to earth, He looked nothing like a king. (And He didn't live like one either.) His mother was peasant girl, his father a carpenter. He walked among ordinary people—the poor, the sick, the outcast—and lived the life of an ordinary first-century Jew. So, just imagine how the Pharisees felt when Pontius Pilate placed that infamous placard above His cross.
In Aramaic, Latin, and Greek, it said: JESUS OF NAZARETH, KING OF THE JEWS.
Of course, the words were meant to be sardonic. It was intended to be the title of shame—a final effort to humiliate the man who had claimed to be the long-awaited Savior of Israel.
And yet, something about it didn't sit well with the Pharisees. They felt unnerved that such an honorific (albeit sarcastic) title was hanging above the man's head. Suffice to say, they wanted the placard taken down.
But Pilate wouldn't budge. "What I have written, I have written," he said (John 19:22).
And so, wearing a crown made of thorns—another attempt made to mock the so-called "King"—Jesus was executed Roman style, a fate reserved only for society's most contemptible of criminals. It was a pitiful, ironic spectacle and served to deliver a terrifying message: Let no Jew dare to aspire to such high places…or else.
Then the amazing happened. (You know the story!) And John the Evangelist, writing some decades after the miraculous events of the Gospels, painted a victorious image of the glorified Jesus, whom he hailed "the Lord of lords, and the King of kings" (Revelation 17:14).
I love what Dietrich Bonhoeffer, the twentieth-century German theologian and martyr, says about the matter: "A king who dies on the cross must be the king of a rather strange kingdom. Only those who understand the profound paradox of the cross can also understand the whole meaning of Jesus' assertion: my kingdom is not of this world."
Be empowered as you read some verses and passages from Scripture about Jesus' eternal kingship. Rest assured knowing that God—your God—is the Sovereign of the universe and that you are His child and heir.
The Son of David
Despite His humble parentage, Jesus came from a royal line. Through His father Joseph, according to Luke 3:31-32, He was a direct descendant of David, the greatest king of Israel.
Jesus' Davidic lineage fulfilled a prophecy of Jeremiah, who predicted that the Messiah would come from the line of David: "The days are coming…when I will raise up for David a righteous Branch, a King who will reign wisely and do what is just and right in the land" (Jeremiah 23:5).
Furthermore, in the Book of Revelation, Jesus identifies Himself as the heir of David, telling John the Evangelist: "I am the Root and the Offspring of David, and the bright Morning Star" (Revelation 22:16).
However, as "the Root…of David," Jesus makes clear that He is not only the descendant of Israel's greatest king. He is also his Creator, "the Root," the very One from whom David had come.
This paradox is reinforced in Mark 12:35-37, when Jesus, who is constantly referred to as the "Son of David," asks, "Why do the teachers of the law say that the Messiah is the son of David?" (Mark 12:35). He goes on to cite Psalm 110:1: "The Lord says to my lord: 'Sit at my right hand until I make your enemies a footstool for your feet.'"
"David himself calls him 'Lord,'" says Jesus, citing Psalm 110:1. "How then can he be his son?" (Mark 12:37).
By asking this rhetorical question, Jesus implies that He is greater than David. He is Lord over even the greatest king Israel had ever known and is therefore the greatest King in the entire world.
The future Messiah's royal heritage was ultimately foretold by God to David himself in Samuel 7:12-16. God tells him:
When your days are over and you rest with your ancestors, I will raise up your offspring to succeed you, your own flesh and blood, and I will establish his kingdom. He is the one who will build a house for my Name, and I will establish the throne of his kingdom forever. I will be his father, and he will be my son." God then declares that through this heir, David's lineage will live on for eternity: "Your house and your kingdom will endure forever before me; your throne will be established forever."
David held on to this promise until the very end, trusting that his offspring would continue his mighty reign. I admire what Charles Spurgeon, a nineteenth-century English preacher, says about the eternal kingship of Jesus:
"Do you always remember, beloved, in coming to the mercy-seat, that you are coming to a King, and to One who gives like a King? Do you always open your mouth wide, and ask great things of the King who is so ready to bestow them upon you?"
As Spurgeon implies, though it's easy to forget about our royal lineage, you cannot deny this simple truth. You are the daughter of a King—and He's not just any king…He's the King. His riches and glory are your inheritance. His kingdom—the Kingdom of Heaven—is your home. Everything that He has is yours—including His crown of glory. As Spurgeon adds: "You are God's children; you are joint heirs with Christ. The 'many mansions' are for you; the palms and harps of the glorified are for you. You have a share in all that Christ has and is and shall be."
A Crown of Glory
A week before His death, Jesus triumphantly entered Jerusalem on the back of a donkey. Spreading leaves on the road before Him, the crowd reverently cried: "Hosanna to the Son of David!" (Matthew 21:9).
This momentous scene was a fulfillment of a messianic prophecy of Zechariah, who said: "Rejoice greatly, Daughter Zion! Shout, Daughter Jerusalem! See, your king comes to you, righteous and victorious, lowly and riding on a donkey, on a colt, the foal of a donkey" (Zechariah 9:9).
But, toward the end of that same week, Israel's songs of praise for the Son of David quickly became vicious cries for His death. Jesus was ultimately arrested and mocked by both His countrymen and Roman soldiers, who—in a horrifying act of sadism—twisted a crown of thorns around His head before throwing a purple robe around His shoulders and forcing a staff into His right hand.
"Hail, king of the Jews!" were their jeers as they kneeled in front of Him, taunting Him (Matthew 27:27-31; John 19:1-3).
The scene was horrific—and only continued to worsen. Grabbing the staff from His hands, the soldiers repeatedly struck Jesus on the head. They spat on Him. They punched Him. They slapped Him. If only they knew…If only they knew that the One whom they were brutalizing was the King of Heaven and Earth—and that He would do the impossible very soon.
In the words of Charles Williams, a twentieth-century British writer: "The strong hands of God twisted the crown of thorns into a crown of glory; and in such hands we are safe."
Photo Credit: ©iStock/Getty Images Plus/StephanieFrey
Roma Maitlall fancies herself a bit of a logophile (from the Greek, meaning "lover of words"). Her lifelong passion for writing—combined with her love of Jesus—inspired her to study English and theology at St. John's—a university located in Queens, New York, her hometown, where she always dreamed of becoming a writer. Now a full-time writer, Roma enjoys spending time with her wonderful sisters and family, learning everything there is to know about history, literature, art, and Christianity, and using her words to give glory to Jesus.
---
---