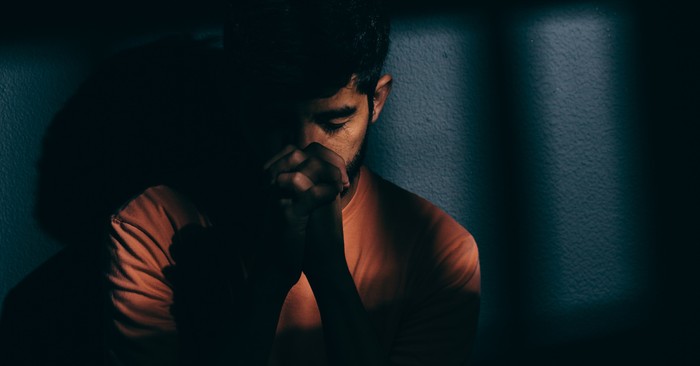 Pastor Frank Santora asserts that the proverbial "prayer closet" is not as much about 'place' as it is about attitude and commitment … It can be wherever you choose to spend time with God in prayer, without the interruption of family or daily life."
One Sunday afternoon, I was worn out from watching the news, so I decided to re-watch the movie War Room. I have loved that movie ever since I saw it many years ago. For anyone who is unfamiliar with that movie, it is about a young woman who is struggling with her marriage and enters into a mentoring relationship with an older woman in the practice of prayer and reliance on God. I highly recommend it to any Christian who hasn't seen it yet.
Some of the advice this older woman gives is to find a quiet place, free of as much distraction as possible, to talk to God. This popular concept has been dubbed a prayer closet. In fact, having such a place to peacefully pray was highly recommended by Jesus Christ Himself. He said in Matthew 6:6, "But you, when you pray, go into your room, and when you have shut your door, pray to your Father who is in the secret place; and your Father who sees in secret will reward you openly." I can think of no greater reward than to see answers to my prayers.
The Purpose of a Prayer Closet
Before we dive into my story, I did some research and want to share the wisdom I discovered regarding the significance of the prayer closet. On the Bible Tools website, Pastor Frank Santora asserts that the proverbial "prayer closet" is not as much about 'place' as it is about attitude and commitment … It can be wherever you choose to spend time with God in prayer, without the interruption of family or daily life."
Santora also observes, "one of the primary ways the enemy brings destruction into our lives is through constant interruptions and distraction in our pursuit of God."
My Own Search for a Prayer Closet
My experience in finding that peaceful place to pray has been rather "hit or miss" over the years. When I first attempted to set up a place to pray, it certainly was not all that private. I felt like all the rooms in my house, outside my bedroom that I shared with my husband, were pretty much spoken for. So, my first attempt was more like a small oasis of "prayer turf" on one corner of the living room couch early in the morning before anyone else in the house woke up (since I am an early riser). This kind of worked, but once my son got a job in which he was arriving home from work fairly early, and my daughter and her family temporarily moved in with us in their transition from Sacramento to our little city in Utah, there were a lot more distractions in my little corner. I was using that as my Bible study area, too, complete with a few Bible translations, notebooks, devotionals, etc. However, none of this was working out all that well.
I thought about the various spots in my house where I could find some relative peace for my quiet time with God. Then it finally dawned on me that our guest room was rarely used. The room has a comfy chair that I could use to either sit in and pray (because, at first, I journaled most of my prayers); or I could kneel against it. There was also a little chairside table where I could keep some of my praying aids, such as lists of prayer requests from various sources. Over time, I have added a globe to my prayer aids because I realized that when I read prayer requests in a Voice of the Martyrs prayer calendar, there were some smaller countries mentioned that I didn't know where they were. I found that by locating them and learning a little bit about them, I could feel more fellowship with the struggles of the people there.
My prayer journaling has actually evolved into something now. When I journaled most of my prayers, I found that I had a hard time getting enough of my prayers written down in the limited amount of time that I had for morning prayer. So, I started to journal a short prayer in response to the day's devotion that I had just read. The rest of my time praying is generally spent on my knees.
So far, the guest room has worked beautifully for me in terms of my prayer time. However, it did not work out as well for my Bible study time, mainly because it felt so awkward to have to write Bible notes on my lap in that chair. So I came up with another strategy for Bible study. Besides the desk where I work in my home office, there was a small table that was cluttered with all sorts of junk. I cleared that off and set up a little Bible study area where I could do my daily devotions and Bible study. The beauty of this set-up is that should my guest room be in use, I can just use my Bible study table for my prayer closet.
What If You Have No Room for a Physical Prayer Closet?
I am guessing that there may be many of you who live in a home or apartment that has no extra rooms and no closet space that does not store your necessary clothing and other possessions. However, you can still find a time or place alone to pray as Jesus spoke of. A YouTube video provides some helpful ideas on how to find time alone to talk with God. The woman in the video, who admitted that she doesn't have a physical closet available to her, speaks of a "door of opportunity" or "stolen moments" you can turn into a virtual closet. This "door of opportunity" can open to you when your family members or roommates leave the house for a little while. Seize those moments when you find yourself alone.
Another woman suggested some very unconventional prayer closet opportunities if you have no room, or maybe just no time, for an official prayer closet. Those include:
-the shower – I have to admit that would not work well for me because I am not too good with mental multitasking.
-a vehicle – Of course, you won't be able to close your eyes and pray unless you are parked.
-vacuuming – Sound strange? Yes, but the author said that when she could not hear anything but the sound of the vacuum motor running, it worked well for focusing on an issue she was dealing with. Then she had the advantage of experiencing peace and cleaner floors at the same time.
-lawn work – It's the same principle as vacuuming, only you're substituting the noise of the vacuum for a lawn mower or weed whacker.
With all these ideas, you need not feel discouraged in your quest to find a prayer closet. If you feel that none of these ideas would work for you, seek God's wisdom. The book of James offers this advice when you find yourself at an impasse in your life: "If any of you lacks wisdom, let him ask of God, who gives to all liberally and without reproach" (1:5, NKJV). Who knows where God will direct you?
Benefits of a Prayer Closet
I know that besides wanting to take time to worship God in prayer, there are plenty of life issues I need to bring to Him in a quiet and peaceful setting. In fact, some of the advice that the older woman gave to the younger woman in War Room is that by constantly fighting with her husband, she was actually fighting the wrong way and that she needed to fight the spiritual fight by taking her concerns to God.
In his article about prayer closets, Santora lists several issues in our lives that we can (and should) take to God in the peace of our prayer closet. Those include:
-a wound you need God's help in healing
-the need to forgive an offense
-a habit you need help surrendering
-obedience in some area of your life
Some of these issues may be so emotionally painful that your private little prayer closet may be the best place to cry before God as you work with Him in sorting them out. I know that as I have talked with God about some things in my life, I have shed some tears. No one but God needs to see those tears.
It's Spiritual Warfare
In closing, all this discussion of the spiritual warfare that goes on in our "war rooms" or prayer closets reminds me of a song by Phil Wickham that I have found inspirational regarding prayer. It's called "Battle Belongs." The words that really get to me are, "When I fight, I'll fight on my knees." That is happening so often in my prayer closet.
Photo Credit: ©Getty Images/Klebercordeiro
Cathy Wentz lives with her husband, Brian, in Cedar City, UT, and has been a believer in Jesus Christ for more than 30 years. She has two grown children and four grandchildren, all who live in Cedar City. Her writing experience includes working as a newspaper reporter for eight years, and she currently serves as a public relations assistant for a local orthopaedic surgeon, which involves writing blogs, social media posts and other web content.
LISTEN: Being Complete in Jesus (Understanding Matthew 5:21-48)
Hearing Jesus is a devotional journey through the gospels, where we explore the teachings of Jesus chapter by chapter. If you're seeking to live a life that reflects God's, this podcast is for you.
The views and opinions expressed in this podcast are those of the speakers and do not necessarily reflect the views or positions of Salem Web Network and Salem Media Group.
WATCH: 10 Sins Christians Downplay (and Why They're So Destructive)
Stock Footage & Music Courtesy of Soundstripe.com Thumbnail by Getty Images

---
---