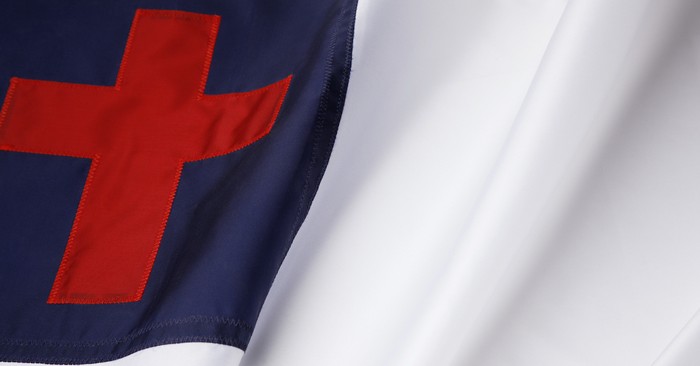 There is a better way than using the brute force of the government to ensconce Christianity as the "honorary" religion in the U.S., and that is evangelism.
Several weeks ago, I received a text encouraging me to support a law/declaration that the United States should be declared a Christian nation. To tell the truth, I don't remember the exact wording of that one because I blocked and deleted it. However, much more recently, I received another text that said: "Due Now: 98% of Christians have answered & the media is going nuts. Should Christianity be the honorary religion of the U.S.?" Now the text was just a (sadly) Republican fundraising ploy, but I fear the implications of such an idea even getting much mileage.
Don't get me wrong. It is my desire that every single person in the United States, and the world for that matter, would accept Jesus Christ as Savior and Lord because that is God's desire. The Bible says, "The Lord is not slack concerning His promise, as some count slackness, but is longsuffering toward us, not willing that any should perish but that all should come to repentance." However, I know that past attempts in some countries, such as England and others, to establish a national religion have gone very much awry.
The First Amendment of the U.S. Constitution
Let's start here:
"Congress shall make no law respecting the establishment of religion or prohibiting the free exercise thereof…."
There is a very strong reason why the framers of the Constitution placed this amendment so high in priority in what we know as the "Bill of Rights." Many of the first settlers in America had come here to flee the oppressive religious environment in England. The Cornell Law School website states that the First Amendment's purpose regarding religion was to forbid the country's leaders from "promoting one religion over others and also restricting an individual's religious practices."
Unintended Consequences
My fear is if the government were to promote Christianity, it could just as easily withdraw that promotion and place some other faith as the "superior" faith. Not only that, if our president or Congress made any binding resolutions or executive orders regarding religion, what would stop them from favoring one denomination of Christianity over another, based on the denomination claimed by the president or congressional members? England has a less than illustrious history of the king, queen, or Parliament favoring one Christian denomination over another.
Historical Precedents for Governmental Religious Interference
Let's start with one of the most infamous quarrels regarding the church in the sixteenth century. Until that time, England had been mostly Catholic. However, according to the Britannica website, Henry VIII became very displeased with the papacy in Rome when Pope Clement VII denied him an annulment of his marriage to Katherine of Aragon so he could marry Anne Boleyn. This led to Henry pushing Parliament to pass a series of acts that resulted in the separation of the English church from Rome. These laws established the monarch as the head of the English church, which basically followed a Catholic tradition.
For several years after Henry's death, his son Edward VI allowed Protestant reforms to be implemented in the English church. However, after Edward's death, his half-sister Mary Tudor (the Catholic daughter of Katherine of Aragon) ascended the throne. Her reign brought persecution and repression of Protestants. Then, when Queen Mary died, her sister Elizabeth I reigned, and her leadership re-established the Church of England. Yet all this back-and-forth regarding Christian practices was always by the authority of the reigning monarch, and persecution of one of the denominations was generally the result.
Later on, England endured a period of civil war that got started in earnest in 1642. In a prelude to this war within the not-so-united kingdom of Britain, Thomas Wentworth, who became the lord deputy for Ireland in 1633, attempted to enforce Ireland's conformity to the Church of England. Wentworth's actions managed to upset both Catholic and Protestant "ruling elites" in Ireland.
Free Will and Individual Faith
I have given some heavy-duty thought to this absurd and unconstitutional idea to make Christianity the "honorary religion of the U.S.," and I feel that the free will that God gives each of us and the leading of the Holy Spirit should be the sole inspiration for any of us to follow Jesus; and our personal reference for living that out should be the Bible.
It is not difficult to understand why Christian people would want to see the United States, as a whole, following Christ. Many of us are confronted daily with news of ways in which our country is crumbling from the inside. It is plagued by blatant immorality, crime with no consequences for many (which only produces more crime), a near-total lack of justice, and many of our leaders being unable to discern right from wrong. The prophet Isaiah said, "Woe to those who call evil good, and good evil." While it was certainly happening during Isaiah's time, it seems to be happening on steroids these days in ways many of us older people could not have even imagined in our younger days.
In a way, it does seem as if our country has gone as far as making strict secularism the "honorary religion" of this country by kicking out any concept of a higher being that created everything.
Understandably, there is a strong desire by many Christians that the U.S. would return to the Christian principles that inspired its founding, to have the comfort of a government that does not keep passing immoral laws such as the "Respect For Marriage Act," which gave same-sex marriage the same status as heterosexual marriage with little protection for the rights of individuals who speak out for the biblical definition of marriage. However, this is where Christians must turn to spreading the gospel as much as possible and keep providing ways for everyone to hear it and make their own decision for or against Christ.
Free will is the principle upon which the First Amendment was formulated, but it is so complex that in studying it, my mind feels like it's in a tailspin. After all, Eve had a choice to obey God's command regarding the Tree of Knowledge of Good and Evil. She chose the devil's deception rather than God's command, and as a result, the world became a fallen, imperfect place. In fact, that disobedience, in which she involved Adam, corrupted humanity's will so that people lost the ability to willingly obey God for the most part, according to the website Got Questions. Yet even after that fall, some people such as Abel, Noah, and several others did manage to act in ways that pleased God, but, as humanity multiplied, so did evil until God felt the need to purge the earth of its rampant sin in a flood, preserving only Noah and his family.
Christians currently living in the U.S. often feel apprehensive about ways in which they may be "canceled" by speaking out boldly for Christian values, including statements made on their personal social media. In fact, some have already experienced the wrath of the secular state for simply resisting governmental demands to toe the line regarding biblical values of life and marriage between a man and woman. It certainly seems like it takes a fight all the way up to the Supreme Court to enforce the application of the First Amendment. Yet, as Christians, we must be ready to take a stand for Christ no matter how difficult it might be.
For example, 19-year-old Jacob Kersey, a former Georgia police officer, experienced pressure to resign under the threat of firing simply for posting his personal belief about biblical marriage on his Facebook platform. "God designed marriage," his post stated, "Marriage refers to Christ and the church. That's why there's no such thing as homosexual marriage." While Kersey's superiors in the Port Wentworth Police Department did not fire him for that post, he was notified that he could be terminated in the future for any posts that others might find offensive. Apparently, any posts referring to Christian moral standards can be considered offensive.
There are plenty of other examples of Christians in this country facing persecution for simply taking a stand for their beliefs. Even though the First Amendment hands Christians, or any other faith for that matter, the freedom to speak and act according to their faith, that freedom, which is the law of the land, is being consistently violated.
How Should Christians Respond?
There is a better way than using the brute force of the government to ensconce Christianity as the "honorary" religion in the U.S., and that is evangelism. No one could stop several large gatherings organized by the Billy Graham Evangelistic Association that have already taken place this year or the Harvest Crusade in Southern California by Pastor Greg Laurie that is planned for July. Not to mention, several courts have upheld the right of churches to hold their services, even during the times of COVID. With all these avenues, unbelievers have the opportunity to hear the gospel and for the Holy Spirit to work in them to believe in Jesus as their Savior and Lord. It is their free will that will accept or reject Jesus. As Christians, the best thing we can do is pray for the salvation of everyone who will hear the gospel this year and in the future and share Jesus whenever the opportunity arises.
Photo Credit: ©GettyImages/ duckycards
Cathy Wentz lives with her husband, Brian, in Cedar City, UT, and has been a believer in Jesus Christ for more than 30 years. She has two grown children and four grandchildren, all who live in Cedar City. Her writing experience includes working as a newspaper reporter for eight years, and she currently serves as a public relations assistant for a local orthopaedic surgeon, which involves writing blogs, social media posts and other web content.
LISTEN: Being Complete in Jesus (Understanding Matthew 5:21-48)
Hearing Jesus is a devotional journey through the gospels, where we explore the teachings of Jesus chapter by chapter. If you're seeking to live a life that reflects God's, this podcast is for you.
The views and opinions expressed in this podcast are those of the speakers and do not necessarily reflect the views or positions of Salem Web Network and Salem Media Group.
WATCH: 10 Sins Christians Downplay (and Why They're So Destructive)
Stock Footage & Music Courtesy of Soundstripe.com Thumbnail by Getty Images

---
---