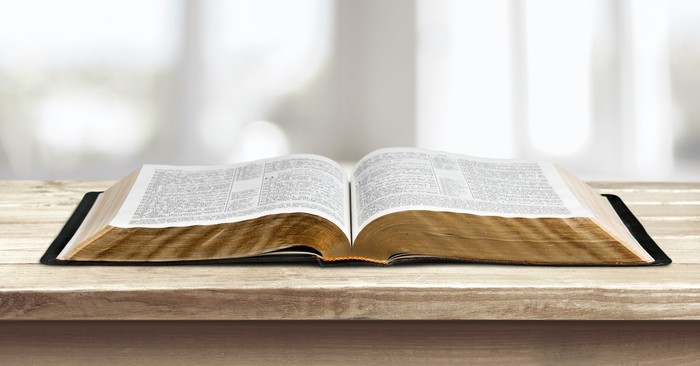 But I want to be willing to deny myself to follow You. I desire to yield to whatever You ask of me. Help me love You more than anything in this world.
When my thoughts and feelings are careening out of control, I can feel just as wild and uncontrollable as they are. As much as I try, I cannot calm my heart—until I remember that God has provided exactly what I need to do just that in the truths of the Bible.
God's holy Scripture is supernatural and powerful. Paul, a New Testament writer, declared, "All Scripture is God-breathed and is useful for teaching, rebuking, correcting and training in righteousness, so that the servant of God may be thoroughly equipped for every good work" (2 Timothy 3:16-17 NIV). Our Lord inspired the authors of the Bible, and each wrote as led by the Holy Spirit.
God's word comforts, guides, corrects, and is "Alive and active. Sharper than a double-edged sword, it penetrates even to dividing soul and spirit, joints and marrow; it judges the thoughts and attitudes of the heart" (Hebrews 4:12 NIV).
The Bible is an incredible gift from God: a treasure chest of truth designed to guide us through life and point us to eternity. When we're trapped in sin or held captive by wayward thoughts or false beliefs, God's Word has the power to give us freedom, peace, and joy. As we meditate on Scripture, God renews our minds and transforms us into the image of Christ.
Some are overwhelmed by the Bible and don't know where to begin. This guide lists some verses which can help with particular struggles. If a verse meets your need, meditate on it. Write it out. Memorize it. Read it over and over. Think about what the words mean and turn them into a prayer. Personalize it by putting your name in the verse or using "I" instead of "we" or "you." Claim it by faith. Ask God to plant these words deep into your heart.
When Depression Haunts
"The LORD is my shepherd, I lack nothing. He makes me lie down in green pastures, He leads me beside quiet waters, He refreshes my soul" (Psalm 23:1-3a NIV).
"The LORD is close to the brokenhearted and saves those who are crushed in spirit" (Psalm 34:18 NIV).
"I waited patiently for the LORD; He turned to me and heard my cry. He lifted me out of the slimy pit, out of the mud and mire; He set my feet on a rock and gave me a firm place to stand" (Psalm 40:1-2 NIV).
"Jesus said, 'Come to Me, all you who are weary and burdened, and I will give you rest. Take My yoke upon you and learn from Me, for I am gentle and humble in heart, and you will find rest for your souls. For My yoke is easy and My burden is light'" (Matthew 11:28-30 NIV).
Jesus, a dark cloud hangs over my head. Please help me. Thank You for being my Shepherd. With You, I have everything I need. Your Word says You're close to the brokenhearted. Please be close to me right now. Help me to wait on You patiently. Lift me out of this pit and set my feet on solid ground. Please give my soul rest. I yield to You, dear Lord.
When Fear Invades
"Even though I walk through the darkest valley, I will fear no evil, for You are with me; Your rod and Your staff, they comfort me" (Psalm 23:4 NIV).
"God is our refuge and strength, an ever-present help in trouble. Therefore we will not fear, though the earth give way and the mountains fall into the heart of the sea, though its waters roar and foam and the mountains quake with their surging" (Psalm 46:1-3 NIV).
"Whoever dwells in the shelter of the Most High will rest in the shadow of the Almighty. I will say of the LORD, 'He is my refuge and my fortress, my God, in whom I trust'" (Psalm 91:1-2 NIV).
"The Lord is my light and salvation—whom I shall fear? The Lord is the stronghold of my life—of whom shall I be afraid? (Psalm 27:1 NIV)
"Peace I leave with you; my peace I give you. I do not give to you as the world gives. Do not let your hearts be troubled and do not be afraid" (John 14:27 NIV).
Father, apprehension fills my mind. Thank You that I don't have to fear evil because You're right here with me. You're my ever-present help. I hide in the shelter of Your wings. Please calm my soul.
When Anxiety Steals Peace
"Look at the birds of the air; they do not sow or reap or store away in barns, and yet your heavenly Father feeds them. Are you not much more valuable than they? Can any one of you by worrying add a single hour to your life?" (Matthew 6:26-27 NIV)
"But seek first His kingdom and His righteousness, and all these things will be given to you as well. Therefore do not worry about tomorrow, for tomorrow will worry about itself. Each day has enough trouble of its own" (Matthew 6:33-34 NIV).
"Unless the LORD had given me help, I would soon have dwelt in the silence of death. When I said, 'My foot is slipping,' Your unfailing love, LORD, supported me. When anxiety was great within me, Your consolation brought me joy" (Psalm 94:17-19 NIV).
"Do not be anxious about anything, but in every situation, by prayer and petition, with thanksgiving, present your requests to God. And the peace of God, which transcends all understanding, will guard your hearts and your minds in Christ Jesus" (Philippians 4:6-7 NIV).
Lord, I'm worried about many things: loved ones who make harmful choices. So many threats surround me on every side. The whole world seems on the verge of chaos or collapse. I rely on Your unfailing love. You told me not to worry about anything but to pray about everything. Lord, I trust those I love to You. Please guide them to do Your will. I thank You that You're sovereign over all that exists, and Your purposes will be fulfilled. Help me to glorify You. Please guard my mind with Your peace.
When Evil Seems to Triumph
"Do not fret because of those who are evil or be envious of those who do wrong; for like the grass they will soon wither, like green plants they will die away. Trust in the LORD and do good; dwell in the land and enjoy safe pasture" (Psalm 37:1-3 NIV).
"Be still before the LORD and wait patiently for Him; do not fret when people succeed in their ways, when they carry out wicked schemes. Refrain from anger and turn from wrath; do not fret—it only leads to evil" (Psalm 37:7-8 NIV).
Father, help me focus my eyes on You and trust Your love, knowing You're in control.
When Regrets Taunt
"If we confess our sins, He is faithful and just and will forgive our sins and purify us from all unrighteousness" (1 John 1:9 NIV).
"There is now no condemnation for those who are in Christ Jesus, because through Christ Jesus the law of the Spirit who gives life has set you free from the law of sin and death" (Romans 8:1-2 NIV).
"But one thing I do: Forgetting what is behind and straining toward what is ahead, I press on toward the goal to win the prize for which God has called me heavenward in Christ Jesus" (Philippians 3:13b-14 NIV).
"'Forget the former things; do not dwell on the past. See, I am doing a new thing! Now it springs up; do you not perceive it? I am making a way in the wilderness and streams in the wasteland'" (Isaiah 43:18-19 NIV).
Jesus, sometimes regrets hit hard. I think back on mistakes, people I hurt, and wrong choices, which are painful. I remember times I ignored the needs of others. Often, it's the things I didn't do that trouble me. Things I should have said, questions I wish I'd asked, and encouragement I needed to give. All I can do is lay my regrets at Your feet. Help me forget what's behind and look ahead. Help me seek You with all my heart and love those with me at this moment. Thank You for Your grace that covers all my sins.
When Impatience Tramples Joy
"Whoever is patient has great understanding, but one who is quick-tempered displays folly" (Proverbs 14:29 NIV).
"Better a patient person than a warrior, one with self-control than one who takes a city" Proverbs 16:32 NIV).
"Therefore, as God's chosen people, holy and dearly loved, clothe yourselves with compassion, kindness, humility, gentleness and patience" (Colossians 3:12 NIV).
"But the fruit of the Spirit is love, joy, peace, patience, kindness, goodness, faithfulness, gentleness, self-control; against such things there is no law" (Galatians 5:22-23 ESV).
Lord, You know how I struggle with impatience. Help me rely on Your Holy Spirit and choose patience today. Help me to slow down, take a deep breath, and remember that seeking You is the most important thing I will do today. Please enable me to love others and give them the grace You give me. In Jesus' name, I will clothe myself with patience by trusting and relying on the Holy Spirit.
When Comfort Immobilizes
"And He said to all, 'If anyone would come after Me, let him deny himself and take up his cross daily and follow Me" (Luke 9:23 ESV).
"Therefore, I urge you, brothers and sisters, in view of God's mercy, to offer your bodies as a living sacrifice, holy and pleasing to God—this is your true and proper worship. Do not conform to the pattern of this world, but be transformed by the renewing of your mind. Then you will be able to test and approve what God's will is –His good, pleasing and perfect will" Romans 12:1-2 NIV).
"Do not love the world or anything in the world. If anyone loves the world, love for the Father is not in them. For everything in the world—the lust of the flesh, the lust of the eyes, and the pride of life—comes not from the Father but from the world. The world and its desires pass away, but whoever does the will of God lives forever" (1 John 2:15-17 NIV).
Father, I confess I like to be comfortable. I tend to choose the path of least resistance. I enjoy sitting in my cozy chair watching television or reading a novel. I'm surrounded with ease, have abundant food, and too often guard my time. But I want to be willing to deny myself to follow You. I desire to yield to whatever You ask of me. Help me love You more than anything in this world.
Whatever your struggles, God's Word will give comfort, guidance, correction, hope, and wisdom. If you're not sure where to find verses for a particular topic, simply Google "Scriptures on (your topic)," and links will appear. Many Bibles have a concordance in the back where you can search by subject. Blue Letter Bible is a great resource with many aids.
King David of Old Testament times described God's Word as "More precious than gold, than much pure gold...sweeter than honey...in keeping them there is great reward" (Psalm 19:10-11 NIV). Take advantage of this great treasure!
Photo Credit: ©GettyImages/artisteer
Susan Aken writes devotions and articles for Wholly Loved Ministries, is an Oklahoma native who's lived in Nebraska since 1987 and has been in public education for over thirty years. She and her husband have one son and a wonderful daughter-in-law. Besides writing she has a passion for special needs and prayer ministries. She enjoys time with family, reading, photography, movies, walking in nature, and a nice cup of tea. She believes life is a journey and we're all in different places. Jesus is everything to her and it's all about grace. Visit her at susanaken53.wordpress.com or on Facebook.
---
---