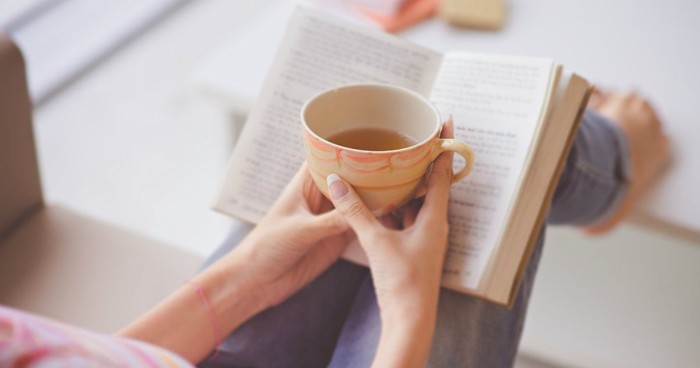 Get your bookmarks ready- here are 22 books you NEED to have on your 2016 reading list this summer, including books in Christian Living, Marriage, Parenting, Fiction and Devotional categories.
Summer is often when we make the most room to recharge, relax and remember the things we love… like a good book, for instance! If you're an avid reader, get your library card ready, because we have a list of books you're going to want to check out this summer! We've included a brief description from the author's page just so you know a bit about each book, and have covered Christian Living, Marriage, Parenting, Devotional and Bible Study categories.
Be sure to leave a comment to let us know—what have you been reading these days?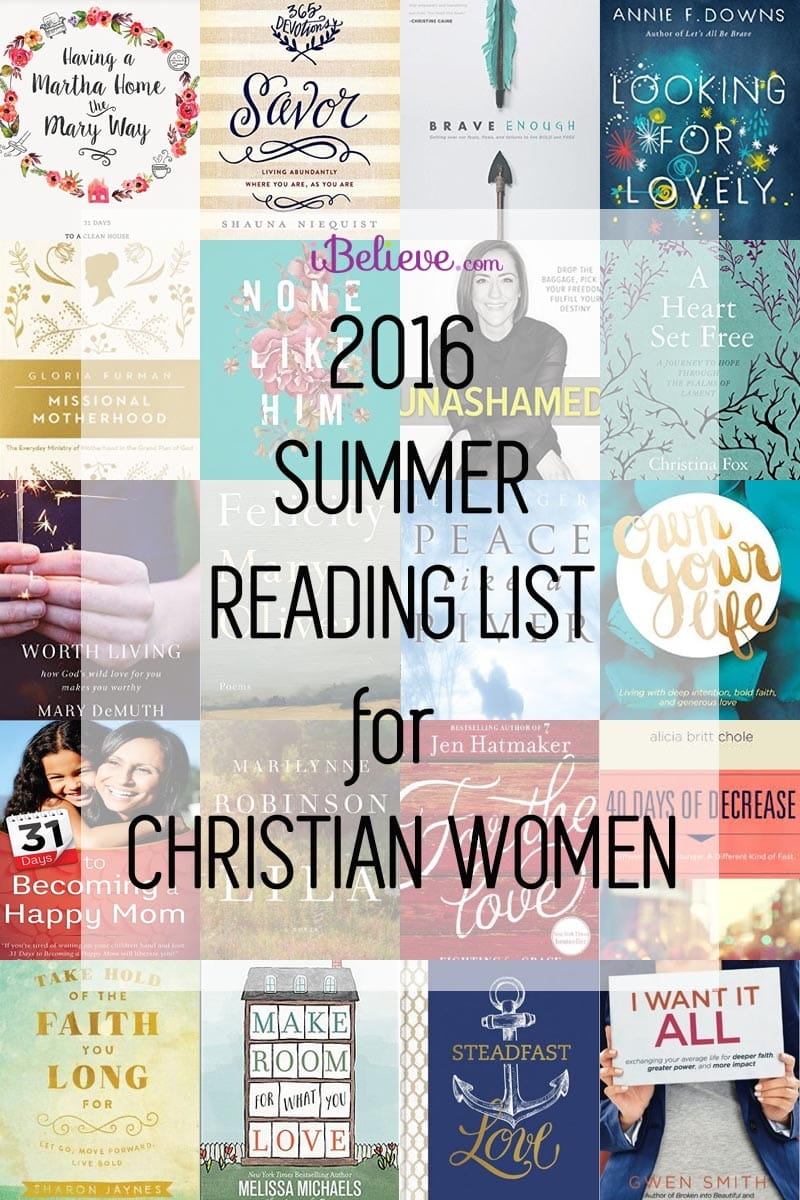 Christian Living
I Want It All: Exchanging Your Average Life for Deeper Faith, Greater Power, and More Impact – Gwen Smith. Gwen Smith knows how easy it is to dismiss God's plans with the thoughts, I can't make a big difference for God because I'm just an ordinary woman with an ordinary life. Yet God created us to join Him in doing amazing work in the world. He offers His grace for each failure, His love that shatters hate, His peace that soothes the turmoil, His comfort, guidance, wisdom, rest, power, and significance. Every blessing He has for us is ours for the taking.

Brave Enough: Getting Over Fears, Flaws and Failures to live BOLD and FREE - Nicole Unice Bravery doesn't have to mean cliff diving out of your comfort zone. Life is about being brave enough―for yourself, for God, for your tasks, and for your calling―right where He's placed you. A brave-enough life is one lived fully and confidently, with your shoulders relaxed and free from the weight of responsibility and the burden of trying too hard.
Looking for Lovely: Collecting the Moments that Matter – Annie F. Downs In Looking for Lovely, Annie shares personal stories, biblical truth, and examples of how others have courageously walked the path God paved for their lives by remembering all God had done, loving what was right in front of them, and seeing God in the everyday—whether that be nature, friends, or the face they see in the mirror.

Take Hold of the Faith You Long For: Let Go, Move Forward, Live Bold – Sharon Jaynes Sharon reveals the most common reasons women get stuck in a mediocre, mundane faith that settles for a life that's "less then." Then in her trademark storytelling-style women together with liberating Biblical principals, she shows you how to break free of all that holds you back, move forward with all that God promises, and live the adventurous faith of bold believing. She shoes you how to leave behind feelings of shame, insecurity, and comparison that hold you hostage and take hold of the mountain-moving faith God intends.

Unashamed: Drop the Baggage, Pick up Your Freedom, Fulfill Your Destiny – Christine Caine In her passionate and candid style, Christine leads you into God's Word where you will see for yourself how to believe that God is bigger than your mistakes, your inadequacies, your past, and your limitations. He is not only more powerful than anything you've done but also stronger than anything ever done to you. You can deal with your yesterday today, so that you can move on to what God has in store for you tomorrow—a powerful purpose and destiny he wants you to fulfill.
Worth Living – Mary DeMuth Mary dares women to believe that the God who starts a good work in them is faithful to bring it to glorious completion. That the God who redeems them also loves them--right now and always--with a beautiful love. That they are daughters of the King, always welcomed in his presence. She helps women discover a future where they know they are wildly loved, they feel strong and secure, and they are destined to have a great impact on the world around them.

Steadfast Love – Lauren Chandler There are times when worship overflows easily and effortlessly from a heart full of gratitude and praise. Yet, there are other times when God seems far and we feel we have nothing left to offer. We are tired, or thirsty, or imprisoned in our own chains through our own devices, or caught in the waves of a tumultuous sea. This is when God shows us His steadfast love.

Make Room for What You Love – Melissa Michaels With insightful ideas and helpful encouragement, Melissa will show you how to: clear out clutter to welcome in what best serves your family, more effortlessly decide what to keep and what to let go of, develop habits that will simplify your home and your life, discover the joy of daily routines and simple organizational systems, and create more space in your home and schedule for what matters most.
Marriage & Parenting
Own Your Life - Sally Clarkson Own Your Life is a breath of fresh air into the life and soul of a busy woman. Like a faithful friend, Sally journeys with you to explore what it means to live meaningfully, follow God truly, and bring much-needed order to your chaos. Each page offers deeply personal, authentic, and practical guidance to help you build an intentional life. Discover what it means to own your life, and dare to trust God's hands as He richly shapes your character, family, work, and soul.
31 Days to Becoming a Happy Mom - Arlene Pellicane Did you start the summer feeling like Mary Poppins? Do you already feel like Cruella De Vil? Packed with encouragement, funny stories, and wisdom from experienced mothers, this book will change your home for the better...beginning with you. A helpful read whether you have toddlers or teenagers.
Missional Motherhood: The Everyday Ministry of Motherhood in the Grand Plan of God - Gloria Furman There's no such thing as "just" a mom. God designed motherhood as part of His greater plan to draw people to Himself - instilling all women, whether called to traditional mothering or not, with an eternal purpose in nurturing others. In this book, Gloria Furman searches the Scriptures for the mission of God in motherhood. She opens our eyes to God's life-giving promises—promises intended to empower each and every woman as she makes disciples in her home, in her neighborhood, and around the world.

For the Love: Fighting for Grace in a World of Impossible Standards - Jen Hatmaker Best selling author Jen Hatmaker is convinced life can be lovely and fun and courageous and kind. She reveals with humor and style how Jesus' embarrassing grace is the key to dealing with life's biggest challenge: people. In For the Love, Jen reveals how to: break free of guilt and shame by dismantling the unattainable Pinterest life, learn to engage our culture's controversial issues with a grace-first approach, and be liberated to love and release the burden of always being right. In this raucous ride to freedom for modern women, Jen Hatmaker bares the refreshing wisdom, wry humor, no-nonsense faith, liberating insight, and fearless honesty that have made her beloved by women worldwide.
Fiction/Poetry
Peace Like a River – Leif Enger Young Reuben Land has little doubt that miracles happen all around us, suspecting that his own father is touched by God. When his older brother flees a controversial murder charge, Reuben, along with his older sister and father, set off on a journey that will take them to the Badlands and through a landscape more extraordinary than they could have anticipated. Enger's novel is at once a heroic quest and a haunting meditation on the possibility of magic in the everyday world.

Lila – Marilynne Robinson Revisiting the beloved characters and setting of Robinson's Pulitzer Prize-winning Gilead and Home, Lila, homeless and alone after years of roaming the countryside, steps inside a small-town Iowa church-the only available shelter from the rain-and ignites a romance and a debate that will reshape her life. She becomes the wife of a minister, John Ames, and begins a new existence while trying to make sense of the life that preceded her newfound security.

Felicity - Mary Oliver Oliver has described her work as loving the world. With Felicity she examines what it means to love another person. She opens our eyes again to the territory within our own hearts; to the wild and to the quiet. In these poems, she describes—with joy—the strangeness and wonder of human connection.
Devotionals/Studying the Word
Savor: Living Abundantly Where You Are, As You Are - Shauna Niequist Spiritual living happens not just when we read and pray, but also when we gather with family and friends over dinners and breakfasts and late-night snacks. In this daily devotional, Shauna shares from her heart and kitchen, asking readers to savor each day, whatever it holds: work and play, coffee and kids, meals and prayers and the good stuff and the hard stuff.

40 Days of Decrease – Alicia Britt Chole Every day offers a meaningful consideration of Jesus' journey and then invites readers into a daily fast of heart-clutter, the stuff that sticks to our souls and weighs us down.
A Heart Set Free: A Journey of Hope Through The Psalms of Lament - Christina Fox For many of us, we might busy ourselves with projects or work long hours to keep our mind off our pain. We might look at our circumstances and seek to change our situation in the hope that we will finally feel at peace once our life has changed. The question is - How often do you look to God in His Word for help and hope? How often do you turn to Him when you feel anxious, distraught, or abandoned? How often do you bring your burdens to your Savior? Christina's book brings readers on a journey through the Psalms of lament, showing how to bring to God all the deepest cries of our heart.

None Like Him: 10 Ways God Is Different from Us (and Why That's a Good Thing) - Jen Wilkin God is self-existent, self-sufficient, eternal, immutable, omnipresent, omniscient, omnipotent, sovereign, infinite, and incomprehensible. We're not. And that's a good thing. Our limitations are by design. We were never meant to be God. But at the root of every sin is our rebellious desire to possess attributes that belong to God alone. Calling us to embrace our limits as a means of glorifying God's limitless power, Jen Wilkin invites us to celebrate the freedom that comes when we rest in letting God be God.

Having a Martha Home the Mary Way – Sarah Mae If you have ever been overwhelmed with house work and would classify yourself as noncleaner, type B homemaker, then journey with Sarah Mae on this easy, practical 31-day plan to get you moving and have your house looking and feeling fresh. But even more than that, you'll gain a new vision for the home of your dreams, and how to make it a place of peace, comfort, and community.
---
---