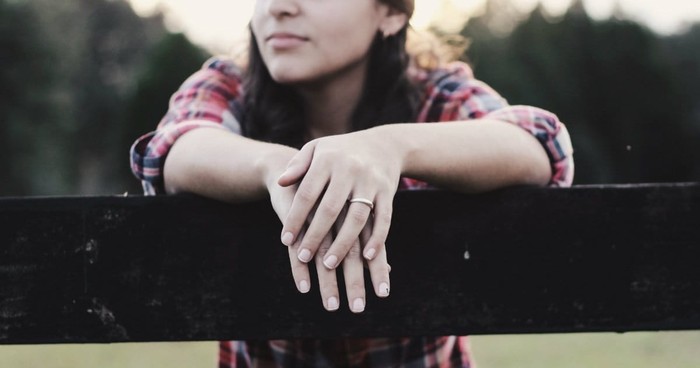 When I look back at my experience in the purity culture, I have mixed feelings. In many ways, I feel like it failed us. In other ways, I see it through a lens of grace.
When I think back to the night I received my purity ring, I remember having a conflict of emotions. I recall feeling quite awkward standing in front of the entire church, reciting vows of chastity in front of my father. I also remember being very excited to possess the prettiest ring I had ever owned. While I no longer wear the gold-heart shaped ring, it remains a treasured possession.
My Experience with the Purity Movement
I am a product of the purity movement. According to the book Sexual Ethics: An Evangelical Perspective, this was a time when the evangelical church responded to the sexual revolution and the onset of the AIDS epidemic. In 1992, the Southern Baptist Convention birthed "True Love Waits," a sexual abstinence program that emphasized sexual and emotional purity. Subsequent dating and courtship books such as I Kissed Dating Goodbye by Joshua Harris, Passion and Purity: Learning to Bring Your Love Life Under Christ's Control by Elisabeth Elliot, and Lady in Waiting: Becoming God's Best While Waiting for Mr. Right by Jackie Kendall and Debby Jonesrose quickly in popularity.
I was a church enthusiast and avid reader of Christian literature. My Sunday afternoons consisted of hand bells, youth choir, discipleship, and evening worship. Once a year, we had a purity emphasis in our church. Sometimes it would be a "True Love Waits" group class and at others, it was a book study. My most memorable year was our small group going through Lady in Waiting: Becoming God's Best While Waiting for Mr. Right.
My spiritual development is largely credited to the time I spent with my youth group. I will always be grateful to my youth leaders and I know that they had only our best in mind. But there was always something about the message of the purity movement that did not resonate with me. I read as many of the books that I could to understand the feelings I was experiencing as a teenager. I filled up prayer journals, pouring my thoughts to God. Two decades later, I realized my angst: I was not getting the whole story.
The purity movement told teens that we were to place our hearts and bodies on hold until we were married. If we had sex before marriage, we were damaged goods that had squeezed our "toothpaste" out and could never put it back in again.
Yet, no one explained to us that emotions and physical bodies do not work that way. Whenever I felt sexual arousal or tension, I experienced guilt and shame. I feared I was not "guarding my heart" enough.
In many of the books I read, marriage was the end-game. If I were godly, God would lead me to my "Jim Elliott" or "Boaz." Singleness seemed like a curse. As I went through college with no prospects, I continuously wondered what was spiritually wrong with me. Then, when I did meet the man I would marry, I expected him to be Boaz.
Beyond the Purity Movement
As I entered seminary, I had the opportunity to be a high school minister at a Southern Baptist Church. The culture had shifted from, let's talk about sex to, do not mention the "S" word. There were sexual issues within the youth group that were not addressed because it was not a matter for the church. While I was somewhat relieved that I did not have to tackle the difficulty of the topic, I saw the youth struggle. I wanted to reach out and help, but my hands were tied. The pendulum had shifted within a matter of five years.
Lessons Learned
Presently, I am a mother of a fifth-grade boy and a second-grade girl. I am about to sign off on the school's first sexual education permission form. As I think about what kind of education I want for my children, I must reflect about my own upbringing.
Was the purity movement effective? For me, I "waited" for my husband and I am glad I did. I am grateful I had a group of peers and leaders who were able to encourage me. Living a life of purity throughout high school and college was relatively easy for me, given all the support I had.
Where Did the Purity Movement Fail?
1. The church did not equip parents to talk to about sex. While parents participated in purity balls and True Love Waits ring ceremonies, most of the time, the church staff and volunteers taught the curriculum. As a parent now, I know that I must take an active role in talking to my kids about all aspects of sex. It is a difficult topic. But Scripture talks about it, and so should we.
2. Marriage is not the goal, intimacy with God is. As a sixteen-year-old, I had no business reading so many books about marriage. My heart and mind were not ready for it. I did not get married until I was twenty-five. I read these books as a how-to manual rather than as someone's testimony. Like proverbs, they are descriptive rather than prescriptive.
3. While purity is an important virtue, it is not the basis of discipleship. If you teach Christlikeness, and incorporate purity, students have a more well-balanced approach. Purity, in a sense becomes idolatry, with chastity being a works-based theology of God's acceptance.
4. After marriage, some women who grew up in the purity movement have experienced difficulties experiencing and enjoying intimacy with their husbands. While correlation cannot prove causation, we must wonder if the years of repressing sexual feelings propagated this future response.
5. The purity movement did not emphasize grace and tended to instill shame through its rules-based system. By signing pledge cards in front of God, parents, and church members, students felt shamed if they broke their commitments. Since emotional and physical feelings were not discussed, youth were left to sort out guilt on their own.
What Did the Purity Movement Get Right?
1. The purity movement exposed the risks of unbiblical sexual behavior. Though some of the illustrations were a bit colorful, it gave students truth.
2. Students were given a faith-based sexual education program. Not every school in the 1990s had a sexual education program. Today, it is required, starting in most middle schools. One of the most powerful benefits of the purity movement was that it was a faith-based sexual education program, even with its limitations.
3. Within the purity movement, students knew that they were not alone in their commitment. As iron sharpens iron, we had one another to encourage along the way.
When I look at the purity movement, I look at it with a lens of grace. Yes, I have struggled with issues of self-esteem, shame, guilt, and intimacy. I would not say that it is simply because of the purity movement. The reality is, we live in a broken and sinful world. To think that a curriculum or church program is going to suddenly simplify something as complicated as human sexuality is naïve. Instead, we must pray over our youth daily and ask God to give us the courage to speak open and honestly about these difficult conversations. We must pray for healing and forgiveness for those who feel betrayed by the purity movement. And we must ask for God to show us a better way to help the next generation.
Cortney is a wife and mother of two wonderfully energetic children. She received her Masters of Theology Degree from Dallas Theological Seminary. After serving in the church for nearly 15 years, Cortney currently serves as a lay-leader and writes for various Christian ministries. You can find her at www.unveilinggraces.blogspot.com.
Image Credit: ©Unsplash

 

 
---
---