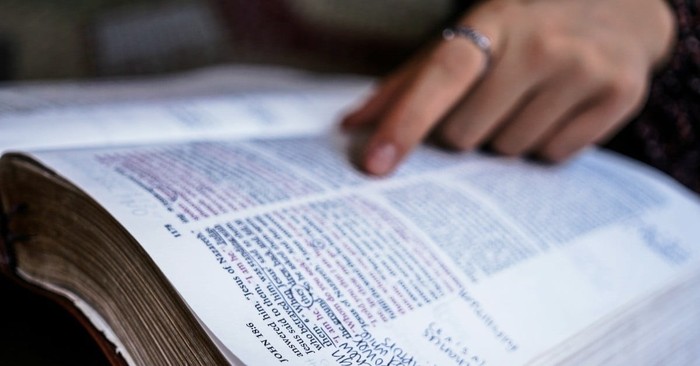 Over time, I hope that as you develop the discipline of reading the Bible consistently and regularly and as you find the method that works best for you, you will come to love reading God's Word.
I know I'm supposed to read the Bible every day, but the problem is that I don't always feel like reading the Bible. I'll be honest with you, some days I want to sleep in, while other days I end up spending all my time browsing social media apps, and then there are those days that I just don't know what to read. I sit there, Bible in my lap, and I can't quite figure out where to start.
Whatever the case may be, I understand what it is like to not feel like reading the Bible, so I've put together a list of tips to help us find motivation the next time we don't feel like reading the Bible:
Realize That The Bible Is for All Circumstances
The Bible contains all the answers and solutions to life's problems. A quick internet search will bring you instant wisdom from God's Word. Simply type, "What does the Bible say about [fill in the blank]?" into your browser. The results will return several websites with lists of passages about that particular topic.
As you start to read these passages, I hope you have a similar experience to what I have. It's a feeling that only the living, breathing Word of God can give me. It's the knowledge that God not only knows and sees me, but He knew me long before I even took my first breath.
"For the word of God is living and active, sharper than any two-edged sword, piercing to the division of soul and of spirit, of joints and of marrow, and discerning the thoughts and intentions of the heart." Hebrews 4:12 (ESV)
Think of the Bible as God's Personal Letter to You
This is a fun way to read the Bible because it makes it more personal. If you imagine that the words you are reading were written specifically for and directly to you, like a letter from a friend, you become part of the story.
In response to a reader's inquiry about what to do when she feels confused reading the Bible, Dr. Billy Graham wrote:
"The Bible is God's "love letter" to us, telling us not only that He loves us, but showing us what He has done to demonstrate His love. It also tells us how we should live, because God knows what is best for us and He wants us to experience it. Never forget: The Bible is God's Word, given to us so we can know and follow Him."
In fact, one thing I love to do is write letters back and forth between God and me. First, I write my thoughts, concerns, and questions to God; then, I read the Bible in search of an answer and either write down the passage verbatim or paraphrase it in a way that makes it seem like God is speaking directly to my inquiry. In this way, I feel seen and heard by God.
"All Scripture is breathed out by God and profitable for teaching, for reproof, for correction, and for training in righteousness, that the man of God may be complete, equipped for every good work." 2 Timothy 3:16-17 (ESV)
Join a Bible Study Group
There's nothing like peer pressure to motivate you to open and read that dusty Bible sitting on your shelf. If you don't want the people in your group to think you didn't do your homework, you have two choices; you can either fake it, or you can actually read the assigned Scripture reading for the week. Bonus points if you also answer the study questions.
In all seriousness, though, a study group, also known as a life group or small group, cultivates an environment that encourages and motivates you to dive into the Word with a group of people.
A benefit to studying the Bible with others is that you can bounce any questions you have off them. Because you're reading and studying the Scriptures with others, when you come to something that confuses you, you're able to bring your questions to the group.
A group setting allows us to more easily break down and understand the passages and more easily grasp how God's Word applies to each of us, as each person shares their own unique perspectives.
"And let us consider how to stir up one another to love and good works, not neglecting to meet together, as is the habit of some, but encouraging one another, and all the more as you see the Day drawing near." Hebrews 10:24-25 (ESV)
Do a Character Study
The Bible is full of so many interesting characters with stories of adventure, trials, struggles, hardships, victories, and successes. Each person's story was included in the Bible for a reason (Hebrews 11).
"Such things were written in the Scriptures long ago to teach us. And the Scriptures give us hope and encouragement as we wait patiently for God's promises to be fulfilled." Romans 15:4 (NLT)
As you take the time to learn about the various heroes of the faith, you will surely discover similarities between yourself and them; you'll also see how the God of the Bible is the same God of today, working in people's lives and all their struggles, just like He does now in your own life.
Follow a Reading Plan
If you suffer from not knowing what to read day-to-day, then a reading plan may be right for you. A reading plan takes the decision-making part out of the equation, which for me can often be the obstacle that keeps me from getting started.
Don't let decision fatigue or paralysis by analysis be a hurdle for keeping you from reading the Bible. Honestly, you can open your Bible to any page and start there, but such a vast collection of books as the Bible can definitely be intimidating.
Select a reading plan and get started today! There are many online reading plans and app-based reading plans. Your church may even offer a reading plan. It can be something as simple as reading through the Gospels or as elaborate as reading through the Bible in one year.
"My son, if you receive my words and treasure up my commandments with you, making your ear attentive to wisdom and inclining your heart to understanding; yes, if you call out for insight and raise your voice for understanding, if you seek it like silver and search for it as for hidden treasures, then you will understand the fear of the Lord and find the knowledge of God." Proverbs 2:1-5 (ESV)
Start Small
When I say "small," I mean like "one-verse-a-day" small. Various websites and apps provide ways to receive a "verse of the day," either directly to your phone or inbox, or by logging in each day.
If you tell yourself that all you have to do is read just one verse, with no obligation to read further, it will be much easier to commit to reading the Bible daily.
"This Book of the Law shall not depart from your mouth, but you shall meditate on it day and night, so that you may be careful to do according to all that is written in it. For then you will make your way prosperous, and then you will have good success." Joshua 1:8 (ESV)
When I start by reading a single verse first thing in the morning, I often find the motivation to continue reading. Thanks to my curious nature, I want to know more about what's going on, so I read all the verses around that verse, and the next thing I know, I'm reading way more than I intended to, and my allotted quiet time is over.
Over time, I hope that as you develop the discipline of reading the Bible consistently and regularly and as you find the method that works best for you, you will come to love reading God's Word.
For me, it has become part of my morning routine, along with my coffee, and I can't start my day without it. I always eagerly await what treasures God wants to reveal to me.
Photo Credit: ©SWN
Jennifer Jabbour resides in the scenic San Diego countryside with her husband, teenage son and daughter, and their hilarious English Bulldog. Jennifer has a B.A. in Integrated Business Communications and a life-long desire to share her faith with others so they can also experience the joy of having a relationship with God. She has finally decided it's time to go after her lifelong dream of writing and publishing her first book, and hopefully many, many more thereafter. Besides being a writer, Jennifer is also a brown belt in Brazilian Jiu Jitsu, a photographer, and an avid outdoors-woman. She loves camping, hiking, running, and playing the piano in her free time.
You can keep up with Jennifer on her website https://www.jenniferjabbour.com.
Related podcast:
The views and opinions expressed in this podcast are those of the speakers and do not necessarily reflect the views or positions of Salem Web Network and Salem Media Group.
So when sin is not being confronted, or even viewed as sin at all, it's time to address it with the hope of gently helping to restore believers caught in its web. Here are 10 sins that often go overlooked in Christian community.
Stock Footage & Music Courtesy of Soundstripe.com Thumbnail by Getty Images
---
---