There's something about the decade of our 20s and 30s where we find ourselves in transition. Changing jobs, changing apartments, changing family, changing roommates, changing relationships and even our changing faith. What we once believed or followed as a child might now come into question as we transition into adulthood. During this time we might very well call into question the faith or religious practices of our parents. I wonder if you've ever tossed around questions such as...

~What do I really believe and why?

~Is the Bible a legitimate source of truth for my life?

~Do I connect more with a traditional worship style or do I prefer a contemporary service?

~Is it ok to question the Lord?

That last question is one that I believe opens the door to all of our valid questions as we transition through life and transition through faith. A woman who questions her Lord is not one who will be shunned by Him. Rather, our God eagerly awaits the conversation that begins when we do, in fact, dialogue with Him about our doubts and questions about faith. It is through that open door of conversation in which God molds and grows us into women who cherish our relationship with Jesus, even through times of transitions.

In my book Stress Point: Thriving Through Your Twenties In A Decade Of Drama I posed a definition of a spiritually mature woman:

~She is in continual motion toward the throne of her King.

~She has a heart that sees its faults and readily owns up to its mistakes, knowing she is forgiven because Jesus loved her so much He died on the cross for her.

~She questions Jesus and evaluates her faith every day with assurance that questions are healthy and acceptable.

~She habitually opens her Bible with reverence and desires that the Word of God flow into every area of her life. She never ceases to spend time with Him, and if she does neglect this quality time, she knows she is always welcome right back to the throne.

~She loves others more than herself because she knows we are all created and loved by our almighty King.

These five keys help us to see to direct our focus. When we ask who Jesus is and who we are as women who believe He is Savior, we need not be ashamed of questions and doubts that arise as we find our own faith as young adult women. Based on the definition above, here are some practical ways to evaluate your faith and how you live it out daily.

A heart in continual motion toward Jesus. It is often said that if we are not moving toward Jesus, we are actually moving away from Him. As you find your own faith, do something (even if it is just one thing) daily place yourself in the presence of your Jesus. In Luke 10:38-42 sets up a scenario where Mary, a follower of Jesus, chooses "the good portion" when she sits down at the foot of Jesus to absorb His presence and teaching. There is not one thing in our day which will fulfill us more than soaking in presence of Jesus whether it be in prayer, in worship or reading the Bible.

A heart that recognizes her sin and readily asks for forgiveness. When the word "sin" rolls off our tongue, it's not usually fun. However, what is enjoyable and freeing is the knowledge that when we cling to our Savior who died on the cross for you and for me, that not-so-fun aspect of our life (sin) is forgiven. This is key to growing and maturing in our faith. Let us not shy away from evaluating our lives and seeking forgiveness for our mistakes, short-comings and sin.

A heart full of questions. When one of Jesus' close disciples questioned Jesus and His resurrection, Jesus didn't shun or dismiss the questions and doubt. The infamous "Doubting Thomas" passage in John 20:24-29 further confirms that God is not turned off or offended by heart-felt faith queries. Go ahead. Ask away. Question Him and keep that line of communication open so God can pour His Word and answers into your heart. At the end of the passage with Jesus and Thomas, Jesus proclaims a blessing:
"Have you believed because you have seen me? Blessed are those who have not seen and yet have believed." John 20:29 ESV

By bringing Jesus our doubt we develop our faith and relationship with Him. Stand firm in the knowledge that there is blessing in a faith which believes regardless of the tangibles.

A heart reverant of God's holy Word. The Bible says that God's word is living, active and extremely powerful. (See Hebrews 4:12 It takes "work" on our end to benefit from that power. We must allow time in our day to study and read the Bible. One of the best ways to stay active and engaged while we read is by having pen and paper on hand. I love to get out my journal and a cute pen everytime I crack open my Bible. I either write out a verse that pops out to me or I journal out my prayers to the Lord. This keeps my mind focused on the task at hand: allowing God's word to soak into my heart and mind.

A heart full of love for others. One of the best ways to see the power of God in our lives is to experience Him as we serve those who He loves so dearly. The second greatest commandment, according to Jesus (only second to loving God with our whole heart mind and soul) is to love our neighbor as ourselves. (See Matthew 22:36-40 When pour out ourselves in serving others, the Lord pours into us and blesses as we partake in His Kingdom plan.

I would love to know what you think. Are you in a faith transition? What are some ways that you can develop your relationship with Jesus today?

Leave a comment...let's chat!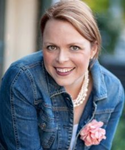 Sarah Martin loves encouraging young adult women to LIVE OUT! the Kingship of Christ in everyday life. She is the author of the book Stress Point: Thriving Through Your Twenties In A Decade Of Drama. Read more from Sarah at LIVE IT OUT! blog.