A Prayer to Cling to Jesus in the Midst of Anxiety
By: Chelsey DeMatteis
Jesus was in the stern, sleeping on a cushion. The disciples woke him and said to him, "Teacher, don't you care if we drown?" - Mark 4:38
We've all felt some amount of anxiety in our life. My anxiety has often taken me to the story of the disciples in the boat with Jesus. Mark 4:37-38 "A furious squall came up, and the waves broke over the boat so that it was nearly swamped. Jesus was in the stern, sleeping on a cushion. The disciples woke him and said to him, "Teacher, don't you care if we drown?"
Picture this, while the storm was raging around them in the ocean, Jesus was sleeping. Many might read this passage and think why would Jesus be sleeping in the midst of their fear, in the midst of a storm they felt they were going to drown in? This question is a valid one. One I'm sure we've all found ourselves asking in seasons that looked like we might drown, too. Is Jesus really sleeping while we're facing anxiety? No.
As you keep reading the story in Mark 4, you'll see that Jesus woke up when the disciples called on Him, "Teacher don't you care if we drown?" Certainly, Jesus cares about them and I love that He awoke at this question. He made it clear that He wanted to be invited into their anxiety. He wasn't oblivious to the raging storm going on around them, He wasn't caught off guard by their fear, what He wanted was to know they fully trusted Him.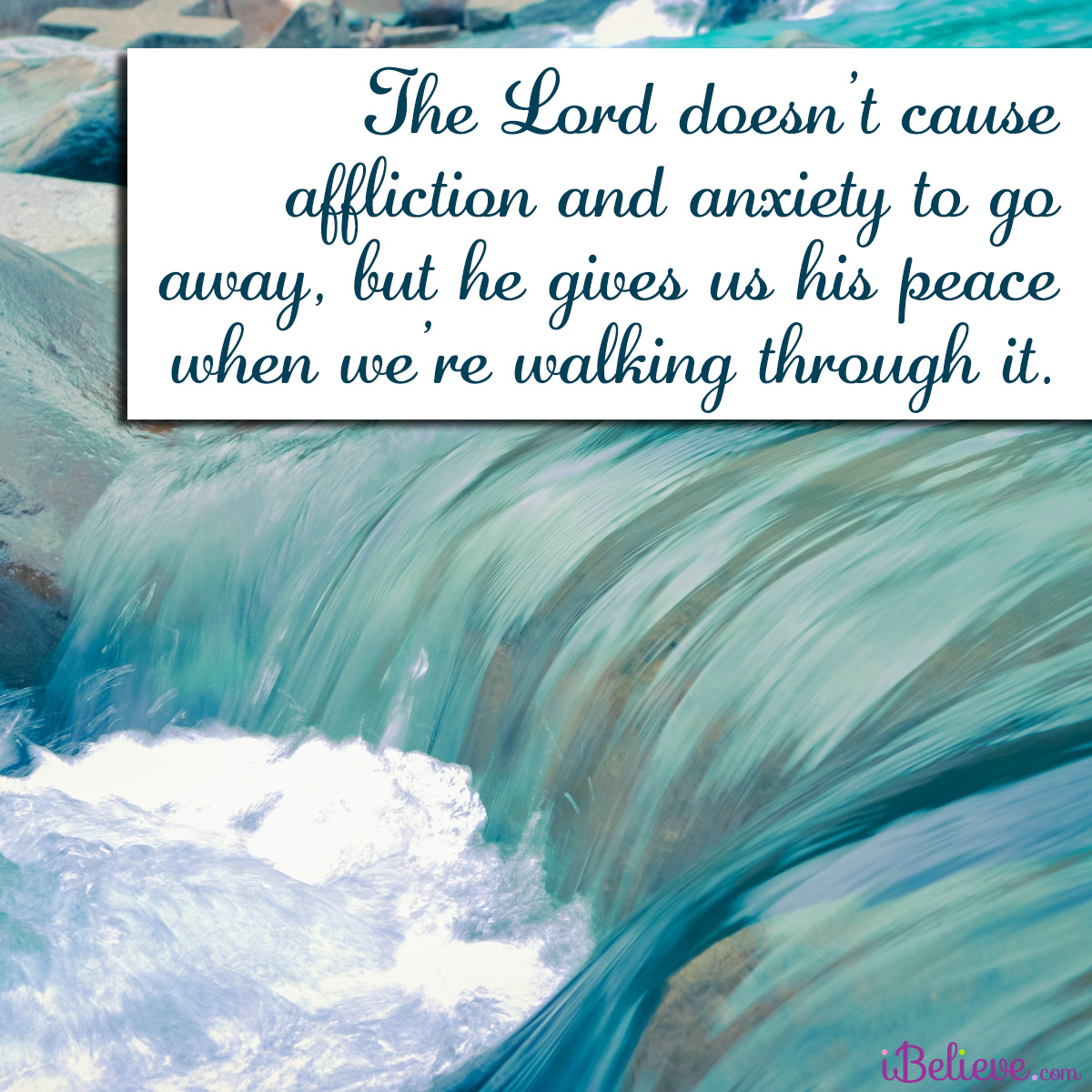 The more I've been faced with feelings of anxiety or anxious thoughts the more opportunities I've had to invite the Lord in and stand in the confirmation He is with me. I've watched The Lord increase my faith by not just quick fixing my issue but by calling me to obediently seek Him when I'm facing the seasons I used to feel alone in.
You see, our faith in The Lord doesn't cause affliction and anxiety to go away, but what it does give us security when we're walking through it. What started as a place of loneliness, doubt, and wondering where God was, ended up bringing me to a place of feeling seen and understood by our Creator. Next time you find yourself facing events that cause your anxiety to flare up, worsen, or trigger old thought patterns, remember: you have Jesus in your boat. Call on Him, trust in Him, and cling to Him as He sees you through your raging storm.
Pray with me…
Lord,
Help me grow by seeing you in my moments of anxiety. Lead my heart to places in your word that I can pray aloud over myself when these feelings come. Father, help me remember that my feelings are not the boss of me and I'm always able to hand them over to you and seek you as my peace and refuge.
In Jesus' name, Amen.
---
Chelsey DeMatteis is a wife, SAHM, devotional writer, and the host of the weekly aired Living With Less podcast, birthed from John 3:30. Chelsey loves serving in her local church ministries, but the greatest ministry she loves to watch unfold is the one that happens in her heart and in her home. You can find more about Chelsey at her website - www.ChelseyDeMatteis.com.
Teach Us to Pray is a FREE prayer podcast hosted by iBelieve writer Christina Patterson. Each week, she gives you practical, real-life tips on how to grow your faith and relationship with God through the power of prayer. To listen to her episode on What to Pray in the Morning for a Worry-Free Day, click below!


Now that you've prayed, are you in need of someone to pray for YOU? Click the button below!
Visit iBelieve.com for more inspiring prayer content.
Originally published Sunday, 06 February 2022.