A Prayer for Trusting God's Plan
By: Kristine Brown
"They will have no fear of bad news; their hearts are steadfast, trusting in the Lord." - Psalm 112:7
When I heard the doctor say the word cancer, I sat in stunned silence for several minutes. I felt a fog enveloping me as his muffled voice continued explaining the diagnosis. This was the worst news I'd ever received. And even though I knew God was in complete control of my life, I was afraid.
There are many circumstances in life that can cause fear to rise to the surface. We try our best to be strong. To stand firm against what scares us or causes worry. But when we're facing a situation beyond our control, fear seems like the natural reaction. Our hearts race, our senses get out of sorts, and cloudiness affects our ability to think clearly. We know God is faithful, but our willingness to trust Him is tested.
Will we trust God's plan when circumstances look uncertain?
Today's key verse is one that always encourages me when I'm afraid. "They will have no fear of bad news; their hearts are steadfast, trusting in the Lord." (Psalm 112:7)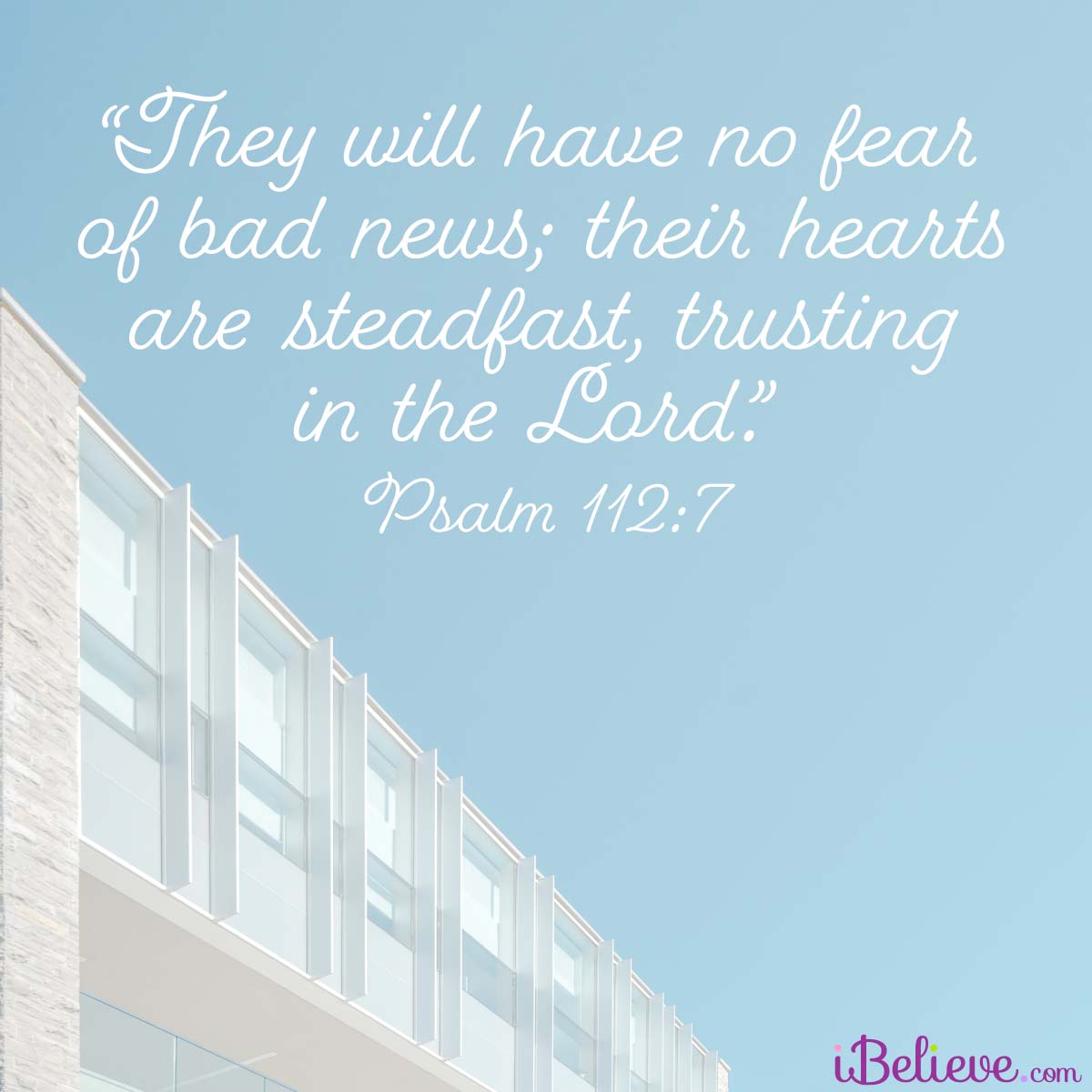 This psalm is written as a poem and lists the character traits of a person who fears the Lord. Verse 1 says, "Blessed are those who fear the Lord, who find great delight in his commands." Fearing the Lord in this context means having a deep reverence for our Creator. To honor and respect God for who He is. God wants us to have this type of fear. Because fearing the Lord leads to a strong belief that He will guide us through any difficult situation.
It's hard to trust God's plans when we hear devastating news. Having a reverence for God's ways helps us to have steadfast hearts in times of trouble.
As children of God, we don't have to fear bad news. We can live with hope in our hearts each day, trusting in the Lord's plan for our lives. Let's pray this prayer together and strengthen our trust that God walks with us through the challenges we face today. May we feel His goodness, love, and comfort as we pray.
Dear Heavenly Father,
I know I can trust you with everything, but I still get scared when I receive bad news. I don't want to be afraid, but fear takes over and I struggle to believe you are with me for the challenges ahead. Forgive me, Lord, for not fully trusting your plan. Strengthen me as I learn to trust you more.
Your Word says that I don't have to fear bad news. That even in the most difficult times, I can have peace in my heart knowing you are in control. You created me, and you are able to bring beauty from the hard things I go through. So I am renewing my trust today and choosing your ways above my own. Help me to walk in steadfast assurance because you are a good Father. Thank you for being the Lord of my life.
In Jesus' name, I pray, Amen.
---
For more spiritual growth resources, check out the free Bible study Walking with Hannah: A 4-Day Study for Busy Women by today's devotion writer, Kristine Brown. You'll find weekly encouragement to help you "become more than yourself through God's Word" at her website, kristinebrown.net. Kristine is the author of the book, Cinched: Living with Unwavering Trust in an Unfailing God.
Editor's Note: The podcast audio player below is no longer synced up to the written devotional. Enjoy this additional prayer to start or end your day!
Want more Your Daily Prayer? We also have a podcast! This podcast is different than the written devotional you just read, but carries the same commitment to a closer look at Scripture each day. You can find out more by clicking the link below!
Now that you've prayed, are you in need of someone to pray for YOU? Click the button below!
Visit iBelieve.com for more inspiring prayer content.
Originally published Saturday, 16 April 2022.