September 22
Dry Ground Needs the Rain
"And they waited for me as for the rain, And opened their mouth as for the spring rain.
I can water my flowers and plants outside and even my grass everyday  during the drought of summer days and it will keep them alive.  But even if I water daily, it will never do what the rain from Heaven can.  A fresh summer rain can perk up any dry ground and re-color the greenery with one good fall.  Nothing can replace those heavenly waters no matter how good we think the earthly waters are.  God creates His world to respond to the waters above, not the waters below.  Watering myself, no matter how long or consistent, will never do what rain water will.  It's God's  spiritual principle for us in living as well.  We need the fresh waters from above in seasons of drought.  And when we are thirsty, nothing else will satisfy!
Follow the Lord long enough and you will inevitably discover your well is dry.  There are seasons in our lives when we just need the fresh rains of Heaven.  We can get so busy serving, and with the duties that life demands, and continue to go thirsty.  And without the life giving waters, we will soon find ourselves exhausted, frustrated, disappointed,  stressed, fatigued and ready to quit.   When all along, all we needed to do was shut down long enough to take in the rain.  God gives us the signs as if waving His mighty hands from the Heavens saying, "look this way…remember Me?"  All the stress, worry, anxiousness, anger, fear, etc., are all reminders that we need a fresh drink of God in our lives.  This is one of the greatest spiritual awakenings a soul can have in this life is recognizing the longing within for the waters that only God can give. 
No matter how hard we work for God, strive with His people, sacrifice, pray, give or stand, we will never be able to continue without the needed life giving waters of the presence of God.  If you are struggling to make it, hanging on by a thread to simply survive everyday, or if you are wanting to quit on God or life altogether, then know this, you are thirsty, thirsty for the fresh rains of Heaven.  Run to the One who sends that rain and tell Him your need for Him.  Let Him know how thirsty your soul has been and that all you want and need is Him.  When you do, you'll hear the rumbling of thunder as God meets you on the mountain of His provision!
Send the rain Lord.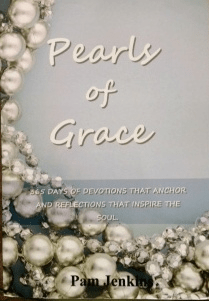 Pearls of Grace Devotional Book
Pearls of Grace is a book of devotions for the entire year, including a read through the Bible in a year calendar, broken down for every day. Beautifully written with encouraging words of hope and empowering words of joy and strength for every woman. Pam draws from the truth and richness of God's Word and gives real life examples in her down to earth style. A must have in your library, click here for more information.          
For more from Pam Jenkins and Jabbok Ministries, please visit www.jabbokministries.com!
Listen to Pam Jenkins's daily broadcast on OnePlace.com.
Originally published Thursday, 22 September 2016.