September 21
God is My Captain
 "Now faith is the assurance of things hoped for, the conviction of things not seen."
A captain of a steamer, who was a devout Christian, recalls a life changing encounter he had with one of his passengers.  The ship was off the coast of Newfoundland and had encountered a dense fog.  The captain had been on the bridge for twenty-four hours straight and had never left it.  One of the male passengers came to the captain and said, "Captain, I have come to tell you that I must be in Quebec Saturday afternoon."  "Impossible", the Captain replied.  "Very well, if your ship cannot take me, God will find some other way.  I have never broken an engagement for fifty-seven years.  Let us go down into the chart room and pray." 
The captain looked at the man and thought to himself, what lunatic asylum has this man come from?  The captain had never heard of such a thing.  He replied to the determined passenger; "Do you know how dense this fog is?" "No," the man replied, "my eye is not on the density of the fog, but on the living God, who controls every circumstance of my life."  The man then knelt down and prayed a very simple prayer.  When he had finished the captain was going to pray also, but before he could the man put his hand on the captain's shoulder and told him not to pray saying;  "First, you do not believe He will answer, and second I believe He already has." 
The captain was astonished, not to mention very humbled.  The man looked deep into the captain's eyes as he went on to say; "Captain, I have known my Lord for fifty-seven years, and there has never been a single day that I have failed to get audience with the King.  Get up, Captain, and open the door, and you will find the fog gone."  The captain did get up and found that indeed the fog was gone.  On Saturday afternoon George Mueller was in Quebec for his engagement.
Excerpt taken from: Missionary Warrior
George Mueller was a man who not only believed in God, but he believed God.  He took God at His Word and never doubted for one moment that God would not answer him when He called upon His name.  Impossible faith you may say?  God says, "without faith, it is impossible to please Him (Hebrews 11:6 ).  Faith is not something we possess, but rather faith possesses us.  This is the life changing truth that this captain learned that day at sea.  We are but mere vessels that faith will sail upon through the uncharted waters, to distant shores that we know not of, nor do we even know the way.  Hoist up the sails no matter how weathered or torn, and let faith take you where God will have you to go.
Sail on.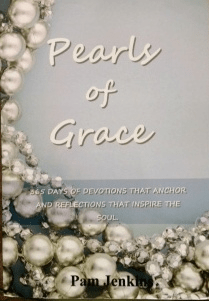 Pearls of Grace Devotional Book
Pearls of Grace is a book of devotions for the entire year, including a read through the Bible in a year calendar, broken down for every day. Beautifully written with encouraging words of hope and empowering words of joy and strength for every woman. Pam draws from the truth and richness of God's Word and gives real life examples in her down to earth style. A must have in your library, click here for more information.          
For more from Pam Jenkins and Jabbok Ministries, please visit www.jabbokministries.com!
Listen to Pam Jenkins's daily broadcast on OnePlace.com.
Originally published Wednesday, 21 September 2016.