September 20
Do You Know Who's Leading You?
"In Your lovingkindness You have led the people whom You have redeemed; In Your strength You have guided them to Your holy habitation."
God never leads His child in weakness. When we are called to great things, we can know that the One Who is great goes before us. In every need, every situation, relationship, concern or challenge, God's supply is sufficient. But an even deeper revelation of provision is the power to redeem. God led His people, Israel through a barren wasteland for forty years and in those forty years their shoes never wore out and they never lacked for water, shelter or food. As miraculous as that is to know, it is their redemption that is raised above everything else in beauty. When God was caring for them in the dessert, they had already been redeemed from the world. He delivered them from bondage out of the land of Egypt in order to bring them into the promised land of Canaan. It was in that state of redemption that gave way to God's provision.
When God saves us, we are instantly brought into a place of supply. Everything we need for the journey of life, between earth and Heaven, God becomes the source for. Because we no longer belong to the world and now belong to God, we are not to look for the world to meet our needs. God takes responsibility of every life Whom He has redeemed and every redeemed life is to become completely dependent upon Him. Following God should not never be fearful or burdensome. The day you surrendered your life to Him is the day that God swore to take care of you. God gives to us complete care not just bits and pieces. Why are we so quick to try and provide our own way, plot our own course and figure things out on our own? Independent living is not God's will for us.
Do you know how God leads? Have you come to understand the truth of His leadership in your personal life? God leads the redeemed in strength and in loving-kindness. There is not a moment of your life with Him when He will not be loving you, caring for you or guiding you in the way you should go. But are you following? Are you trusting? Are you depending? We have been called to greatness and we have a great God who will get us there!
Follow the great one and greatness will be found.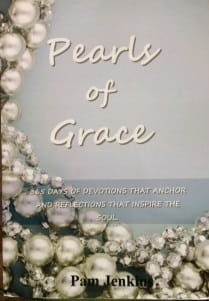 Pearls of Grace Devotional Book
Pearls of Grace is a book of devotions for the entire year, including a read through the Bible in a year calendar, broken down for every day. Beautifully written with encouraging words of hope and empowering words of joy and strength for every woman. Pam draws from the truth and richness of God's Word and gives real life examples in her down to earth style. A must have in your library, click here for more information.
For more from Pam Jenkins and Jabbok Ministries, please visit www.jabbokministries.com!
Listen to Pam Jenkins's daily broadcast on OnePlace.com.
Originally published Tuesday, 20 September 2022.