September 10
Unafraid
"I will give thee thanks in the great congregation: I will praise thee among much people."
Our generation is not the same as our mothers or fathers generation. We have exhaustive knowledge at our fingertips; unlimited resources to draw from. We are a society, a people who are more refined yet without boundaries, rules or moral confinements. We must not wear an animal's fur as part of our clothing because we might offend an animal activist group but yet we can harvest the fetus of an aborted baby for science and medical advancement. Our language cannot be offensive to religious groups who defy the living God yet we are not allowed to bow our heads and lead a group in prayer to Him at public gatherings. Our government can print, "In God We Trust" on our currency yet we cannot place His Word in our government buildings. Our national pledge to the flag that represents the freedoms the Almighty One has given to us proclaims that we are "ONE NATION UNDER GOD" yet our current commander and chief will not give witness to this truth. Christians should be outraged yet there is grave silence in our land as the disgrace of God continues. But God will not remain silent, even if His people do.
Be not mistaken, outward prosperity is no indication of national security beloved. Sin and moral decay loves to cloak itself in raiment of deceitful privileges. But there is a war waging against our generation in heaven and the casualties I fear will be countless. God looks down into the secret places of the heart of man. There is no heart that He cannot scrutinize, no country that He does not see what its leaders are doing behind closed doors. God has become the enemy of "political acceptance". And where are the radical voices crying out today? Extreme measures call for extreme action and God will not relent until His message is heard, no matter how loudly He has to speak.
Take your stand with God.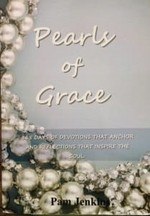 Pearls of Grace Devotional Book
Pearls of Grace is a book of devotions for the entire year, including a read through the Bible in a year calendar, broken down for every day. Beautifully written with encouraging words of hope and empowering words of joy and strength for every woman. Pam draws from the truth and richness of God's Word and gives real life examples in her down to earth style. A must have in your library, click here for more information.
For more from Pam Jenkins and Jabbok Ministries, please visit www.jabbokministries.com!
Listen to Pam Jenkins's daily broadcast on OnePlace.com.