March 24
Have Your Hands Touched The Cross?
"…until I attain to the resurrection from the dead."
The cross is cut and carved by the hands of human flesh and laid upon every soul who claims Christ as their Lord and Savior. Paul's words that we began our study with today remind us of this attitude of the heart one must have, "Until I attain to the resurrection of the dead". Paul was yearning to die to self completely, utterly so the Lord might resurrect him in the fullness of His likeness. Death precedes resurrection precious one and yet there are so many of us who are desperately seeking the new life but have never died. When Christ calls a woman or man, He invites them to come and die. This is not a physical death but a death of self. Jesus' disciples were called to die to self that they might follow Him. Some had to die to their work, their homes, their social circles, their comforts and some even their reputations. This death will be different for each of us. For some the loss is greater than others. Listen to Peter's words in Matthew 19:27-30 to the Lord:
"Then Peter said to Him, "Behold, we have left everything and followed You; what then will there be for us?"
And Jesus said to them, "Truly I say to you, that you who have followed Me, in the regeneration when the Son of Man will sit on His glorious throne, you also shall sit upon twelve thrones, judging the twelve tribes of Israel.
"And everyone who has left houses or brothers or sisters or father or mother or children or farms for My name's sake, will receive many times as much, and will inherit eternal life.
"But many who are first will be last; and the last, first."
Until you've wept over Him, agonized in prayer over Him; until your heart has bled, your eyes opened wide, hands calloused, will enveloped in all that He is, You have not laid hold of Him. It takes an unflinching determination that utterly refuses to rest until Jesus is apprehended. May God give us this tenacity.
FORSAKE ALL FOR THE ONE WHO HAS FORSAKEN ALL FOR YOU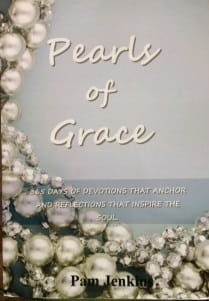 Pearls of Grace Devotional Book
Pearls of Grace is a book of devotions for the entire year, including a read through the Bible in a year calendar, broken down for every day. Beautifully written with encouraging words of hope and empowering words of joy and strength for every woman. Pam draws from the truth and richness of God's Word and gives real life examples in her down to earth style. A must have in your library, click here for more information.
For more from Pam Jenkins and Jabbok Ministries, please visit www.jabbokministries.com!
Listen to Pam Jenkins's daily broadcast on OnePlace.com.
Originally published Thursday, 24 March 2022.