July 6
A Closer Look
 "But now in Christ Jesus you who formerly were far off have been brought near by the blood of Christ."
How often do we find ourselves hungering for comfort, for peace, joy, strength, hope, help, wisdom, or just the closeness of God Himself yet we do not go to Him.  By habits formed over a lifetime of struggles and survival traits we have learned to make it through difficult times.  But is this living the life God has given to us?  Does God want us to merely survive?  When we are faced with a day, a memory, or a flood of emotions that engulf us without warning, what can we do at that moment to receive what we need?  How do we reach with what little faith we may have to lay hold of life in moments of despair?  Is there more?  Do we have to carry the weight of our sorrows day in and day out or drag our worries behind us wherever we go? 
There is a hope anchored in Heaven itself for every child of God.  This hope is immoveable and it does not shift in its power even in the slightest or in its availability to us.  It's a vast and deep supply ready for you and I to dip into and drink into the deepness of our soul.  This hope is no ordinary hope.  It's not drummed up from our feelings or heightened through thoughts of the positive.  This hope has absolutely nothing to do with anything we do and it is not altered by what we have failed to do.  It's based solely on a work finished long ago, an ancient labor of mercy and unconditional love on a mission fueled by tenacious grace.  It is the precious blood of Jesus spilled out upon timbers of unstoppable redemption for all of mankind past, present and future.  This spotless blood was not sprinkled, it was poured like a fountain deep and wide, and in the pouring the gates of God's throne room were swung wide from their posts.  This precious blood is redeeming souls even this hour because it never loses its power to seek and to save all who are lost.  It beckons loud and clear to every soul to come and run into the presence of God the Father. 
Because of the blood of Jesus Christ, there is no separation between the child of God and the Lord.  Holiness will now allow us in His presence.  The closer we get to God the further away from the world we get.  The appeal of the world and all of its demands grow dimmer the clearer Christ becomes for us.  Unless we are moving away from the philosophies of the world and its influence, we are not moving toward God.  After all, He saved us in order to have us close to Him.  We were formerly far away from Him, but after salvation, we were given the right of passage to come close.  It's here, before the face of God that we find all that we need for the hour at hand.  He is everything we need or will ever need.  But, we must run to Him and drink deeply of all He is. 
Train your feet to run home.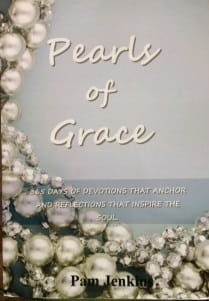 Pearls of Grace Devotional Book
Pearls of Grace is a book of devotions for the entire year, including a read through the Bible in a year calendar, broken down for every day. Beautifully written with encouraging words of hope and empowering words of joy and strength for every woman. Pam draws from the truth and richness of God's Word and gives real life examples in her down to earth style. A must have in your library, click here for more information.
For more from Pam Jenkins and Jabbok Ministries, please visit www.jabbokministries.com!
Listen to Pam Jenkins's daily broadcast on OnePlace.com.
For more from Pam Jenkins and Jabbok Ministries, please visit www.jabbokministries.com!
Listen to Pam Jenkins's daily broadcast on OnePlace.com.
Originally published Wednesday, 06 July 2022.