July 16
The Patient One  
"Now, little children, abide in Him, so that when He appears, we may have confidence and not  shrink away from Him in shame at His coming."
After we become a Christian is when the real work begins within us.  Up to the point of our salvation, it's the outside that dictates who we are to some degree.  After all, people look at the outward appearances.  But something strange begins to happen once we come to accept Jesus Christ as our Lord and Savior.  The outside, which we may have worked so hard to clean up on our own, isn't what's important anymore.  What is seen with the natural eye becomes the least of our worries.  The real labor of change, that salvation brings, begins at that moment of surrender to Jesus as Lord.  Once lordship and faith in Him have been accomplished, a holy demolition begins inside of us. 
So much has gotten rooted into our thinking such as towers of pride, unforgiveness, anger, bitterness, opinions, failures, anger, lusts, and so much more!  And it takes a holy God living inside of us working 24 hours a day tearing down all that is not spiritually profitable in our lives.  He doesn't take holidays, lunch breaks or sick time off from His duty of changing us!  He works tirelessly around the clock  with an intended goal in mind, to have nothing of self and all of Jesus.  But this construction process is methodical, relentless, and painful at times, never letting up on the work at hand.  He's been given a deadline and He knows that time is ticking, hastening toward a "grand opening" day. 
Surrendering our lives to Jesus as Lord and Savior is the easy part, the real struggle begins when He begins to demolish all of self in order to build something new and honorable.  We will not like this process and our flesh will fight it every step of the way because it doesn't want to leave its post of ownership.  You see, it's been that way since the day we were born!  Our part is to yield to the Spirit's pressures, leading, conviction and teaching.  It won't come natural to let go of self, but with every decision to let go of self, the more Heaven will grab hold of you.  And somewhere in this mighty and painful work, a daughter of God is born. 
Yield and let God have the right of way.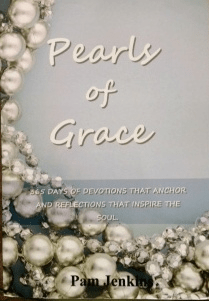 Pearls of Grace Devotional Book
Pearls of Grace is a book of devotions for the entire year, including a read through the Bible in a year calendar, broken down for every day. Beautifully written with encouraging words of hope and empowering words of joy and strength for every woman. Pam draws from the truth and richness of God's Word and gives real life examples in her down to earth style. A must have in your library, click here for more information.          
For more from Pam Jenkins and Jabbok Ministries, please visit www.jabbokministries.com!
Listen to Pam Jenkins's daily broadcast on OnePlace.com.