February 16
Precious in His Sight
"He hews out channels through the rocks; and his eye sees anything precious"
One of the greatest comforts we can know in this life is the realization that God is on the throne. He is intimately acquainted with all every one of our comings and our goings and He misses nothing, not even the tiniest detail of our lives. When we experience rejection and the hatred and jealousy of others and the disappointment of those we trusted in, its empowering to know God is reining in complete wisdom and power. He is a faithful watchman fixed upon the walls of our lives scrutinizing everything detail of our lives.
We have all experienced pain at the hands of another, some even from the hands we looked to for shelter and love. These moments may send us running away from our hurts, but they have the potential to drive us right into the arms of an ever-present God. And in the running, we will find the strength needed to face our offenders as we embrace God's promise of a future. There is no need to fear anything that comes into our life's path because God knows the plans He has for us, plans not to harm us but to do us good; plans to give us a future and a hope. (Jeremiah 29:11).
I met a young woman when teaching abroad in a third world country that so desperately needed to hear this truth. After a teaching session with the women one afternoon, she approached me hesitantly and only out of utter hopelessness believing she had no other options. As she poured out her life's tragedy to me, I came to know she had been brutally raped by another member of her church who was also a close family friend. My heart ached so for the destructive force of evil that had robbed her innocence of the peaceful life she had known. She needed to know that her life was not ruined; that she was still precious to God and He loved her.
As I listened with an aching heart I remembered the words of wisdom spoken of in Job 28:10 (He hews out channels through the rock; and his eye sees anything precious") There couldn't have been any more precious jewel buried beneath the rock of pain than this young 17 year old girl weeping in my arms. The sweetest sound ascending before the throne of God are those groans too deep for words. She needed to know that what had been done to her did not amputate her future. She had never told another living soul what had happened believing that it would only further harm any hope of good and joyful future. She had believed the lie of the devil that she was ruined for life.
As I shared with her about the character of God and the greatness of His love to turn even the most horrific of situations into a force of good, I could see the water of His love wash over the soiled garments of her pain. When we finished our time together with prayer, I took off the necklace I had worn for so long around my neck every day that had inscribed upon it the words of Jeremiah 29:11. I encouraged her to keep it there as a reminder of God's promise to her and the security of her future in His hands.
She learned that day that God knew of her pain and He knew of her violator and even in the knowing He stilled loved her and He is powerful enough to secure her future. This truth alone can bring healing to even the most violated of souls. Even if we take flight out into the dessert or when we are caught between the pain of holiness and the waste places not knowing which to choose, God sees us. He sees us in those painful places and lovingly gives us the reassurance of His presence. This is the beauty of every hurtful situation we experience. He sees that which is precious to Him, even if it is buried beneath the rock of pain and suffering.
Every offense gives the potential for Holiness or Barrenness.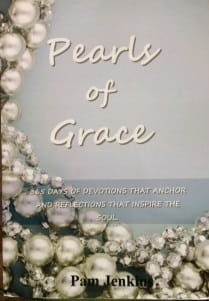 Pearls of Grace Devotional Book
Pearls of Grace is a book of devotions for the entire year, including a read through the Bible in a year calendar, broken down for every day. Beautifully written with encouraging words of hope and empowering words of joy and strength for every woman. Pam draws from the truth and richness of God's Word and gives real life examples in her down to earth style. A must have in your library, click here for more information.
For more from Pam Jenkins and Jabbok Ministries, please visit www.jabbokministries.com!
Listen to Pam Jenkins's daily broadcast on OnePlace.com.
Originally published Wednesday, 16 February 2022.