December 10
A Molded Heart
"He did evil because he did not set his heart to seek the LORD."
II Chronicles 12:14
Rehoboam was established and strong when he became king over Israel. His power to reign turned his heart to forsake the Law of God. He became unfaithful to the Lord. A godly ruler is a servant foremost, a servant of the one who placed him there. His downfall began here. Listen to the words of the Lord concerning his fall: "but they will become slaves so that they may learn the difference between My service and the service of the kingdoms of the countries" (II Chronicles 12:8). The one who is in the service of the Lord cannot give allegiance to the service of men. There must be no conflict of loyalty in the heart of the servant of the Most High. He desires us wholly, never in part. Rehoboam had a divided heart and it pulled him away from the holy service to which he was called.
The path we choose to take, finds its beginning point in our heart and our heart will make its decisions based our affections. That which fashions our thinking and gives birth to the intentions within the recesses of our soul, comes from the mold we have poured ourselves into. God created us to be pliable, to be fashioned and shaped so, by instinct we will seek to be molded by something or someone. God intends for us to set or mold our hearts in such a way that, it seeks after the Lord. The act of seeking the Lord is the guard in our lives that will keep us from evil. We cannot seek holiness and evil at the same time, so our greatest protection against the forces of evil is found in seeking the Lord. Even those with the best intentions have found themselves far away from the path that leads to God.
What mold have you poured your heart into, beloved? He must be our aim. The Psalmist knew this secret for he writes in Psalm 119:9-10, "How can a young man keep his way pure? By keeping it according to Your Word. With all my heart I have sought You; do not let me wander from Your commandments." May you seek Him, precious one, with all of your heart. And in the finding of Him discover He's all you need, and when you find He's all you need you'll find He's all you want.
I will keep Thee nigh through the midnight hour
Longing for Thee Lord, is my saving power
To commune with You through eternity long
And upon my heart Oh Lord, to brand Thy song
PJ
Pour my heart into Yours and make them beat as one.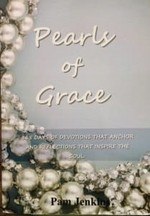 Pearls of Grace Devotional Book
Pearls of Grace is a book of devotions for the entire year, including a read through the Bible in a year calendar, broken down for every day. Beautifully written with encouraging words of hope and empowering words of joy and strength for every woman. Pam draws from the truth and richness of God's Word and gives real life examples in her down to earth style. A must have in your library, click here for more information.
For more from Pam Jenkins and Jabbok Ministries, please visit www.jabbokministries.com!
Listen to Pam Jenkins's daily broadcast on OnePlace.com.