August 18
My Heart Is Not A Stranger 
"Search me, O God, and know my heart…."
I knew a little widow woman who lived in the town where I worked. Her family and my family were very close and so on my lunch break, it was my habit to go and eat lunch with her at her house every day. She loved the company and I loved her southern home cooking not to mention her stories! She also loved to play board games and even though she was in her nineties, her mind was as sharp as a 20 year old. We laughed, ate and played games most every day and on Friday nights we would usually have a gospel singing with the whole gang. One day, when she was sharing about her late husband, she recalled a story that I will never forget as long as I live! Her husband had grown old way before his time, in her opinion and was deeply set in his ways. So, she decided to institute the shock factor into their 60 plus years of marriage!
It was Halloween and he was laid back in his lazy boy recliner as was his nightly ritual. She had finally had enough so once it had gotten past the time when little trick or treaters were coming to the door, she decided to go trick or treat her husband but with one added twist: She took off all her clothes, put on his overcoat along with his hat and sunglasses. She snuck out the front door of the house undetected and went around to the den door where she could see her husband fast asleep. She rang the door bell several times finally waking him up from his Halloween slumber. When he opened the door holding the bowl full of candy, she flung open her overcoat, flashed him and yelled "Trick or Treat"! Well, in the scare of the moment, he threw the bowl of candy up in the air, fell backward onto the floor in total shock! The shock factor had worked, however, not with the results she had hoped for.
Familiarity can be the stifling force of love in any relationship if not careful. Closeness and understanding are vital to meaningful marriages no doubt but if there is not a balance, even in the best of unions, it can be in danger of losing its spark. There is intrigue, at times, when mystery and coy conversations are in motion when boredom and repetition are unbroken. Just a touch of pizzazz through surprise and spontaneity can breathe fresh life into even the deadest of relationships. Unlike this precious widow lady, who is now in heaven with her beloved husband, there is One who we never have to fear will grow stale in His love toward us and that is God. We can check His heart on any given moment on any given day and we will find His love just as real, vibrant and committed to us as always. This is because His love is unwavering. Unlike our love abilities that will need to be prodded and reminded once in a while or maybe even often, God's never will. His love is strong and it is loyal.
There are many women today who just need to hear the words, "My love will never do you harm. I am committed to love you just as you are for all of your days." We have this deep rooted need for a love that is loyal even in the worst of times because God created us with this cavern of want. The problem comes in when we try to fill it with other kinds of things, people, and relationships and not God. God designed us this way intentionally so it would drive us to Him. And when we are found in His presence, then in the security of His love for us, we can cry, "search me Oh God". We have no fear because His love is perfect, committed and will never do us harm; never walk away, never misrepresent and will be loyal to the very end. He loves us just as we are for all of our days.
You can trust His love to be new and unfailing every morning.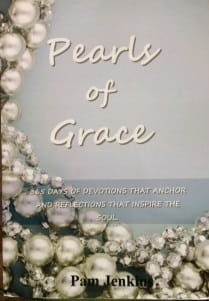 Pearls of Grace Devotional Book
Pearls of Grace is a book of devotions for the entire year, including a read through the Bible in a year calendar, broken down for every day. Beautifully written with encouraging words of hope and empowering words of joy and strength for every woman. Pam draws from the truth and richness of God's Word and gives real life examples in her down to earth style. A must have in your library, click here for more information.
For more from Pam Jenkins and Jabbok Ministries, please visit www.jabbokministries.com!
Listen to Pam Jenkins's daily broadcast on OnePlace.com.
For more from Pam Jenkins and Jabbok Ministries, please visit www.jabbokministries.com!
Listen to Pam Jenkins's daily broadcast on OnePlace.com.
Originally published Thursday, 18 August 2022.