August 12
The Fire of Gratitude 
"Therefore, since we receive a kingdom which cannot be shaken, let us show gratitude, by which we may offer to God an acceptable service with reverence and awe for our God is a consuming fire."
It's been said, "It's good to have things settled by faith, before they are unsettled by feeling." The devil is waiting to take advantage of our emotions when we are weary or on the edge of a potentially destructive situation. He wants us to be problem conscious rather than power conscious. With the sting of defeat or the looming air of confusion he sees us as an easy target to shoot, kill and destroy. But God has yelled forth from the Heavens with a voice of thunder upon the pages of His Word: "…I am a consuming fire!" Fire is what God uses to describe Himself to us. But He takes it one step further in the detail of what type of fire He is; consuming. In other words, God is intent on engulfing the whole never the part. He refuses to surrender any portion to another.
God is not only a consuming fire but He is a stubborn fire; a fire that once it sets its affections upon a life, will not alter its course, surrender its intensity or remove its grip until it has brought the whole of the offering to God. He is all powerful to own, occupy and engulf on every level of our being. His Kingdom is eternal and indestructible; it will never have an end and it will never be overtaken or defeated. Even when our lives are shaken to its core, His Kingdom is not moved. If the whole of the earth were burned up with the fire of the sun, God's Kingdom would remain unscathed. Within its impregnable walls lies eternity. It's His presence that makes the Kingdom unshakeable. If you cannot shake or remove the King, then neither can His Kingdom be shaken or removed.
It's this unshakeable security of God's Kingdom that calls for a response from every life that belongs to it and that's gratitude. It's the only response worthy of such a Kingdom! When we step back and survey the immoveable of God, our hearts should be moved! The only response that the soul can give is: THANK YOU! Just a heart full of thanksgiving for the honor of belonging to such a Kingdom. Eternity is secure, but what will be our response to it? Will it be in gratitude; a heart that is so eternally grateful to belong that it serves, belongs, lives and loves without boundaries.
A grateful heart is a right response.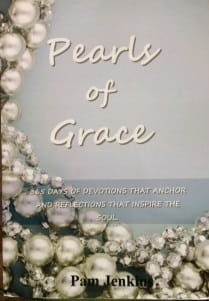 Pearls of Grace Devotional Book
Pearls of Grace is a book of devotions for the entire year, including a read through the Bible in a year calendar, broken down for every day. Beautifully written with encouraging words of hope and empowering words of joy and strength for every woman. Pam draws from the truth and richness of God's Word and gives real life examples in her down to earth style. A must have in your library, click here for more information.
For more from Pam Jenkins and Jabbok Ministries, please visit www.jabbokministries.com!
Listen to Pam Jenkins's daily broadcast on OnePlace.com.
For more from Pam Jenkins and Jabbok Ministries, please visit www.jabbokministries.com!
Listen to Pam Jenkins's daily broadcast on OnePlace.com.
Originally published Friday, 12 August 2022.