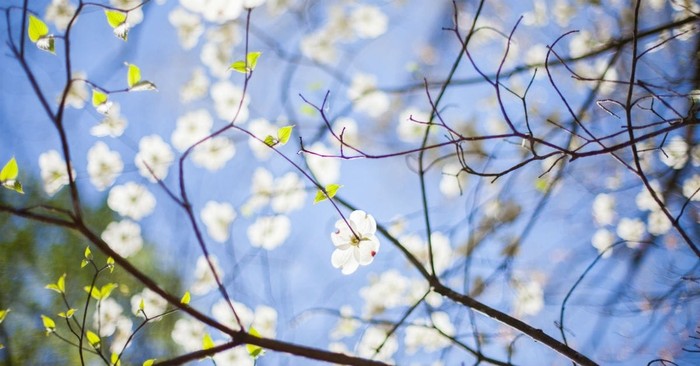 The idea of making peace is complex. For years, people have complimented my "peaceful spirit," and I understood that phrase to mean: quiet, agreeable, soft, and pleasant. I thought that was my peace-making contribution to the world around me.
But the more I look at the lives of other women who sought to make peace in this life, the more I realize that making peace is so much more. It's quiet sometimes, but other times it's loud. Sometimes it's not agreeable at all; instead it's resistant. And peacemaking is not always soft; sometimes it's standing firm and strong.
I have learned from these 10 women that peacemaking is most often unpleasant. Because where peace is most needed to be made is where there is no peace at all. Peacemaking requires the peaceful to walk into unpleasant, unpeaceful situations.
Here are 10 women, both throughout history and currently making history, who's lives show that peacemaking often doesn't look very peaceful, but oh, is it worth it.
Photo Credit: Unsplash/Ashley Bean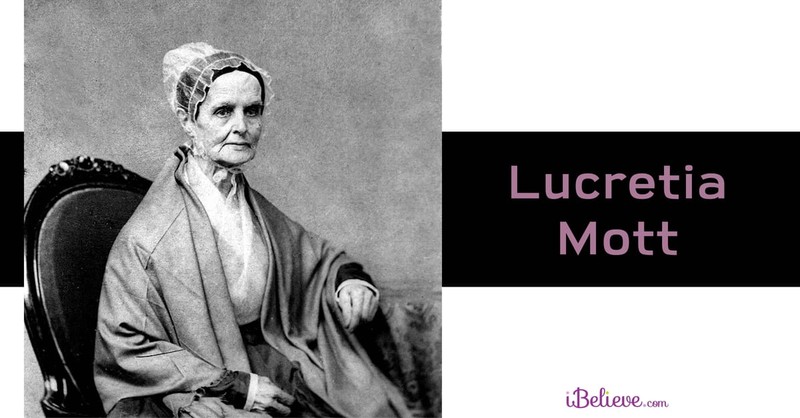 Lucretia Mott
Lucretia Mott was born into a Pennsylvania Quaker family in 1793. Quakers were known to hold anti-slavery views, but Mott clenched them tightly and became a passionate activist for the abolition of slavery in the U.S.
This wasn't an easy path for her for many reasons; one being that she was a female activist. She and her husband boycotted products of slave labor, and in 1830 he gave up his work in the cotton trade altogether. But when she tried to attend the 1840 World Anti-Slavery Convention in London, she discovered that women were not welcome. Since she wasn't allowed to stand for freedom inside, "Mott preached her doctrine of female equality outside the conference hall," according to History.com. It was on that London trip, when she met a woman named Elizabeth Cady Stanton, with whom she would later partner in groundbreaking activism in America for women's rights.  
She was "viewed as a peacemaker by both abolitionists and feminists."
Mott advocated for women's rights, perhaps so generations of women behind her could fully follow God's call as peacemakers too.
Photo Credit: WikiMedia Commons
Design Credit: Rachel Dawson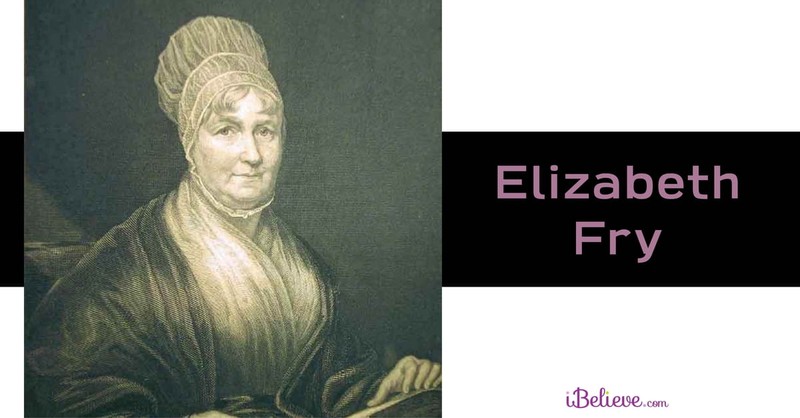 Elizabeth Fry
Elizabeth Fry was a Quaker, wife, and mother dedicated to helping those in need. When she was 33 in 1813, she began making visits to the local female prison in London. What she saw was horrifying.
"Women awaiting trial for stealing apples were crammed into the same cell as women who had been convicted of murder," according to Christianity Today. "Women ate, defecated, and slept in the same confined area. If an inmate had children, they accompanied her to prison and lived in the same inhumane conditions. Most people thought this was the way things should be or believed nothing could be done to change the entrenched system."
Fry knew this was not the way things should be and there must be something she could do to change the system. Ever since her eyes were opened to the intense suffering in these concentrated places, Fry set out to reform the broken prison system – she set out to make peace. She spent time in the filthy prisons, risking her health and safety, to teach women the Bible as well as marketable stills like sewing. Once they were released, Fry hoped these women might have a chance to thrive with their new skills.
She advocated for many of the reforms that affect how prisoners are treated, even today. The problems she witnessed were great, and she couldn't solve them alone. But she did what she could to make peace in the world. And she founded groups to inspire and organize others in joining the cause of helping the imprisoned and the homeless. 
Fry's relentless peacemaking was fueled by her faith in the one true God of justice and mercy.
Photo Credit: WikiMedia Commons
Design Credit: Rachel Dawson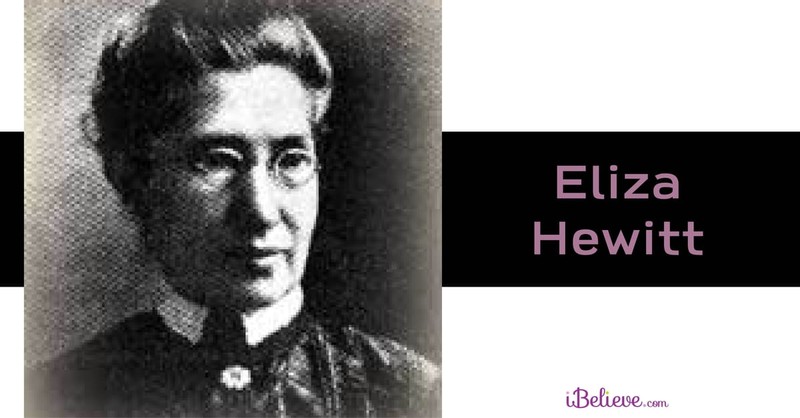 Eliza Hewitt
Eliza Hewitt was born in 1851 and worked as a schoolteacher in Pennsylvania. During her time as a teacher, Hewitt suffered a tragic accident that left her bed ridden for months. Even though her doctor removed her cast and encouraged her to walk again, often debilitating back pain plagued her throughout her life.
Pain was now a part of her life, but it did not stifle her faith in Christ. She fought for peace in her own life, despite her unfair circumstances, by writing poems that would become hymns. Hewitt's hymns like "When We All Get to Heaven," "Sunshine in My Soul," and "More About Jesus Would I know," continue to bring peace to worshippers today.
For Hewitt, peacemaking meant suffering while clinging to the Prince of Peace and sharing his goodness with others.
Photo Credit: Cristianity.com
Design Credit: Rachel Dawson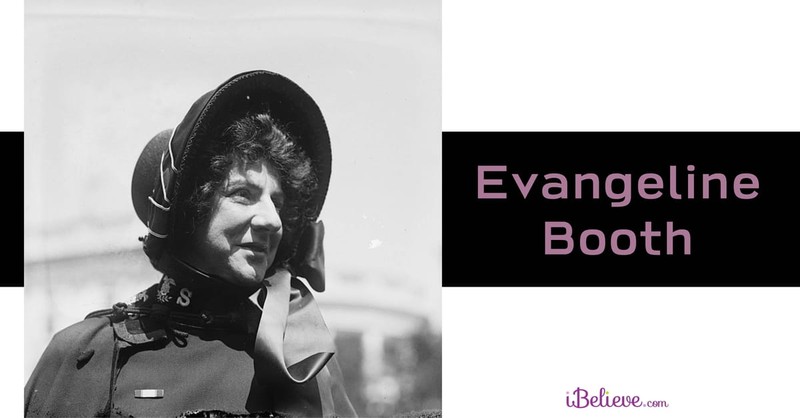 Evangeline Booth
Evangeline Booth's parents founded the Salvation Army in 1865 "to help the suffering souls throughout London who were not willing to attend – or even welcomed into – a traditional church," according to SalvationArmyUSA.org.  As a young girl, she was anxious to get out in the streets to serve society's neglected and neediest, just like her parents did. To reach people with the good news of Jesus Christ, Booth walked dangerous streets and witnessed in dangerous places – because that's where the people were. She would risk her health and safety by serving the lost who lived in squalor.
To Evangeline Booth, peacemaking meant stepping outside of her sphere to take peace to the people who needed it desperately. She would not wait for them to uncomfortably wonder into a nice church; instead she took the gospel to them right where they were.
When she was 20 years old, she moved into the slums of East London to better minister (and suffer alongside) the poor. In The General was a Lady the author quotes Booth saying, "I wanted to find them, to go to them. I wanted to tell them as quickly and as simply as I could the greatest fact of all the ages – the never-dying love of God."
Photo Credit: WikiMedia Commons
Design Credit: Rachel Dawson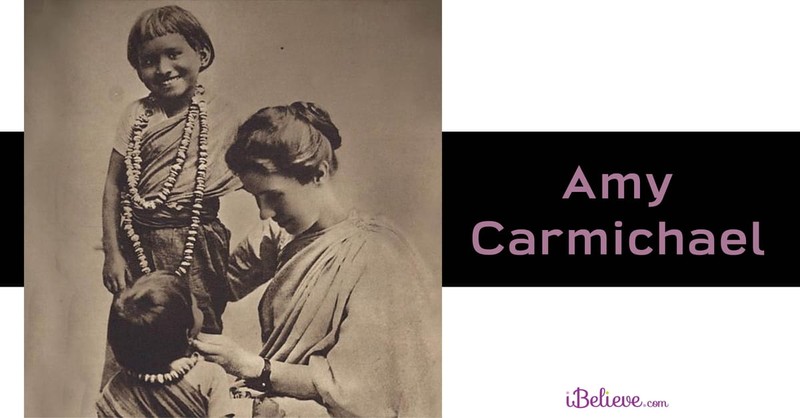 Amy Carmichael
Once Amy Carmichael learned about the horrors that some Indian children were living through, she chose to act. The Irish woman moved to India in 1896 as a missionary, famously dying her skin with coffee to blend in better with locals. Although the 29-year-old missionary suffered with neuralgia, that didn't stop her from serving the country's neediest children.
A 7-year-old girl, Preena, attempted a second escape from the temple where her family sold her into religious prostitution. She found Carmichael and begged the foreign woman for help.
This isn't what Amy imagined her missionary work to be like, but her eyes were now opened, and she knew this was the work God prepared for her to do. After Preena's rescue, more children escaped and sought out Amy for help. Eventually she founded an orphanage for these and other unwanted or orphaned children.
Even though she was confident that this work was good and pleasing to God, it came at a cost. By rescuing girls from temple prostitution, Amy defied local religious leaders as well as the law. "Amy could have been charged with kidnapping and thrown into prison. But it was a chance she was willing to take," according to Christianity.com.
Amy spent her life as an active peacemaker in children's lives. One of her famous quotes:
"One can give without loving, but one cannot love without giving."
Photo Credit: WikiMedia Commons
Design Credit: Rachel Dawson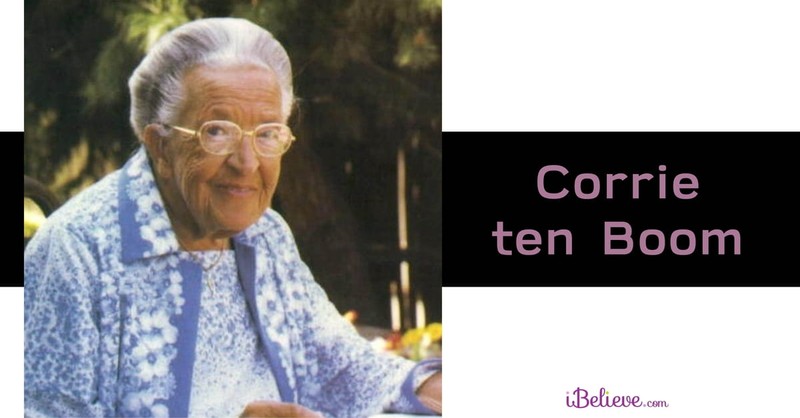 Corrie Ten Boom
For Corrie ten Boom, peacemaking looked like resisting an evil government and protecting the oppressed. Corrie was born in the Netherlands in 1892, and by 1940, the country was controlled by Nazis. She and her family were Christians, and they protected their Jewish neighbors by hiding them in their home. This peacemaking action "by all accounts, saved nearly 800 lives," according to biography.com.
The ten Booms were eventually found out and imprisoned. Nazis sent Corrie and her sister to the same concentration camp, where they held worship services for the other trapped women. Corrie was released in 1944, 12 days after her sister died in the camp. She continued working for peace after her release by hiding and ministering to the mentally disabled, who were also targeted by Nazis.
Photo Credit: Ten Boom Museum Photo Album
Design Credit: Rachel Dawson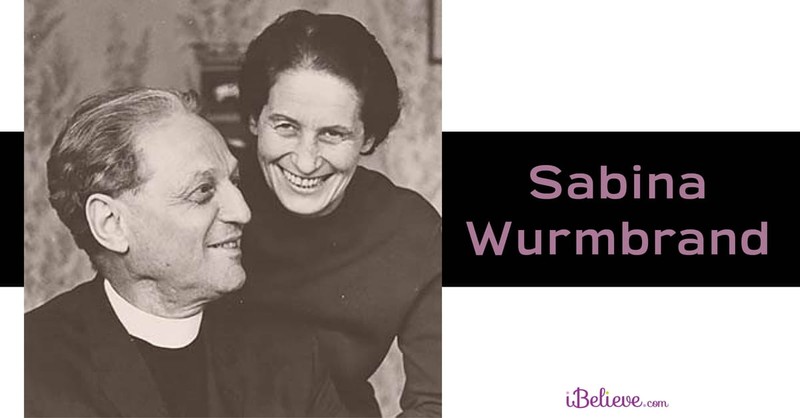 Sabina Wurmbrand
Sabina Wurmbrand was born into a Jewish family in a city that's now part of modern Ukraine. She married her husband in 1936, and they both became Christians soon after. Her life looked like it would be a pleasantly normal one until Nazis began invading her hometown.
Instead of a calm and quiet life, she lost her parents and three siblings under Nazi oppression. Sabina and her husband, Richard, responded to the terror around them by rescuing and protecting local Jewish children who were left in need. They suffered not only because of the Nazi's hatred of Sabina's ethnicity, but also because they faithfully preached and taught the gospel of Jesus Christ.
"They taught in bomb shelters and were arrested several times for underground Christian activities," according to HistorysWomen.com. Richard "spent a total of 14 years in Communist prisons, three of those years in solitary confinement, suffering much at the hands of his captors." Sabina spent three years in a Nazi concentration camp, unsure if her husband was alive or dead. She was offered freedom if she would divorce her husband and recant her faith, but she refused.
The Wurmbrands survived this trying time and later founded The Voice of the Martyrs, a Christian human rights organization that serves persecuted Christians around the world.
Sabina did not lead a peaceful life by popular definition. But she and her husband took action to make peace where God had them by rescuing others and clinging to the good news of true peace.
Photo Credit: The Voice of the Martyrs
Design Credit: Rachel Dawson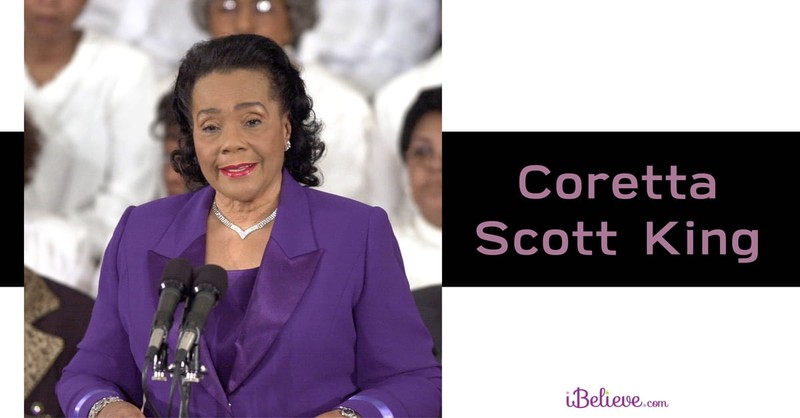 Coretta Scott King
After her husband, Martin Luther King Jr., was assassinated in 1968, Coretta Scott King had good reason to drop the cause of making peace in the world through nonviolent resistance. Her husband preached so often about peace but was taken away from her by hatred and violence. But Coretta stood firm and continued to embrace the mission that her husband preached. And she founded the Martin Luther King, Jr. Center for Nonviolent Social Change in Atlanta, where tens of thousands of people have been trained in the peacemaking methods of Dr. King.
Coretta exercised peacemaking by resisting violence and hatred with compassion. "The greatness of a community is most accurately measured by the compassionate actions of its members," she said.
Photo Credit: Getty Images/Erik S. Lesser
Design Credit: Rachel Dawson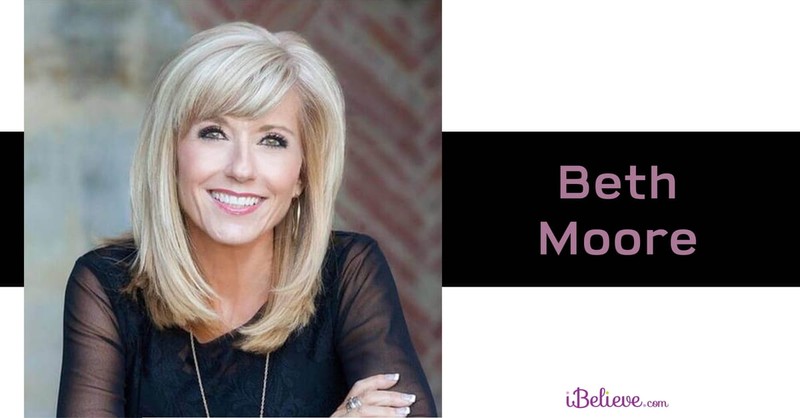 Beth Moore
Beth Moore is an author and Bible teacher and the founder of Living Proof Ministries. She makes peace in the world by leading women to trust Jesus and to study God's Word.
For Moore, peacemaking also looks like resisting the allure of comfort in American culture through compromising. She speaks what needs to be said for the sake of the church's purity and the purity of the gospel message that the church is called to take to the nations.   
The message pinned to the top of her Twitter feed says, "It will become increasingly vital that we learn to distinguish between what is pro-Christian and what is actually Christlike."
Since the early 1990's she has experienced suffering and criticism, based on her gender, in her public ministry. But she continued firmly in her calling for decades. She wrote about this in her 2018 blog post, "A Letter to My Brothers."
"I have accepted these kinds of challenges for all of these years because they were simply part of it and because opposition and difficulties are norms for servants of Christ. I've accepted them because I love Jesus with my whole heart and will serve Him to the death. God has worked all the challenges for good as He promises us He will and, even amid the frustrations and turmoil, I would not trade lives with a soul on earth. Even criticism, as much as we all hate it, is used by God to bring correction, endurance and humility and to curb our deadly addictions to the approval of man."
Photo Credit: Facebook/Living Proof Ministries
Design Credit: Rachel Dawson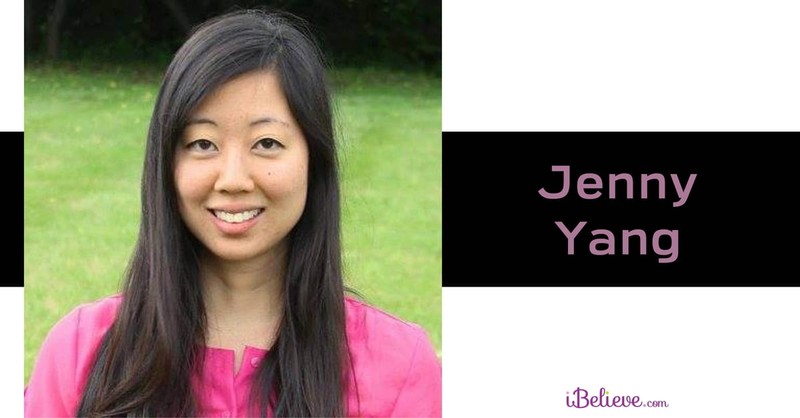 Jenny Yang
Jenny Yang is currently the Vice President of Advocacy and Policy at World Relief. She speaks and writes frequently and boldly on behalf of those living in spaces where there is very little peace.
At the 2016 Catalyst conference in Atlanta, Yang sat on a panel about making peace in the context of race and in the American church.
"When we talk about the history of this country, we understand that it's a history in which there have been 'others' – people groups who have been marginalized from the dominant culture," she said. Yang talked about where we are today as a nation whose communities of color are experiencing a lot of pain. And how Muslims became a marginalized "other" group.
She shared stories of how churches showed love and compassion to people of those "other" groups like immigrants and refugees. But there is still much peace that needs to be made in the church and in the world. Yang continues to speak on behalf of peace.
Photo Credit: Twitter/@JennyYangWR
Design Credit: Rachel Dawson
Originally published Friday, 15 June 2018.
---
---