Originally published Tuesday, 30 September 2014.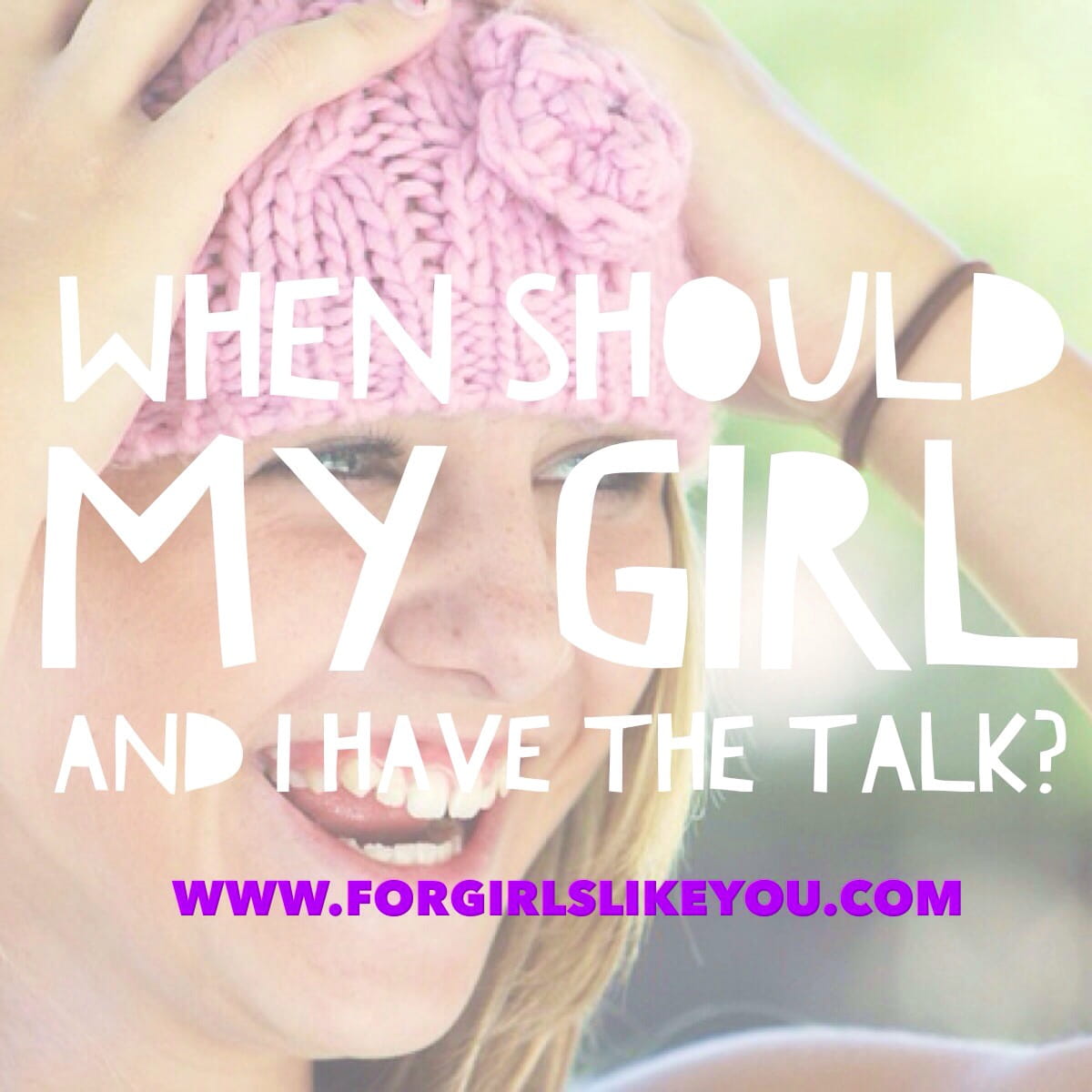 My recent post "Mommy can I try on a pad?" led to a very interesting conversation on our Facebook page! Moms, if you are wondering when the appropriate time to have "the talk" (and all that those two words entail) with your girls, I want you to know that you are not alone—however, you alone have to determine the answer to that question.
Yes, scientifically speaking there are several factors to consider, including her age, the development of breast buds and unexplainable mood swings. However I do believe a combination of a good Google search and a day observing your girl will lead you to a pretty accurate checklist and timeline.
Unfortunately, I also believe there is much more to consider than a moody princess and what brands of maxi-pads to have on hand. Don't get me wrong, these practical preparations definitely deserve book shelf space, mental capacity, and plenty of prayer time! But our girl's physical changes are a spiritual and heart matter and that my friend requires more wisdom and time then most checklists will advise.
Consider this: When in need of groceries, do you wait to write your grocery list, while standing in the middle of the potato chip aisle, starving? It can be done but it's probably not the wisest way to tackle the situation. You will probably leave having thrown some junk into your system to meet your immediate need and craving. On the other hand, if you want to get the most out of your time and experience you must show up to the store prepared. You look around your pantry in advance, consider your upcoming menu and begin to add to your list little by little as you prepare to meet a future need. There is wisdom in planning this way. Your trip is smooth and purposeful and most importantly you can manage to avoid the aisles of junk with their tempting and appetizing pictures, jingles and artificial flavors.
This is the way I believe we need to approach topics of growing up, (puberty, boys, sex) with our girls. There are lists of things they need to know and they don't necessarily need to know them all at once. However, consider the future and plan accordingly. Our job is to observe, prepare and note when it is time to put another item on the list. We don't want to wait until our girls are standing in the middle of overwhelming and enticingly unhealthy options to try to get them to make wise choices. They need to be prepared and equipped well in advance in order to avoid the jingles and artificial flavors.
It is inevitable, our girl's appetites are growing and will continue to. They want to know about boys, why their body feels a certain way and does certain things and why they can't seem to control their emotions (Ok, I want to know that one!) Society does not wait for us to fill their carts, and if we leave them hungry, well, movies, television, music and even peers will feed them. The junk.
Mom, I cannot tell you an age that your girls will be ready to handle a conversation about a cute boy or a tampon. But I can tell you that it will require more then one talk–It's ongoing and at times repetitive. You are building a relationship grounded in love and truth.
Regardless of your daughter's specific stage of life, there is only one truth that will satisfy her appetite. Feed her often.
I am committed to preparing my girls with God's view and design about and for their bodies—their lives. Let's guide them down the aisles of truth rather than letting their hunger lead them to the junk.
If you have not started, I have found the following resources to be an excellent guide in getting the conversations started with a biblical mind and in very practical ways:
1. Six Ways To Keep the "Little" In Your Girl – Dannah Gresh
2. Bringing Up Girls – Dr. James Dobson
3. God's Design for Sex/What's the Big Deal?: Why God Cares About Sex (series)
4. The Ultimate Girls' Body Book – Dr. Walk Larimore & Dr. Amaryllis S. Wohlever