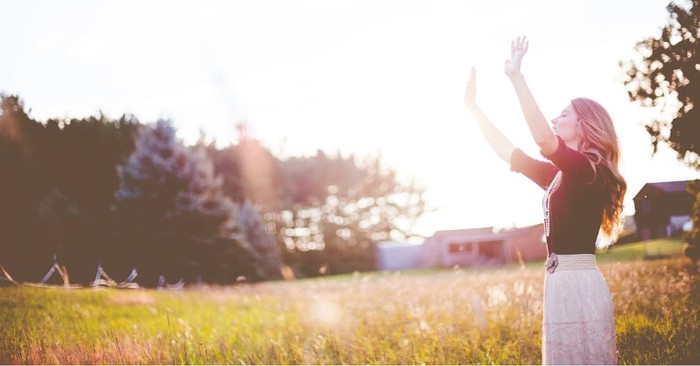 The same power of God that made Jesus' Resurrection possible is available to empower us today.
My grandparents talked for many years about how they wanted to travel together. They dreamed about trips to visit many – or even all 50 – U.S. states. They ordered brochures about cruises to the Caribbean and train rides throughout Europe. They mused about the possibility of going to more distant destinations on other continents.
One place, in particular, was dearest to their hearts: the United Kingdom. Nana corresponded with a pen pal in England and told her that one day she and Grandpa would come to visit in person. Despite their dreams, however, they hesitated to take action. Year after year went by without them taking a single trip together. 
The reason was simple: fear. They were afraid of so much – spending too much money, missing out on something back home, getting lost, having an accident, etc. Finally, after Grandpa retired, Nana insisted that they start traveling at least a little bit. Grandpa agreed – but soon afterward, he passed away.
Far too many dreams die because of fear. Far too many people let fear stop them from pursuing something God leads them to do. What are you afraid of? This Easter, you can rise beyond that fear because Jesus rose from his grave on the first Easter – and he stands ready to empower you to live fully right now!
On the original Easter, an angel startled a group of women who had come to Jesus Christ's tomb to grieve. "The angel said to the women, 'Do not be afraid, for I know that you are looking for Jesus, who was crucified. He is not here; he has risen, just as he said. Come and see the place where he lay,'" reports Matthew 28:5-6. Verse 8 says that after encountering the angel, "…the women hurried away from the tomb, afraid yet filled with joy, and ran to tell his disciples." Their next encounter would be the ultimate in awesome meetings: They met Jesus himself, and he too told them "Do not be afraid…" (verse 10).
Jesus is no longer lying inside his grave, so he doesn't want us to be trapped inside our fear. The same power of God that made Jesus' Resurrection possible is available to empower us today. Thanks to that reality, we never need to live in fear – no matter how scary our circumstances may seem.
Here are five ways to rise beyond fear this Easter:
1. Confess your fear. 
The first step is to face your fear and acknowledge it in prayer. What, exactly, is making you feel afraid? Be honest with yourself, God, and other people about what scares you, and ask them to help you understand why you're feeling that way. 
James 5:15 advises: "…confess your sins to each other and pray for each other so that you may be healed…" While fear may not seem like a sin, it can be because misplaced fear – fear that pushes you away from God rather than pulling you closer to God – opposes faith in your soul and prevents you from growing closer to God. 
Fear is a natural emotion, just like anger, that is meant to help protect you from danger. But if fear has turned into worry in your life, you've used fear the wrong way. That's when it's time to confess the fear you feel. Doing so will open up healing opportunities for you.
2. Figure out what's at the root of your fear, and pray about it. 
No matter how overwhelmed you feel by fear, it's no problem for God to handle. But since God never forces his help on anyone, you must ask him to intervene in the situation with his power to help you break free of fear. So invite God to get involved. God's help is just a prayer away! 
Ask God to show you exactly what is at the root of your fear. Is it something specific that happened in your past that you hurt you and is now fueling anxiety in your life? Is it anxiety about the future that is causing you to feel scared right now? Once you've identified specific root causes of your fear, take Philippians 4:6's advice: "Do not be anxious about anything, but in every situation, by prayer and petition, with thanksgiving, present your requests to God." 
A general sense of fear without any clear cause is a possible sign of a spiritual warfare attack. In that case, pray confidently, in Jesus' name, for deliverance from evil. Put on the "armor of God" that Ephesians 6:10-17 describes.
3. Focus on the possibilities instead of on the problems. 
Choose to shift your focus from the problems that are fueling your fear to the possibilities that exist when Jesus gives you courage. The circumstances and emotions you experience at any given time are likely to be mixed up – good and bad – together. Just like the women in Matthew 28:8 felt "afraid yet filled with joy" after hearing the angel's announcement about the Resurrection, you will often be aware of your problems yet also aware of God's work in your life. 
Decide to pay more attention to God's ability to guide you toward solutions than on your problems themselves. When you do, your faith will help you find your way through problems and discover new possibilities.
4. Take action despite feeling afraid. 
Since fear is a part of everyone's day-to-day life in this fallen world, you'll encounter fear on a regular basis. Fear will never disappear until you get to heaven. However, God will always give you the courage you need to overcome fear. What's more, God will always be personally present with you in scary situations. 
In Isaiah 41: 10, God promises: "Fear not, for I am with you; be not dismayed, for I am your God. I will strengthen you, yes, I will help you; I will uphold you with my righteous right hand." So whenever you sense God calling you to do something (like take a risk), be willing to take action even if fear is tempting you to say "no." Try to always be in the "yes" position to God.
5. Expect more from God. 
God is much bigger than your fear! When you worry about what you're afraid of, you shrink your expectations down to the lowest level. But when you choose to trust God, anything is possible. 
Make a habit of asking yourself whether or not God can handle whatever fear has entered your mind. As you remind yourself of God's unlimited power, fear will lessen its grip on you.
This Easter when you celebrate the Resurrection of Jesus, you can also celebrate the fact that his power can help you rise beyond any type of fear in your life. As Psalm 27:1 says, "The Lord is my light and my salvation; whom shall I fear? The Lord is the strength of my life; of whom shall I be afraid?" 
Whitney Hopler works as Communications Coordinator at George Mason University's Center for the Advancement of Well-Being and has written for Crosswalk.com since 2001. She regularly blogs about well-being in body, mind, and spirit. Learn more on Twitter, Facebook, and Google Plus.
Photo credit: Unsplash.com
---
---