God's Right Hand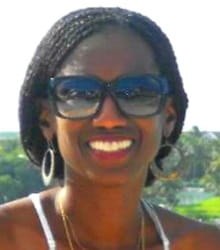 Scripture: Fear thou not; for I am with thee; be not dismayed; for I am thy God: I will strengthen thee; yea, I will help thee; yea, I will uphold thee with the right hand of my righteousness. Isaiah 41:10 (KJV)
When I became a mother, I gained a new ability: outstretching my right hand while driving to protect those in the passenger seat. If I hit the brakes suddenly, my hand automatically extended to its full length as an act of protection. If I slid off course during bad weather, the hand stretched out as if it had a mind of its own. If I noticed that someone was driving recklessly close, my right hand reacted. Any threat of danger made the right hand respond, reinforcing the connection between my heart and my hand. But it only happened when my children were in the passenger seat. As adults, my children laugh at this memory, for they were never sure what my right hand could do. It seemed pointless to them, but to me, it was an act of protection.
Daily we encounter problems and circumstances that may challenge us, and daily God is protecting us from dangers seen and unseen. His righteous right hand is more comforting than a mother's right hand.
Pray: Dear Lord, I'm so grateful that your right hand protects me; that you care for us and protect us in ways that we often do not comprehend. We thank you, Lord, for your capable hand.
Reflect: How do you know that God is protecting you?
mg alt="nylse-headshot" height="170" src="https://media.swncdn.com/cms/IB/48616-nylse-headshot.jpg" style="border-width: 2px; border-style: solid;" width="150" class="fr-fic fr-dii fr-fil">Nylse is a Christian wife and a mother of four who loves life and inspiring others. She likes to have fun but is very clear on who she is and Whose she is. A prolific thinker, she blogs to encourage others from a Christian perspective at www.lifenotesencouragement.com. She can be found online on Facebook, Twitter, and Pinterest.
Comments