Originally published Thursday, 14 February 2013.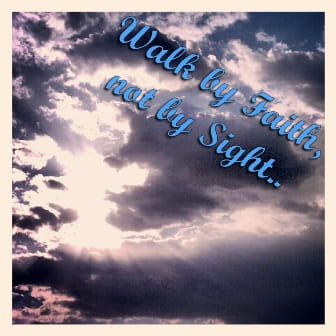 God has an incredible way of connecting people and prompting prayer. Have you ever had a name pop in your head randomly? How do you react to this unusual occurrence?
I've had countless names enter my mind at an unexplainable time. It is when the Lord places a name on our hearts that we should lift up an intercessory prayer. He wants us to pray on their behalf.
1 Timothy 2:1 encourages us to pray for others. "I urge, then, first of all, that petitions, prayers, intercession and thanksgiving be made for all people." (NIV)
Last year, I was faced with a new health challenge.... depression. Though I was unaware at the time of previous periods of depression, this feeling was new and terribly lonely.
There was a darkness that held me captive. I couldn't escape it. Tears were flowing and my soul ached for healing.
In the midst of this loneliness, God sent a messenger from the most unexpected and distant person. Theresa was my sister's childhood friend; whom we haven't seen in 2 decades. We're connected on Facebook and I'm always delighted to reunite with old friends.
Theresa contacted me unexpectedly and explained that God had placed my name on her heart for prayer. She knew that I was going through something very tough. Though we hadn't spoken, she sensed that it was a desperate kind of prayer and somehow understood that it was difficult.
As soon as I received this message, my soul felt a deep connection with the Lord. Theresa had no way of knowing what I was experiencing.
The only way I can explain this phenomenon is that our God is full of infinite power and wisdom. The Lord wants us to know that He is with us from the beginning to the end and will never leave us.
I will always remember what Theresa told me, "Thank God that after valley's, even long ones, come mountain tops... and that after winter must come spring."
Weeks later I learned the significance in this message from Theresa. It was a warning, not from her but from the Heavenly Father. He was about to bring me through something bigger and I clung to His loving message as we fully embraced it.
The power of the Lord is far bigger than our problems and sadness. He has the power to lead us through the lowest valleys and highest mountains. And if the mountain is too high, God has the ability to move.
Why? Because He is Lord!
Through prayer and the Holy Spirit, we are intricately connected to others. If God places a name on your heart, take a moment to bow before the Throne and lift up a prayer. God wants to communicate with us.
Embrace His peace and remember the promise that His love can heal the deepest wounds!
"He heals the brokenhearted and binds up their wounds." - Psalm 147:3 (NIV)